Estimated read time: 3-4 minutes
This archived news story is available only for your personal, non-commercial use. Information in the story may be outdated or superseded by additional information. Reading or replaying the story in its archived form does not constitute a republication of the story.
CEDAR CITY — Members of the The Church of Jesus Christ of Latter-day Saints gathered Sunday for the dedication of the church's newest temple in southern Utah.
President Henry B. Eyring, first counselor in the church's First Presidency, dedicated the Cedar City Utah Temple after presiding over the cornerstone ceremony—the symbolic completion of what Latter-day Saints consider a house of the Lord.
"I know that this house will be a blessing to all of you, and to your families, and for the generations," President Eyring said during the ceremony. "Always remember you were here. I will always remember I was here with you."
President Eyring was joined by Elder Jeffrey R. Holland of the Quorum of the Twelve Apostles, Elder Craig C. Christensen of the Presidency of the Seventy and Elders Joseph W. Sitati and LeGrand R. Curtis Jr. of the Seventy.
The Cedar City Utah Temple becomes the 17th operating LDS temple in the state and the third in southern Utah — after St. George and Monticello. Its construction was announced in 2013. For LDS Church members in the area, Sunday's dedication was a dream come true.
Cedar City residents like Tyler Brinkerhoff see the new temple as a symbol of peace in their community.
"We have been waiting for so long for this and watching the construction," Brinkerhoff said. "We can see it from our back deck, and we are just so happy that it is here."
LDS temples are different from meetinghouses or chapels, where members meet for Sunday worship services. Many Latter-day Saints are married in temples and receive ordinances that they believe bind families together throughout eternity. Temples are also places where faithful Mormons make covenants to serve Jesus and those around them.
Church leaders said the day was picture perfect for the temple's dedication.
"I have been in Cedar in December before, and to have the Lord smiling on this day and this weekend in such a magnificent way, just one of the many blessings of this new temple in this city," Elder Holland said.
Church leaders said the Cedar City Utah Temple's beauty and architecture pays tribute to the Mormon pioneers who settled in Utah's southern region.
"It's the newest temple in the church, and it looks like it, and it will reflect that beauty and that cleanliness, that splendor," Elder Holland said. "But they've managed to take it back; it looks like a pioneer temple. They've had a pioneer's touch on some of the wood and the craftsmanship."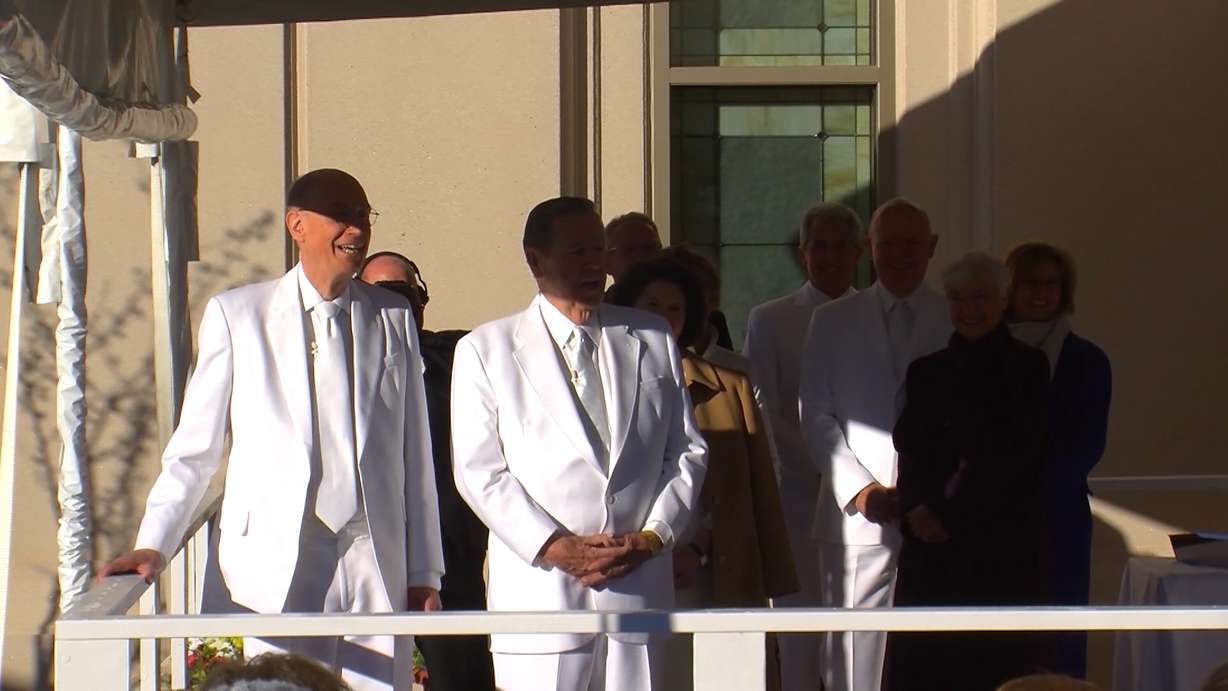 The temple's color palette draws upon the rich colors and textures of southern Utah, incorporating native flowers and juniper berries, the LDS Church said in a statement. The decor also includes African mahogany and sapele woodwork, as well as stone and tile flooring from Israel, Turkey, Spain and Iran to add to the temple's elegance.
"Every little detail, they work together beautifully," President Eyring said. "There's a harmony in this temple that's really quite remarkable."
The temple will serve 45,000 LDS members in 17 stakes from southern Utah to eastern Nevada.
Contributing: Yvette Cruz
×
Photos
Related stories
Most recent Utah stories