Estimated read time: 5-6 minutes
This archived news story is available only for your personal, non-commercial use. Information in the story may be outdated or superseded by additional information. Reading or replaying the story in its archived form does not constitute a republication of the story.
SALT LAKE CITY — An event that was several decades in the making came and went with little more than a whimper Saturday night at Vivint Arena.
The inaugural Beehive Classic drew an announced crowd of 7,729 fans to witness a four-team, neutral-site affair featuring Utah and Utah State in the opener, and BYU and Weber State in the nightcap.
And the reaction was mixed.
"This is an event that Larry H. Miller Sports and Entertainment is thrilled to bring, because it's a celebration of college basketball and of Utah," said Utah Jazz spokesman Frank Zang, whose group helped oversee the final product.
"It is unique to be able to bring the four schools together and to play these double headers. We'll be able to switch out the opponents, and it brings the schools and alums to see four great in-state teams in one night."
The anticipated turnout was certainly less than expected — even desired — by the Larry H. Miller Sports and Entertainment group, which oversaw the event's hosting and marketing. Tickets were available at the walk-up counter throughout the night, and the lower bowl never completely filled on the home court of the Utah Jazz.
As far back as the 1980s, college basketball fans in Utah have been clamoring for a similar event that would pit the best in the state against each other.
They finally got it, but perhaps several decades too late. With the NBA success of the Jazz, plus national television packages that make staying home and watching Duke, Kansas, Villanova and other top powers easier than ever, the final crowd was muted.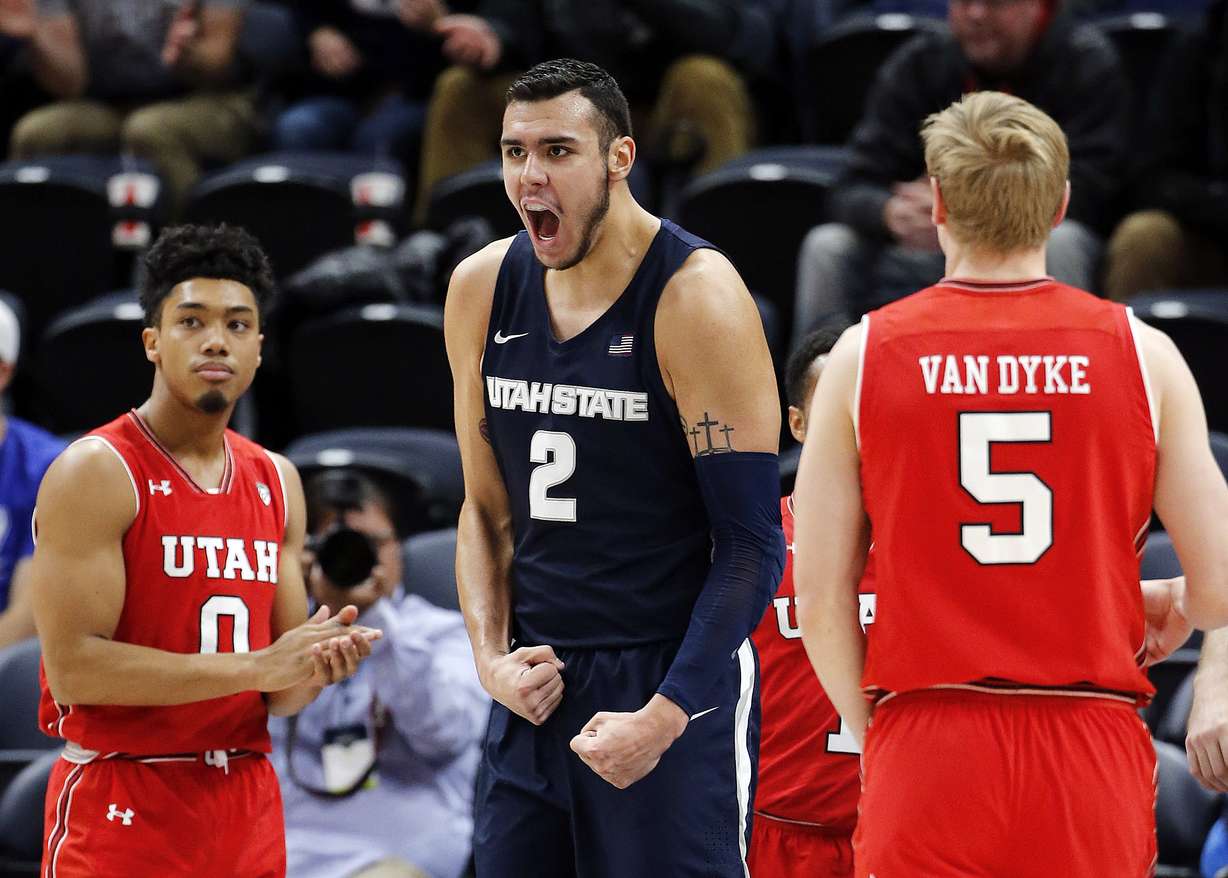 Sure, the large bands from each school arrived and blared fight songs, special musical numbers and halftime performances to hype up the crowd. But the overall reception was lukewarm — and that's unfortunate for an event that is so necessary for the state's basketball powers.
"It's not the funnest thing to do, playing these in-state games. But it's what college basketball needs in the state of Utah. We have all these teams, and everybody is in a different league, except for Weber and Southern Utah, and since we don't get to play in the league we should do this," Cougars coach Dave Rose said.
When Rose first arrived in Provo, one of the former Dixie State head coach's earliest inclinations was to get a similar neutral-site, tournament-style bracket brought under the umbrella of an organization like the Jazz. Rose and former BYU coach Steve Cleveland, who was at the inaugural Classic as a television analyst for BYUtv, tried for nearly 20 years to make it work — but to no avail.
"It took a strange course of events to come to fruition, but I think it's great," Rose said. "It's great for college basketball in our state, and there are a couple of other good teams that we can include in it."
The results of the one-night affair went about as well as expected; the Utes scarcely opened up the playbook but beat Utah State 77-67 in the first game between the two teams since 2009, while BYU held off a late charge and a 29-point effort from sophomore Jerrick Harding for a 74-68 win over Weber State.
"It's great to have four teams from Utah battling it out," said BYU guard McKay Cannon, who grew up in Idaho but well immersed in the rivalries of the Beehive State prior to originally signing with Weber State. "There's a lot of pride on each team, and it's great to see all the talent that the state of Utah has."
Attendance will likely be a determining factor of whether the Beehive Classic extends beyond the initial three-year contract. Filling the student sections and lower-bowl allotments should be a priority for the sports and entertainment group, as well as the four schools involved.
The three-year contract of the four-team event will see different matchups each season, Zang said; BYU and Utah will no doubt be the biggest draw in 2018, but where does that leave Utah State and Weber State?
While potentially turning the event into a triple-header featuring Utah Valley and Southern Utah may be in the cards, there are other things the four teams involved _ and Larry H. Miller Sports and Entertainment — can do to increase fan attendance at future incarnations of the Classic.
It starts with the student section; many college-aged students who spoke informally to KSL.com cited cost as a main reason for not attending. Tickets were available at around $60 for lower-bowl admission, and $30 for the arena's upper bowl, for both games.
Each school was allotted 4,500 tickets to the event, but no school included the game in their season ticket packages.
Other options to boost future attendance may include better marketing, inviting additional teams or a combination of multiple factors.
"One time, we talked about it being a two-night event and having the winners play each other," Rose said. "Right now, I'm glad that's not the case."
For now, the four teams will go their separate ways. The Cougars (8-2) are set to host the Utes (7-2) in the return of the biggest rivalry game in the state Saturday at 9 p.m. MT on ESPN2. Weber State will host Arkansas-Pine Bluff at 7 p.m. MT, Saturday. Utah State will host Life Pacific at the same time in Logan.
×
Photos
Related stories
Most recent Sports stories