Estimated read time: 4-5 minutes
This archived news story is available only for your personal, non-commercial use. Information in the story may be outdated or superseded by additional information. Reading or replaying the story in its archived form does not constitute a republication of the story.
PROVO — Perhaps Utah State guard Rachel Brewster's happiest moment in a road game at BYU came with 6:40 left in the second quarter, when the 5-foot-11 guard from Melbourne, Australia calmly swished a 3-pointer that gave the Aggies a 25-16 lead.
But her finest moment came in the second half.
Brewster scored 12 of her 20 points in the second half, including a clutch 3-pointer from the top of the key with 1:17 remaining, to help the Aggies to a 76-69 road win Wednesday afternoon over BYU for their first win over the Cougars since 1978.
"Rachel was on the floor with three sophomores, and she's proven over and over again that she's our leader when the game needs to get done," Utah State coach Jerry Finkbeiner said. "She had a couple of big rebounds. Rachel is fun to coach and she wants to win. I feel the most comfortable calling plays for Rachel down the stretch."
With the win, Utah State improved to 4-35 all-time against BYU with the Aggies' first win in Provo since Feb. 9, 1974. The Cougars are the first Division I opponent to fall to Utah State in 2017-18, and the first since the Aggies topped D-II Dixie State 92-72 Nov. 14 in Logan.
The Aggies (2-6) made just one triple in the final quarter, but it was a big one from Brewster, who also had seven rebounds in 29 minutes and regularly played with three sophomores. One of those sophomores, Shannon Dufficy, had 16 points, 10 rebounds and four assists, and leading scorer Olivia West added 19 points and four rebounds for Utah State.
"We were just executing and following the game plan, which is something we haven't been doing lately," Brewster said of her team's game plan in Provo. "The Oregon State game (a 94-55 loss in Maui, Hawaii) was turning the corner for us, and despite the score, I think it was the best game we've played so far. It was just a lot of fun to play in that game.
"We know what we need to do now, and we're just going to keep building on it."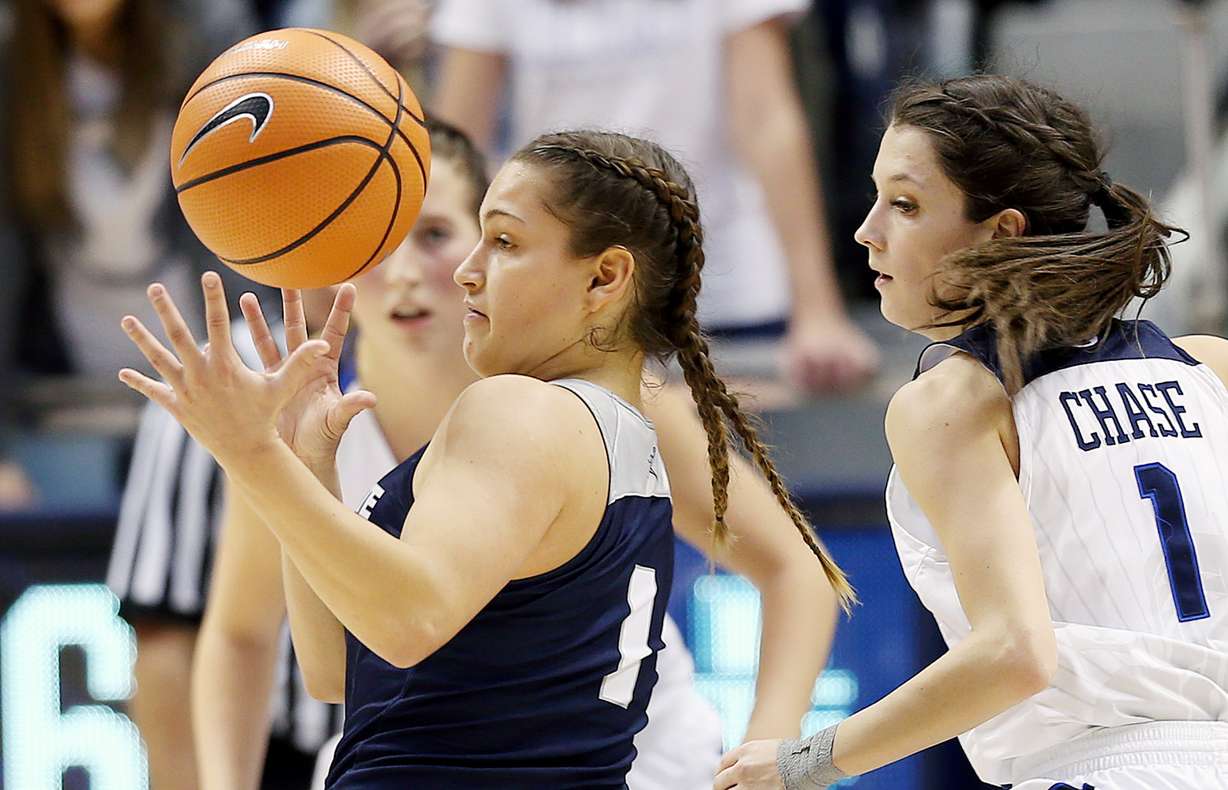 BYU's Cassie Broadhead Devashrayee led all scorers with 23 points and four assists, and Paisley Johnson added 14 points and four assists off the bench for the Cougars (3-5), who lost their fourth-straight game and back-to-back at home.
The Aggies hadn't won in Provo since Feb. 9, 1974, but jumped on the home team early with West's confident trey just 20 seconds into the game.
The Aggies held BYU without a shot from the field for four minutes, opening the second quarter with a 9-0 run to take a 25-16 lead on Rachel Brewster's bucket with 6:40 left.
Johnson pulled the Cougars within 27-23 on a 3-pointer with 3:56 left in the half. But Utah State finished the half on a 12-4 run to take a 37-23 lead into the locker room.
"I've got to give Utah State a lot of credit tonight. They wanted this game a lot more than us," BYU coach Jeff Judkins said. "It didn't seem like we had the effort, the spark or the energy to come out and play and realize that we've lost three-straight, now four, and to come out with that kind of energy got us in a hole."
Utah State's lead swelled as high as 49-31 when Jessie Geer drained a 3-pointer from the right wing with 6:17 left in the third quarter, and the Aggies held the home team to just 19-of-44 shooting en route to a 61-46 advantage after the third quarter.
"We had a 20-point lead in the second half and that's been our Achilles' heel right now. In four of our losses, we've had good, fourth-quarter leaders and have lost them," Finkbeiner said. "Tonight we showed where our Achilles' heel is, but I know where we can get better.
"Road wins are big, but a road win at BYU is as big for us as a road win at Boise State or Colorado State in our conference."
Devashrayee capped an 8-0 run with a floater to pull the Cougars within eight, 65-58 with 4:16 left. The Aggies were held without a field goal for 3:12 during the same run, forcing Finkbeiner to call a timeout after his team made just 2-of-6 shots from the field to open the final period.
But back-to-back shots by Brewster — including a three from the top of the key with 1:17 remaining — helped the Aggies hold on for the win.
"One of the reasons we felt like we were 1-6 is because we weren't getting good ball movement," Brewster said. "We really emphasized driving to the basket, kicking out, and getting open shots. It's working for us, and we just need to make sure we keep doing that."
×
Most recent Sports stories