Estimated read time: 8-9 minutes
This archived news story is available only for your personal, non-commercial use. Information in the story may be outdated or superseded by additional information. Reading or replaying the story in its archived form does not constitute a republication of the story.
SALT LAKE CITY — Three thoughts on the Utah Jazz's 116-69 win over the Washington Wizards from KSL.com's Utah Jazz beat writer, Andy Larsen.
1. That might be the best basketball I've ever seen the Jazz play
One of the things I like best about basketball is how close most games are. Sometimes, people who don't like the NBA denounce the sport by saying things like "You only need to watch the fourth quarter" or something to that effect. In my opinion, that's actually sort of a compliment: despite each team having 100 or trips up the court per night, usually, basketball games are at least in doubt for the vast majority of the game clock.
Most of the time in basketball, you're chasing small margins. For example, the difference between an average catch-and-shoot three and an average pull-up three is something like eight percent, and that's an important enough difference to change an entire offense. The difference between the offense of the Warriors and the Bulls is like 15 percent, despite the former being maybe the most loaded team in NBA history and the Bulls' best player being Robin Lopez.
On Monday night, the Jazz completely broke basketball. The Jazz were, for a majority of the game, doubling the Wizards' score.
In other words, they were 100 percent better, not just 15 percent better.
It was just a shocking night of basketball at Vivint Arena on Monday night. The Jazz had been on a stretch of blowout wins in which they won by 30, 29, 19, and 13 points in the last five games. As a result, they had the best point differential in the entire league during that stretch.
But there's a difference between blowouts and just complete game-breaking domination, the kind of scoreline that makes people from around the league go "Wait, what?"
I mean, the Wizards scored only 69 points all night. The Jazz had 64 by halftime. The Jazz could have gone home early in the 3rd quarter, if only the Wizards would have accepted the gentleman's agreement to score at their current rate for the rest of the game. That 69 total, by the way, is the lowest amount any NBA team has scored this season.
And it's not like the Wizards are a bad team. Sure, John Wall is injured. They had gone 2-2 in his absence before now, including wins in Minnesota (record: 14-11) and against Detroit (record: 14-9). Then the Utah Jazz invited them in and just destroyed every single piece of them. And they did it with Rodney Hood, Dante Exum and Joe Johnson out, and Rudy Gobert limited due to a minutes restriction.
Look at these shot charts, for example: the Jazz forced the Wizards to take half of their shots from mid-range, something that they obviously don't want to do. They also forced the Wizards to only make seven of their twenty shots around the rim, both Gobert and Derrick Favors were fearsome. And finally, even the outside shots that the Wizards took weren't open at all: they only made four of them.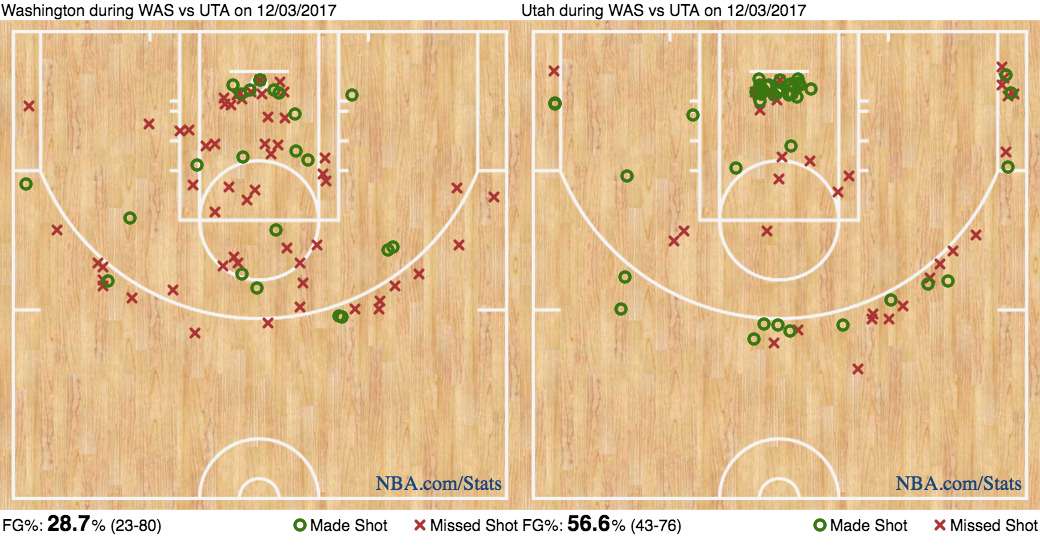 I never thought this year's version of the Jazz would be capable of blowing out teams, favoring a grind-it-out style of ball. And instead, they're making it look like they're playing NBA2K on rookie mode with all of the CPU sliders pushed down to 0. It's bonkers.
2. The ball movement is beautiful
The Jazz ended up with 29 assists tonight, which looks like a downright average night compared to their 38-assist performance last week against the Clippers. But man, the Jazz's ball movement tonight was so aesthetically pleasing that I think it even mystified the Wizards.
Maybe the most illustrative stat here is that everyone on the team had at least one assist before halftime. And here's the Jazz's assist network for the game. It's not that one player was passing to any other one that led to consistent success, it's that every player had success.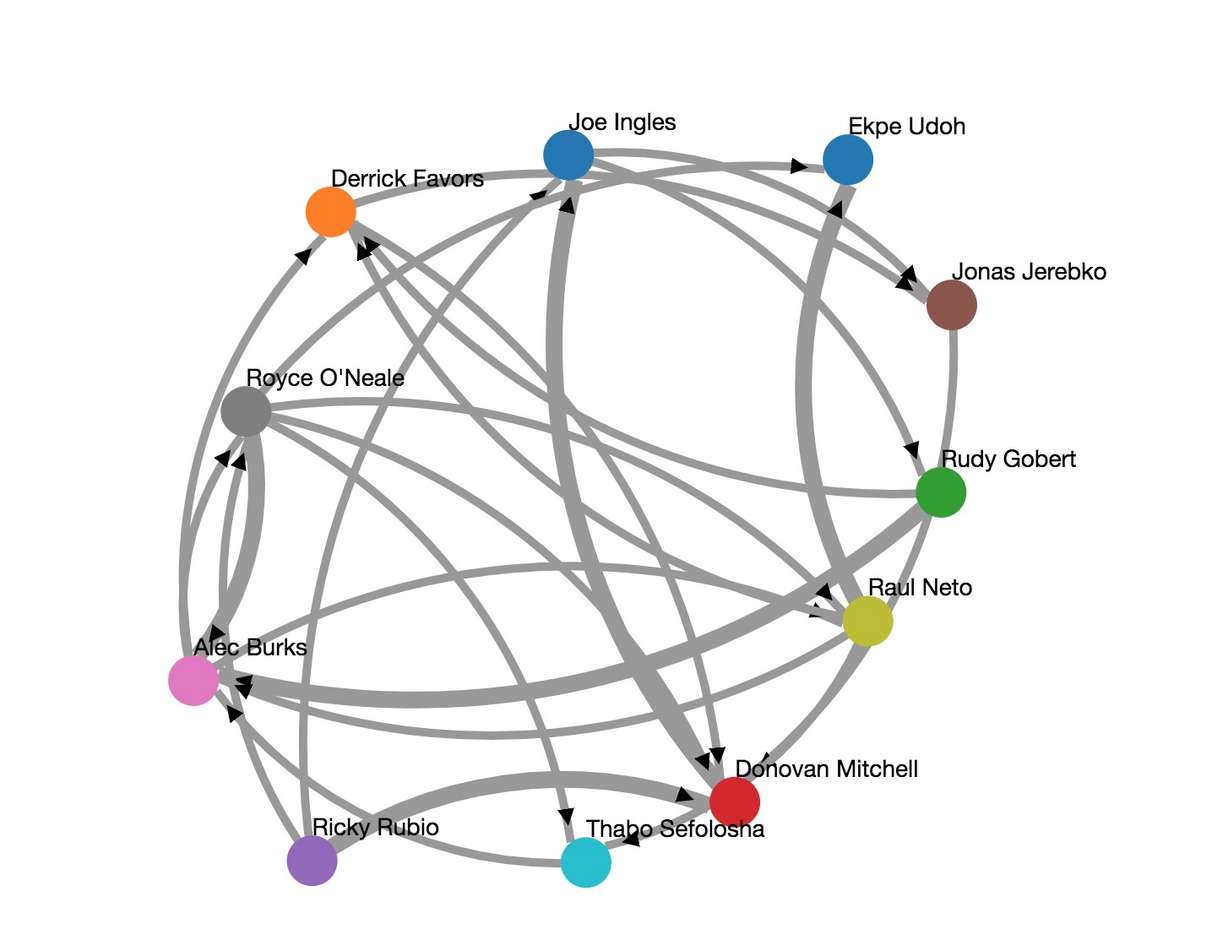 This is Royce O'Neale, who has played 15 NBA games and ended up with the team high in assists with six. How was he completely ignored in the draft process and not even among the top players in Europe?
Some fun passes in tonight's Jazz/Wizards game. Here's Royce O'Neale making a long lead pass for easy points: pic.twitter.com/RZeA4D4ILS — Andy Larsen (@andyblarsen) December 5, 2017
This is Donovan Mitchell, who has played in 24 NBA games. He does a jumping, double-clutch, 25-foot pass right to the bread basket of Joe Ingles, who swings it to Jonas Jerebko for the wide open corner three.
Here's Donovan Mitchell making a leaping double-clutch pass to Joe Ingles in exactly the right catching position: pic.twitter.com/ABrRjSJ3fl — Andy Larsen (@andyblarsen) December 5, 2017
This is Alec Burks, a previously notoriously questionable NBA decision maker and with a years-long case of tunnel vision, driving to the hoop and making a perfect pass to Raul Neto in the opposite corner with one hand and the defense collapsing.
Here's Alec Burks making an on-the-money pass to Raul Neto in the opposite corner over his head with one hand: pic.twitter.com/U28DT95TLL — Andy Larsen (@andyblarsen) December 5, 2017
This is Rudy Gobert, a 7-foot-1 Frenchman who is as much of a center as a center can be in the NBA, who has missed 11 NBA games, dropping off a no-look pass to his fellow big man on the move in his first two minutes on the court.
Here's Rudy Gobert making a no-look dumpoff pass to Favors for an easy 2: pic.twitter.com/pJmYGWLw8c — Andy Larsen (@andyblarsen) December 5, 2017
It's basketball nirvana. *Everyone* on this team can pass — and well too. The Jazz's talent at passing seems to create such a synergistic energy that even guys like Thabo Sefolosha can play off the very threat of a pass. Look at this:
THAT FAKE PASS THO!! 💯#WASatUTApic.twitter.com/t2kRDQe4zS — Utah Jazz (@utahjazz) December 5, 2017
The threat of the pass allows Sefolosha to get an easy dunk in transition. Sefolosha is not exactly known as a creative ballhandler league-wide.
"They were moving the ball amazingly," said Wizards shooting guard Tomas Satoransky after the game. "They literally killed us today."
3. So, is this sustainable?
A number of people after the game tonight, both online and at Vivint Arena, ask the same question: Is this kind of performance sustainable from the Jazz?
The answer is no. The Jazz have the best offense in the league over the last six games (all wins), a 123 offensive rating. That would be the best offensive rating in NBA history by seven points per game if done over a full season. It's just not going to happen.
They've also shot over 40 percent from three over the last six games. They're not the 2015-16 Golden State Warriors, I am relatively confident about that. Sooner or later, fewer of these shots are going to fall.
I agree with Ben Falk, a former staffer in the Portland Trail Blazers and Philadelphia Sixers' front office, about the Jazz's recent performance:
There are some real lessons to be learned. The turnover rate is much better, and clearly, they've figured out spacing and movement in a real way offensively. But it's not going to stay this good forever.
I also liked this Quin Snyder quote from before the game: "We talk about sample size when we don't want to believe something. When we do, we forget that there's a sample size."
It's never as good as it seems when it's good, and never as bad as it seems when it's bad.
Another, maybe more positive way to look at it: the last couple of weeks of Jazz basketball have been wonderful. Savor it.
×
Most recent Sports stories