Estimated read time: 5-6 minutes
This archived news story is available only for your personal, non-commercial use. Information in the story may be outdated or superseded by additional information. Reading or replaying the story in its archived form does not constitute a republication of the story.
Utah is home to some of the greatest snow on earth. Whether you're a seasoned skier or have always wanted to go but never had the money, there is a way to enjoy one of Utah's main attractions without paying an arm and a leg.
The cost of riding the slopes
Like some, you could buy all the necessary equipment and use it on days when you have time to get to one of the resorts. The problem is that most equipment is fairly pricey.
In fact, if you want to have the latest styles and equipment, you'll be paying plenty, just for the basics. A reasonable budget for a beginner is $1,575, according to simple.com and that doesn't include lift tickets or replacement and repairs should you need new equipment down the road for whatever reason.
Likewise, if you have a family and want them to experience the joys of riding that fresh powder, it's difficult to keep up with growing kids and changing skill levels. You might want to adjust your skis as you become better at it. It's these types of changes that make buying equipment a difficult — and unpredictable — option. It's a lot of money to spend on equipment that will be out of style and a lower performance level than the newer ones that come out next season.
It's for this reason that plenty of Utah locals live their whole lives near the Wasatch Front and never (or rarely) enjoy skiing and snowboarding. Affording the equipment isn't the only problem either.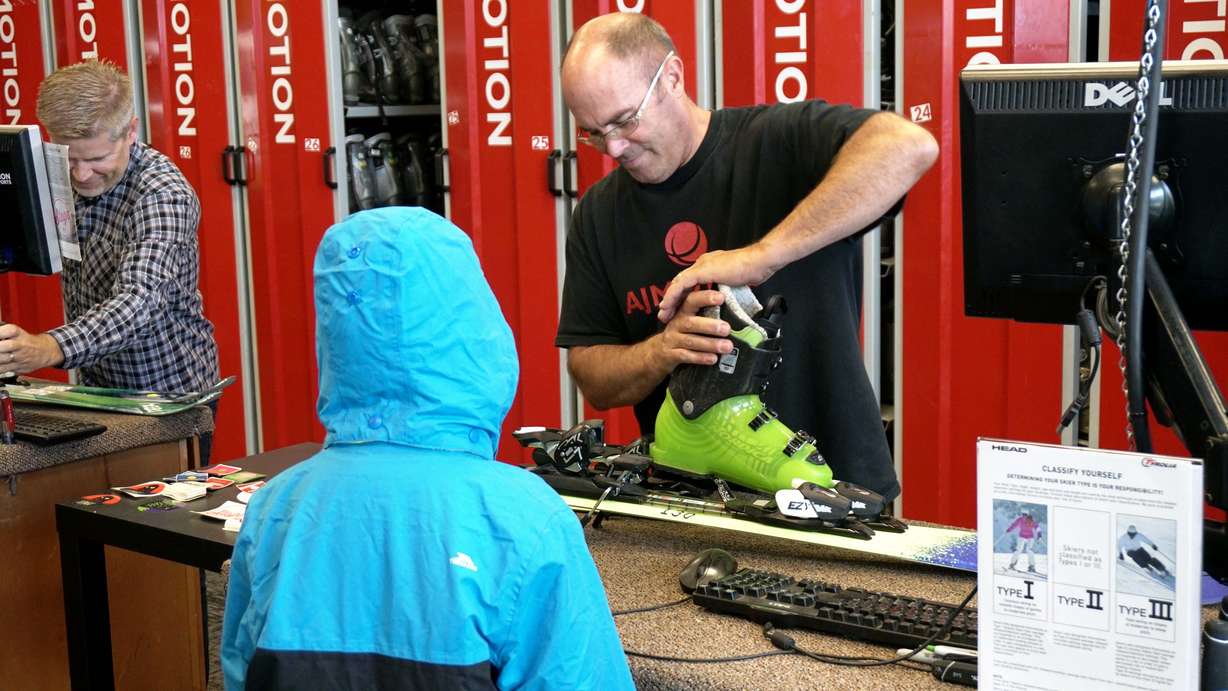 The problem of supply and demand
Another issue comes in the form of peak skiing times. Everyone wants to ski at the same time — on weekends, holidays and other popular windows. It's almost impossible to get ahold of some rentals during these peak times of the season, let alone equipment that's in good condition.
Imagine waking up on Christmas break and having the great idea to take your family (and visiting in-laws) skiing for the day. It's the perfect tourist and local activity that's sure to please every member of the family. The only problem is, there isn't any equipment to rent, and purchasing some would definitely push your Christmas budget over the edge.
You go to the local store or rental place and see that the line is out the door. And this is all before you even get to the packed ski resort. When demand is high, supplies are low. Even if you can manage to get some skis, what condition will they be in amid all the rushing and hubbub?
Poor equipment
When so many people are scrambling to get ski and snowboard equipment and are renting them on the daily, it's impossible for renters to stay on top of the equipment upkeep. As a result, many daily rentals result in equipment that's low-grade, poorly maintained and out of style.
New skiers don't need the latest and greatest thing, but every skier or snowboarder definitely needs equipment that's safe and well-maintained. With these issues to tackle, how can you possibly have your cake and eat it too this season?
Save time and money with a season rental
In the past, season rentals have allowed people the option to do skiing as a serious hobby or a more casual pursuit. It's no secret that may skiers prefer to rent skis and poles so they don't have to store them during the offseason or foot the bill for the latest equipment.
Despite the problems of high costs, low supplies during peak times and mediocre quality equipment, there is a solution. A season rental from AJ MotionSports includes all the convenience of a season rental without the common drawbacks.
If you're worried about the quality of the equipment, know that all season rentals are maintained for free all season long. By getting prior year's demo skis, you can have current high-performance equipment at a reasonable price. Get a better experience this season by choosing AJ MotionSports, where you can enjoy:
Top-grade equipment for any age or skill level skier/snowboarder
Personable and experienced staff to help you find what you're looking for
Efficient one-time season rentals so you can be the first one on the slopes all season long
Tuned and properly fitted equipment based on height, weight and skill level
Everything you need including equipment, inner and outerwear, and all with a 20 percent discount for season renters
Variety in size, price, graphics and functionality
Safe equipment you can trust (all bindings tested and properly tuned before each rental)
Free monthly tuning
No-pressure buying options on all rented equipment
Flexible equipment exchanges as kids grow and skill levels change
The best time of the year to obtain a season pass is Labor Day weekend since there's a wider selection. However, you can still get a season rental to make the holidays great.
Ski Utah Passport
These seasonal pass packages fit perfectly with the most generous ski program in the country. The Ski Utah Passport gives fifth and sixth-grade students access to ski and ride at all 14 Utah resorts for only $35.
Swing by AJ MotionSports to see what you can get to help you have the best possible renting experience this season.
×