Estimated read time: 4-5 minutes
This archived news story is available only for your personal, non-commercial use. Information in the story may be outdated or superseded by additional information. Reading or replaying the story in its archived form does not constitute a republication of the story.
LEHI — Mike Willes is a man with a lot of time on his hands. Recently a reluctant retiree, he's indulged a passion in a way few could ever imagine.
"Christmas is a favorite holiday," Willes said. "I like building stuff."
Willes worked in construction for 40 years. Now, he's turned that talent in a different direction: holiday cheer you can practically see from space.
His property, located near 700 South and 300 East in Lehi, is covered in more than 65,000 Christmas lights — "probably close to 70 (thousand)," Willes said. They hang from his house, cling to his shed, and he's even raised the height of a fence so he can fit more.
Willes has made many of these merry marvels with his own two hands. Artificial trees have been reinforced with rebar, and there's a wide variety of homemade wooden characters sprinkled about.
He's even given one particular area a bit of a humorous gleam.
"I went and bought two old manure spreaders," Willes said, gesturing toward some farm equipment under some lighted words. "It's 'Spreading Joy.'"
Willes goes searching for sales after Christmas to store for the next year and mainly uses LED lights, which has cut down on costs.
"I have a digital meter, and the power bill, counting the house, is 40 cents an hour when the lights are on," he said. "So it's only two and a half bucks a night."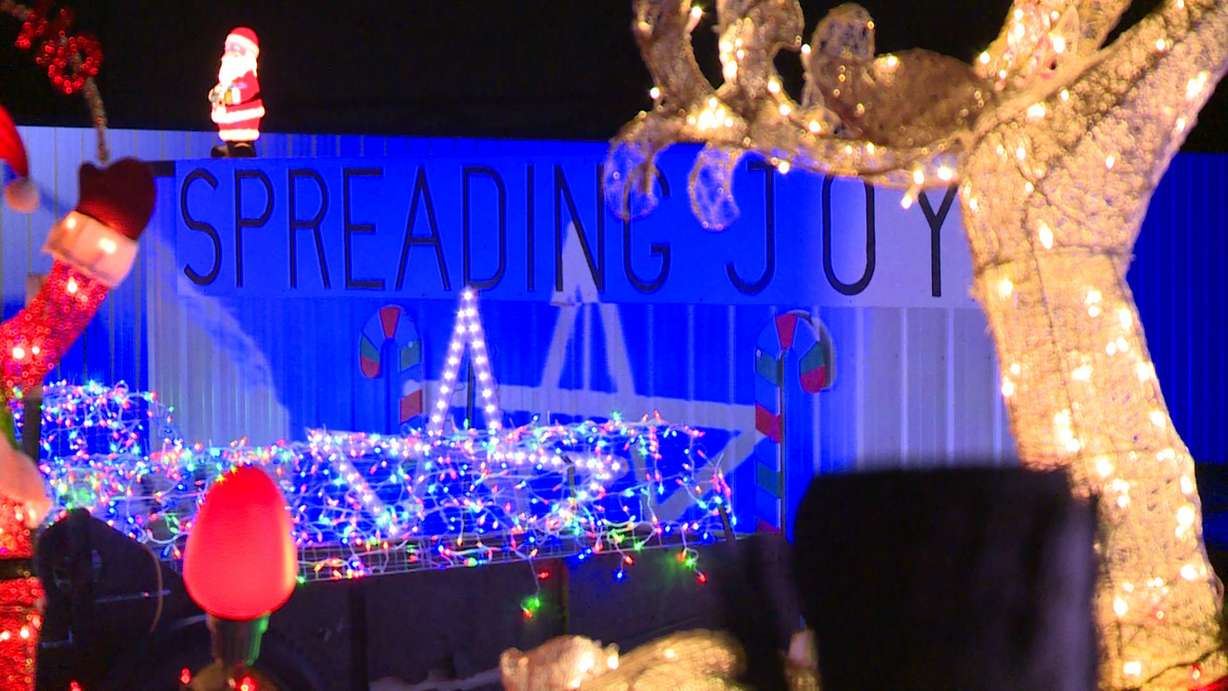 #joy_pic
Willes admits his display is "more than most people" put up, but he says his wife approves.
"Oh, the wife is a hundred percent, helping me," he said. "Not as excited as I am, but she supports me a hundred percent."
"There's never enough," laughed Willes' wife, June. "He'll say, 'Oh, we're probably not going to buy anything, but let's just go see.' And then it always ends up that OK, he can get this 'great deal.' He's just got to have it."
June Willes said she doesn't even dream of asking her husband to tone it down.
"That would have no effect," she said. "In fact, it would probably accomplish the opposite."
Willes' home sits right across from train tracks, and the FrontRunner cruises by every few minutes.
"The wife says, 'How many lights you gonna put up?'" he said, gesturing to a passing train. "And I says, 'How many lights will it take to stop that train?'"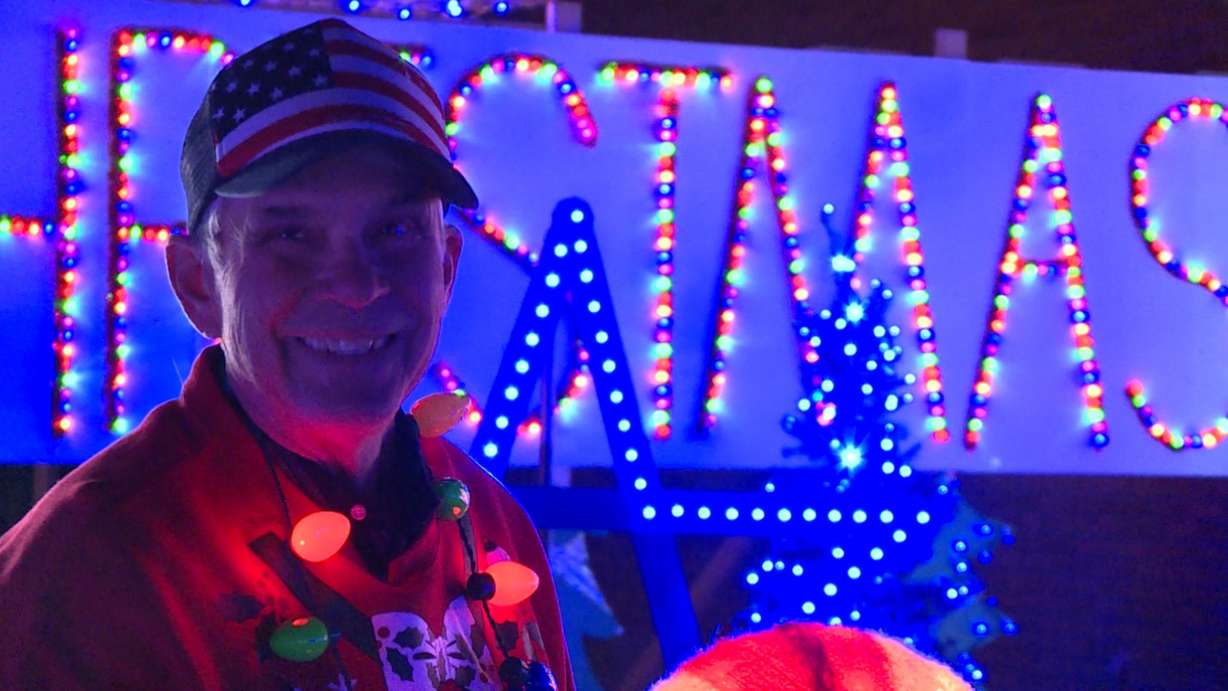 Despite his dedication, this twinkling tradition wasn't his first choice.
"I was happy working and didn't think I'd ever retire," Willes said.
But life's gifts aren't always bright.
"Just got through with another 25 treatments of radiation, because it was returning," Willes said. "Prostate cancer. It changes your whole life."
A PSA test helps screen for prostate cancer, but Willes said he didn't keep up with the recommended schedule for people his age.
"I went too long," he said. "Should've been doing it every year, and I let two years go by, and it had metastasized into the lymph nodes. They're optimistic, they give me a 50-50 chance that they can still cure it."
June Willes believes her husband's diagnosis is what spurred him to start his Christmas tradition.
"I think it helps him not be so focused on what's happening with his health," she said. "He can keep busy, doing something he loves, and not be thinking about what's happening.
"Maybe I took my anger out on the cancer into Christmas lights," Willes said with a chuckle.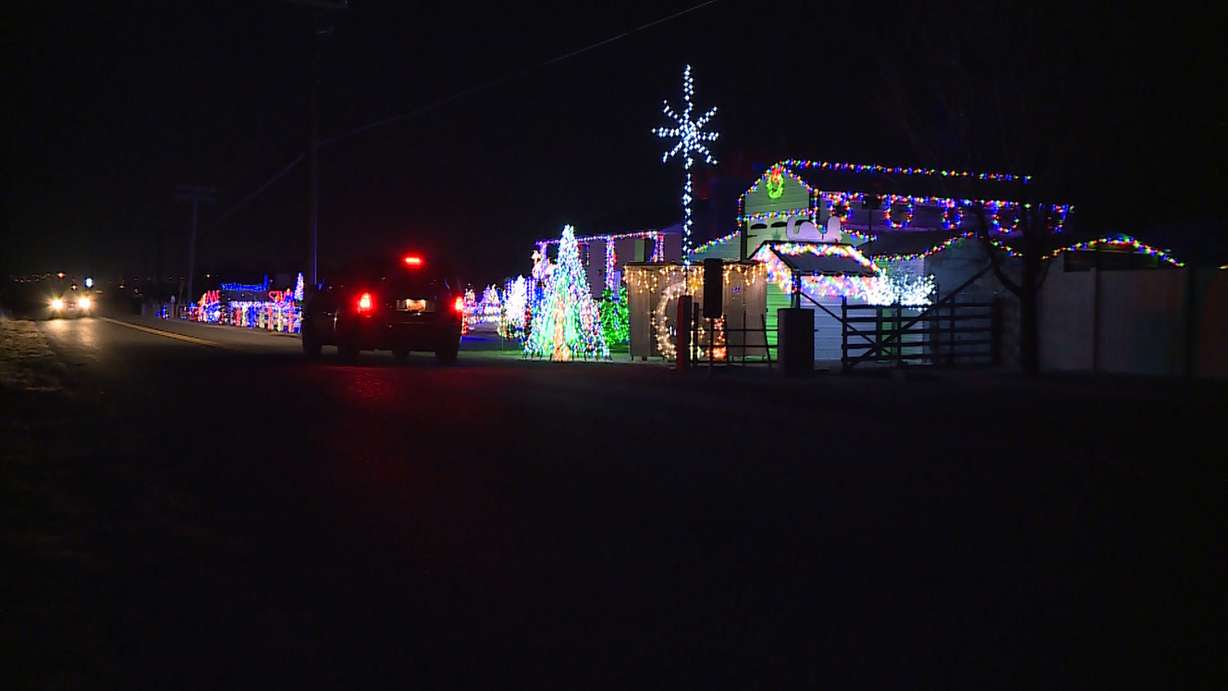 But whether it's anger or simply the yuletide spirit, he's treasuring every second. A steady stream of cars roll along his street every night, and Willes is eager to say hello and help spread some cheer. He spends most evenings sitting in a recliner near the front door, glancing at a monitor filled with images from his security cameras so he can see if anyone wants to chat.
"We get people bringing us cookies, and come knock on our door, wanting to know 'how did you do those stars?'" Willes said. "The neighbors say, 'Every time we go somewhere, we have to go by your road or our kids will bawl all night long.'"
But no matter who he truly does it for, as long as he's able, Willes plans on continuing decorating his home as extravagantly as he can — bringing tidings of joy to others, and tidings of comfort to himself.
"Just keep my mind off of it, and do what you can do while you can do it," he said.
×
Photos
Most recent Utah stories