Estimated read time: 3-4 minutes
This archived news story is available only for your personal, non-commercial use. Information in the story may be outdated or superseded by additional information. Reading or replaying the story in its archived form does not constitute a republication of the story.
CEDAR CITY — Weber State coach Jay Hill pumped his fist, smiled and swayed in the shivering cold after a Gatorade bath as a thousand or so Wildcat fans swarmed the field at Eccles Coliseum.
After a 2-10 inaugural season as a head coach, the struggles to find a quarterback to stick with his offense and the struggles in his personal life over the last few weeks, he finally had something special. He hugged his wife Sara, whose personal story has been well documented, and his daughter Ashtyn, then embraced players, administrators and fans as they mingled on the field of rival Southern Utah.
The Wildcats had made history. Soak it up.
With a school-record 11-2 mark and a 30-13 win over the Thunderbirds in the second round of the FCS playoffs, Hill turned toward the Thunderbirds' gymnastic facility, toward the NCAA-mandated postgame press conference, and took a step toward the future, which will include a date with No. 1-ranked James Madison (12-0) in the FCS quarterfinals next Friday at 5 p.m. MST (ESPN2) in Harrisonburg, Virginia.
He wanted to celebrate — even joking that he felt he could do a backflip as he stepped onto the springboard-loaded floor underneath the makeshift press area in Cedar City. He also knew the tremendous challenge that lay ahead of his team, even after making numerous strides.
"When we play with a little adversity, then I think we get stronger," said Hill, whose team trailed 10-0 with just 19 yards of offense after the first quarter against the Thunderbirds (9-3). "We went through something similar last week, ran a couple of fakes, and didn't get them — but rebounded strong."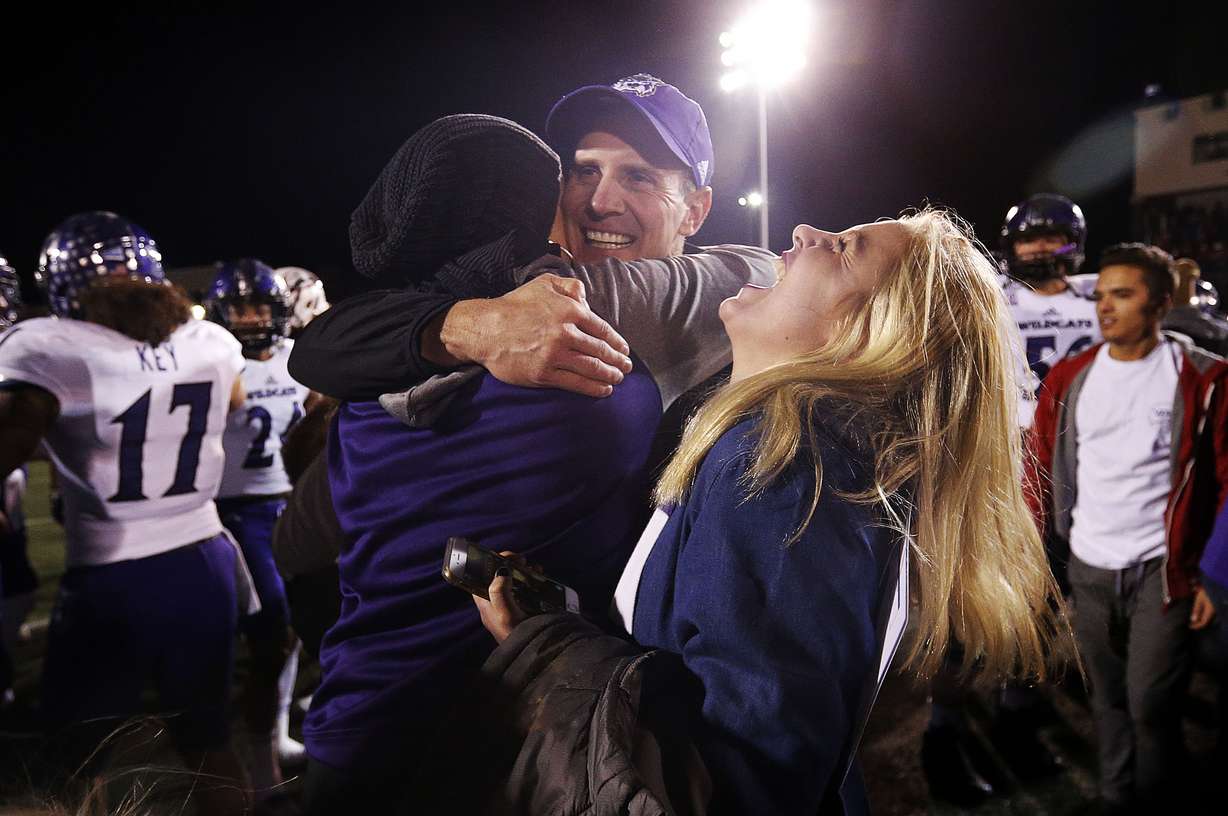 Perhaps "rebounded historically well" would've been a better phrase. The Wildcats have won 11 games for the first time in school history, picked up their seventh-straight victory Saturday night, and will face the No. 1 team in the FCS playoffs for the first time in program history.
"We're making history," said quarterback Stefan Cantwell, who threw for 299 yards and two touchdowns and added another 105 yards and a touchdown on the ground. "As you keep going through the playoffs, every game is a big game. It's exciting, it's fun to be part of this team, to have the unity that we have and to keep moving forward.
"It's a great time to be a Weber State Wildcat."
Friday night's game is a chance to play with a little house money. Few will pick the Dukes to lose this weekend; the defending national champions are on a 24-game winning streak, went 8-0 in Colonial Athletic play, and opened the season with a 34-13 road win over FBS foe East Carolina.
Despite struggling early, the Dukes were scarcely threatened as they held No. 10 Stony Brook to a single touchdown in a 26-7 win over the Seawolves in the FCS second round earlier Saturday.
Hill won't hide how good James Madison has been, not just in 2017 but for the past several seasons. But the Wildcats have been good at getting up for big games, if Saturday night's "Beehive Bowl" victory is any indicator.
"This is another opponent I should not have to do one thing to motivate these players to play," Hill said. "We've got James Madison, and they are an outstanding football team ranked No. 1 in the country.
"They've got a 24-game win streak, and they've been the best team in the country for two years. But the last 24 games don't matter. All that matters is the next game coming up. … All that matters is one game, and we're going to go play it as hard as we can."
×
Photos
Related stories
Most recent Sports stories