Estimated read time: 5-6 minutes
This archived news story is available only for your personal, non-commercial use. Information in the story may be outdated or superseded by additional information. Reading or replaying the story in its archived form does not constitute a republication of the story.
CEDAR CITY — Only two road teams have won at Southern Utah's Eccles Coliseum in the past three seasons.
Both of them are named Weber State — and the latest was the biggest win of all for the Wildcats.
Weber State quarterback Stefan Cantwell threw for 299 yards and two touchdowns, and ran for 105 yards and another score, as the No. 8 Wildcats pulled away from No. 13 Southern Utah, 30-13 in the second round of the Football Championship Subdivision playoffs Saturday night in Cedar City.
"This is a hard place to play," said Weber State coach Jay Hill, whose team also lost to SUU twice in Ogden in the same span. "The travel is hard for all the teams. There aren't a lot of hotels to stay in. You've got to walk a mile from the locker room to here — it's a hard place to play. But we educate our guys on it, they understand it, and it doesn't faze us.
"Right now, in a rivalry game, I don't think home-field advantage has much of a say. You've got to play every play, play hard, and that's what our guys did tonight."
After the "Beehive Bowl" victory, the Wildcats (11-2) move on to face top-ranked James Madison in the FCS quarterfinals Friday at 7 p.m. MT on ESPN2.
Former Dixie High standout Drew Batchelor caught 98 yards and a touchdown on six catches, and tight end Andrew Vollert added 57 yards and a receiving touchdown to lead the Wildcats, who put up 292 yards through the air after being held to seven passing yards in the first quarter.
"The defense played well all night, and they kept giving us the ball and opportunities," said Cantwell, who missed the second half of the Wildcats' 32-16 loss to SUU with a head injury. "The fact I was able to make it through all four quarters and help the offense move own the field and score is an amazing feeling."
Southern Utah quarterback Patrick Tyler threw for 129 yards and ran for 36 more, but was sacked six times. Jay Green led the Thunderbirds (9-3) with 55 rushing yards and a touchdown.
But after piling up 145 yards on offense in the first quarter, SUU was held to just 74 yards and three points the rest of the way.
"We came out flat, but once we got that first three-and-out, our defense played great and took over," said Weber State defensive lineman Cardon Malan, who had four tackles and three sacks. "We stepped up and played great."
The Thunderbirds held Weber to 19 yards of total offense in the first quarter, jumping out to a 10-0 lead that included Green's 16-yard touchdown plunge in front of a stadium-record home crowd of 11,811 fans. The mark exceeds the previous record by nearly 1,000 people, from a 10,842 standing room-only crowd set in the regular-season finale against Northern Arizona two weeks ago.
But the Wildcats got moving after the slow start and held the Thunderbirds to just 35 yards of offense through the next two quarters. A back-and-forth contest ensued, and SUU kicker Manny Berz tied the game at 13-13 at halftime with a 24-yard field goal.
The late scoring drive was precipitated by Cantwell's interception to SUU defensive lineman Chance Bearnson — a rare miscue to the otherwise standout play by the Snow College transfer.
"Things happen as a quarterback; you throw interceptions, you make fumbles," Cantwell said. "You've just got to move on. We had halftime to mull it over, move on, and come out strong in the second half."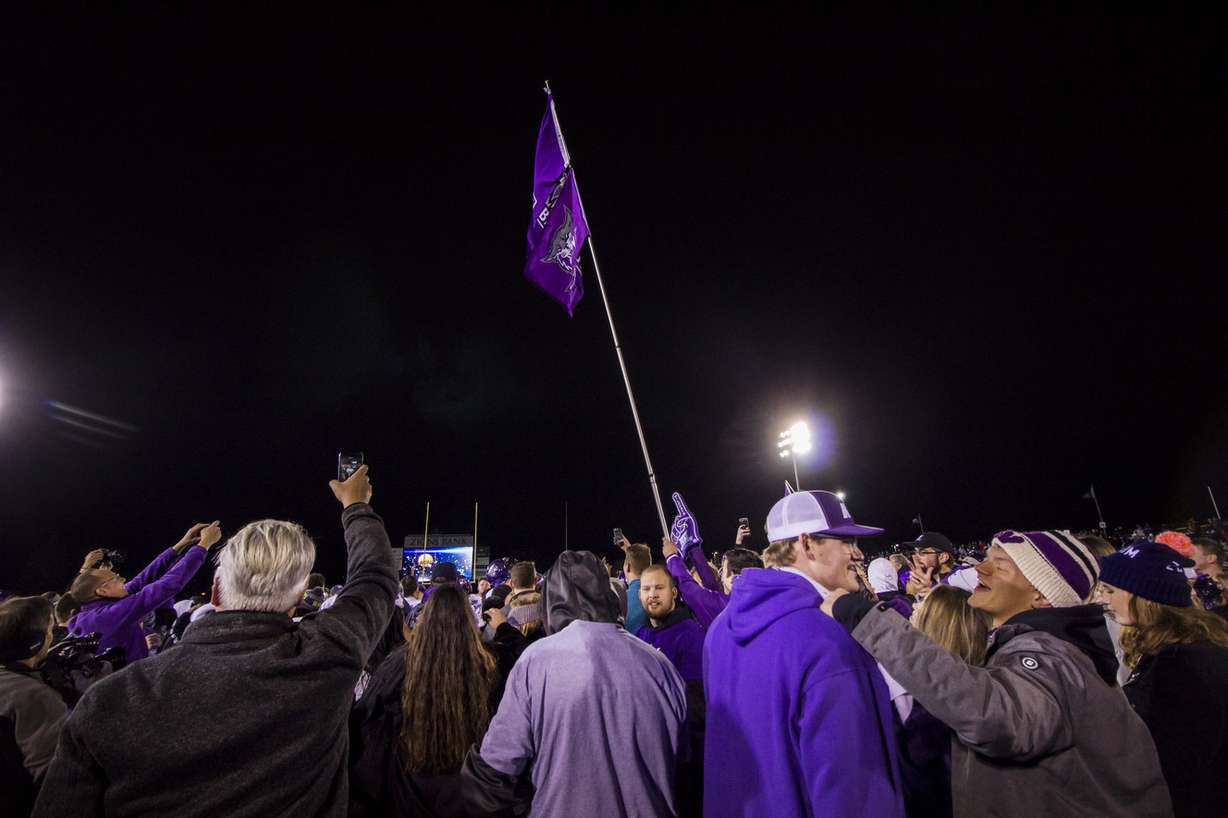 After jumping out to a 10-0 lead, Southern Utah — which hosted as the No. 8 national seed following its Big Sky co-championship — ended the next 11 drives in the final three quarters with eight punts, two turnovers on downs and one field goal.
"They beat us on third downs, and defensively, they just kept us on our heels," SUU coach Demario Warren said. "Offensively, we got six sacks. That's not a recipe for success on offense. We couldn't get going with our tempo because we couldn't get in front of the chains. They had a good game plan."
Cantwell took over in the second half. The former Bingham High signal caller threw his second touchdown pass of the game — a 10-yard strike to Vollert with 6:55 left in the third quarter — to open the second half with back-to-back scoring drives for a 27-13 lead.
"Southern Utah, as good as they've been playing this year, we felt like if we could get them behind the score, we could put them in an uncomfortable position they haven't been," Hill said. "But that's one heck of a football team we just played, and they deserve everything they earned this year."
Trey Tuttle booted his third field goal of the night, a 24-yarder with 8:16 left in the fourth quarter to put the Wildcats ahead 30-13, and Weber State forced 11 tackles for loss to cruise to the win.
Former Desert Hills standout Mike Needham led SUU with 11 tackles, and Chance Bearnson had an interception to pace the Thunderbird defense.
"Our guys finished the game with class, they fought to the very end, and they did everything that we taught them to do," Warren said. "I'm excited to see what this senior group will do after college. It's a tight group of kids, very emotional, and I couldn't be more proud to be their head coach."
×
Photos
Most recent Sports stories