Estimated read time: 3-4 minutes
This archived news story is available only for your personal, non-commercial use. Information in the story may be outdated or superseded by additional information. Reading or replaying the story in its archived form does not constitute a republication of the story.
PROVO — In the final regular-season match in the Smith Fieldhouse of her BYU women's volleyball career, rightside-hitter-turned-middle-blocker Cosy Burnett wasn't sure she had her best game.
The Cougars still won 3-0 against Loyola-Marymount, clinching their fourth-consecutive West Coast Conference title and an automatic berth to the NCAA Tournament. And it's not that Burnett has played bad, either; she ranks No. 26 nationally with 1.37 blocks per set, and 30th with 142 total blocks.
But a do-over wouldn't be so bad, either, she later admitted.
She got it Saturday.
"I was prepared when we played LMU, if it was the last night (at home)," said Burnett, who had five kills in Saturday's 3-0 win over Oregon. "But I'm pretty stoked it wasn't. I'm just going to enjoy this night, and really relish the moment. It's great."
Senior outside hitter Roni Jones-Perry rolled up 27 kills with just four hitting errors as No. 7 BYU rolled to a 25-20, 25-21, 25-19 win over No. 24 Oregon in the second round of the NCAA women's volleyball tournament Saturday night in the Smith Fieldhouse.
McKenna Miller added 11 kills and Lyndie Haddock distributed 44 assists for the Cougars (30-2), who advanced to next week's Round of 16 in Lexington, Kentucky.
One of three all-WCC first-team selections at BYU, the 6-foot-2 three-year Burnett has never missed an NCAA Tournament in her career. As a redshirt freshman in 2014, Burnett was a reserve on the NCAA runner-up squad that fell to Penn State in the championship match. She's made a Sweet 16 run every year since.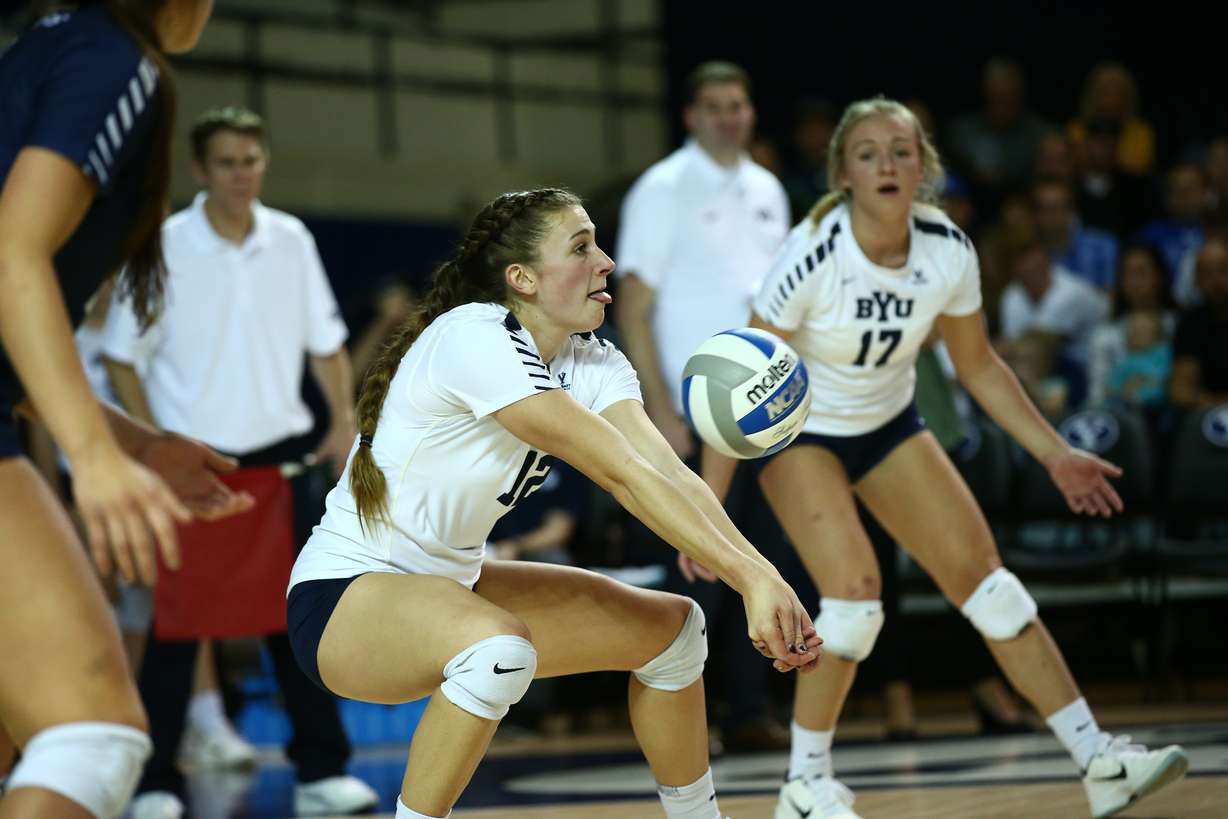 With her home career over, the fifth-year senior reflected on the home crowd as the Cougars get ready to face No. 4-seeded Kentucky in next week's Sweet 16 in Lexington, Kentucky.
"We're always excited to play," Burnett said. "We're always excited to go out and play, no matter where it is."
But there's something special about playing at home, Burnett and her teammates admitted. Averaging more than 2,100 fans per match, the Smith Fieldhouse has earned a mystique — from the WCC to the other side of the country, as D.C.-based American University players and coaches mentioned following Friday night's 3-0 loss to seventh-ranked BYU.
"Hat's off to the program and what they've done here. It's legit," American coach Barry Goldberg said. "Our pride is that we made the Sweet 16 four years ago, and these guys were in the final the next year.
"They have a real history, a good crowd, and it's a real honor to be able to experience what we experienced here — even if we didn't play as well as we would've liked to."
American libero Hoalakei Dawson grew up in Kailua, Hawai'i, and played the final match of her collegiate career in Provo. But the crowd of the Smith Fieldhouse reminded her of the volleyball-loving Polynesians in her home state.
"I personally loved it," she said. "I felt like I was at home, and I love rowdy crowds. It makes me focus a lot more and get in tune with what is actually going on within the court."
The Cougars (30-2) used the crowd to their advantage Saturday against the Ducks, just as they did 24 hours prior against the Eagles.
"It's kind of funny how it gets louder and louder, and I get more and more excited to go touch a ball," said BYU libero Mary Lake, who had back-to-back 20 dig matches in the NCAA Tournament. "There was actually one play where I got a touch, and I thought it was a shank. But then I heard the crowd cheer, and I knew I'd better get up and keep playing.
"Our crowd is the best. That's the best part about the Smith Fieldhouse: our fans, and how excited they get to watch us play."
×
Related stories
Most recent Sports stories