Estimated read time: 3-4 minutes
This archived news story is available only for your personal, non-commercial use. Information in the story may be outdated or superseded by additional information. Reading or replaying the story in its archived form does not constitute a republication of the story.
PROVO — Perhaps American women's volleyball coach Barry Goldberg explained the first round of the NCAA Tournament in Provo the best.
The hosts, No. 13 seed BYU, just played better than the rest of the field.
"They were better than us. They played well," Goldberg said bluntly. "This is a tough gym to play, and they hit the ball well."
With the way the Cougars played, they would've beat a lot of teams Friday night.
Roni Jones-Perry put down 13 kills and two aces, and McKenna Miller (11) and Cosy Burnett (10) also had double-digit kills as No. 7 BYU swept American, 25-11, 25-17, 25-16 in the opening round of the NCAA women's volleyball tournament Friday night at the Smith Fieldhouse.
Lyndie Haddock dished out 37 assists and 10 digs for the Cougars (29-2), and teammate Mary Lake supplied 20 digs in the win.
"Our passers did a really good job of being loud and early on their communication, and then we got the middles involved, too," said BYU coach Heather Olmstead, who improved to 86-10 in three seasons as head coach. "But our passing was pretty solid."
With the win, BYU advanced to face No. 24 Oregon in Saturday's second round at 7 p.m. MT Saturday in Provo. The Ducks (18-11) downed Atlantic Sun champion Kennessaw State, turning a 28-26 edge in the first set to pull away for the 28-26, 25-19, 25-18 sweep in the first match Friday.
Aleksandra Kazala led American (26-8) with eight kills, but the Eagles — who put together an 18-match win streak en route to a Patriot League title — could never get comfortable and hit just .027 in front of 2,942 fans in the Smith Fieldhouse.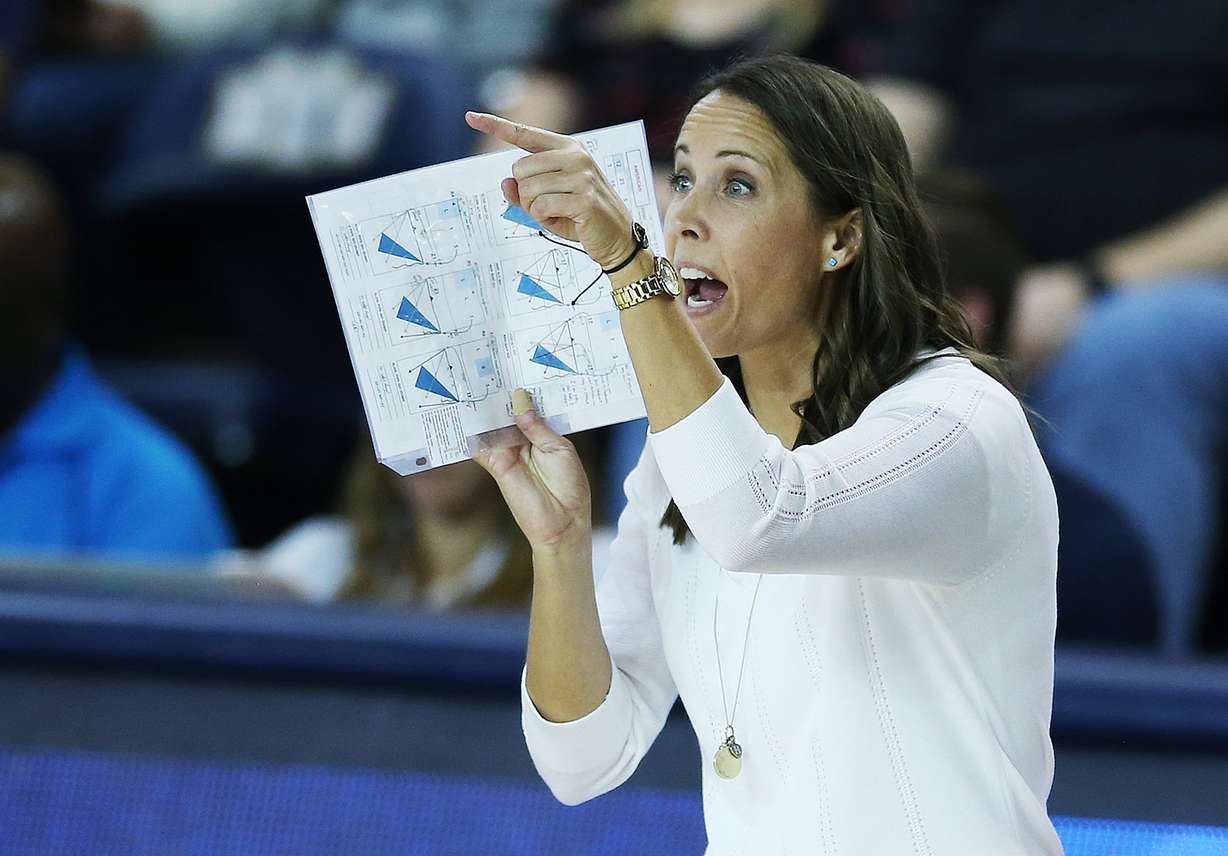 "The coaches mentioned that this is a regular atmosphere at BYU," Kazala said. "We were looking forward to it, and it's always fun to play in front of such a big crowd."
Added her head coach: "I'm very pleased with where we started, and where we ended up," Goldberg said. "It's a real privilege to be here, as far away as we are."
American opened the first set with a 6-3 advantage. But the home team rallied with a 8-0 run, including a quickdraw setter's dump by Lyndie Haddock, to go up 11-6 and take back control.
During the run, Goldberg was assessed a yellow card for dissension with the officiating crew, and the Cougars cruised through Burnett's set-winning kill, 25-11 in the opener.
"There was a little bit of this pregame jitters; we didn't feel completely calm and completely us," said Jones-Perry, who hit put up a match-high 37 kills attempts. "But we started instilling confidence in our teammates, and then played more freely and more like BYU volleyball."
BYU used an 8-2 run, including back-to-back aces by Jones-Perry, to jump out to a 14-5 lead in the second set. Jones-Perry gave the Cougars a 21-11 lead with her 10 kill of the night, and the Cougars rolled to a 25-17 second-set victory.
Through the first two sets, BYU held American to just seven kills on 39 attempts with six errors. The Cougar back row anchored a defensive unit with 56 digs on a night the front row only managed five blocks.
"The coaches put me in at left back, and told me all the tendencies of the hitters," said Lake, the West Coast Conference defensive player of the year. "I think our blocks was in the right spot at the right times, and that allowed all of us to play good defense. It's preparation and the front row doing their part that gave us a good defensive game plan."
Back-to-back kills by Miller paced the Cougars during a 9-3 spurt to open the third set.
Danelle Stetler's kill gave the Cougars a 21-11 lead, and BYU finished off the match with a 25-16 win in the third and final set.
×
Photos
Most recent Sports stories