Estimated read time: 3-4 minutes
This archived news story is available only for your personal, non-commercial use. Information in the story may be outdated or superseded by additional information. Reading or replaying the story in its archived form does not constitute a republication of the story.
OGDEN — College football is all about rivalries, and Weber State has a pretty good one with Big Sky co-champion Southern Utah.
The Wildcats and Thunderbirds have met 24 times historically, with Weber State holding a 16-8 all-time lead. But SUU holds the most recent result with a win in Ogden last Oct. 14 — a win that paved the way to the conference title as both teams tied for the Big Sky lead with pair of 7-1 records.
There's only one way to settle this score, then. The No. 8 Wildcats (10-2) and No. 12 Thunderbirds (9-2) will meet in the second round of the FCS playoffs at 6 p.m. Saturday in Cedar City (ESPN3). The winner will advance to the national quarterfinals, likely against reigning champion James Madison, with a spot among the top-eight teams in the country at stake.
As far as the rivalry goes, it's on.
"It's awesome on our end," Weber State coach Jay Hill said. "It's a real opportunity for us to see who the real Big Sky champs are."
The state of rivalry and respect has been thick between the two schools since SUU joined the Wildcats in the Big Sky Conference five years ago. Since then, the Thunderbirds have won the league twice, and players from both schools have taken to the "Beehive Bowl" series with the emotion befitting of USC-UCLA, Ohio State-Michigan or BYU-Utah.
"The rivalry is there now," SUU linebacker Mike Needham said. "The trash talk, and all that — it's not common for two Big Sky teams to meet in the playoffs, so for this to happen, it's big."
When asked about the school, Weber State defensive tackle McKay Murphy even referred to SUU as "the team down south."
Wait … what?
"I think when you refuse to use their name, it's a rivalry," said Murphy, a Lone Peak High product, with a tongue-in-cheek grin. "I've probably been saying SUU too much. It's not as extreme as I've heard other coaches take a rival. But in the players' eyes, it definitely is.
"We know those players really well. I've got friends from high school on that team. It's just something that we're looking forward to."
Since Hill's inaugural season in Ogden when the Wildcats finished 2-10 in 2014, the former Utah assistant has turned the program around — culminating in this year's 10-2 record, a shared conference title, and the first-ever home win in the postseason, 21-19 over Western Illinois.
"That's pretty sweet," Hill said. "To start 2-10 your first year, and now to be 10-2 and have a conference championship and have your first playoff win (at home) — this is a huge deal."
There are few better ways to celebrate than with a road date against a rival, all-Big Sky tight end Andrew Vollert admitted.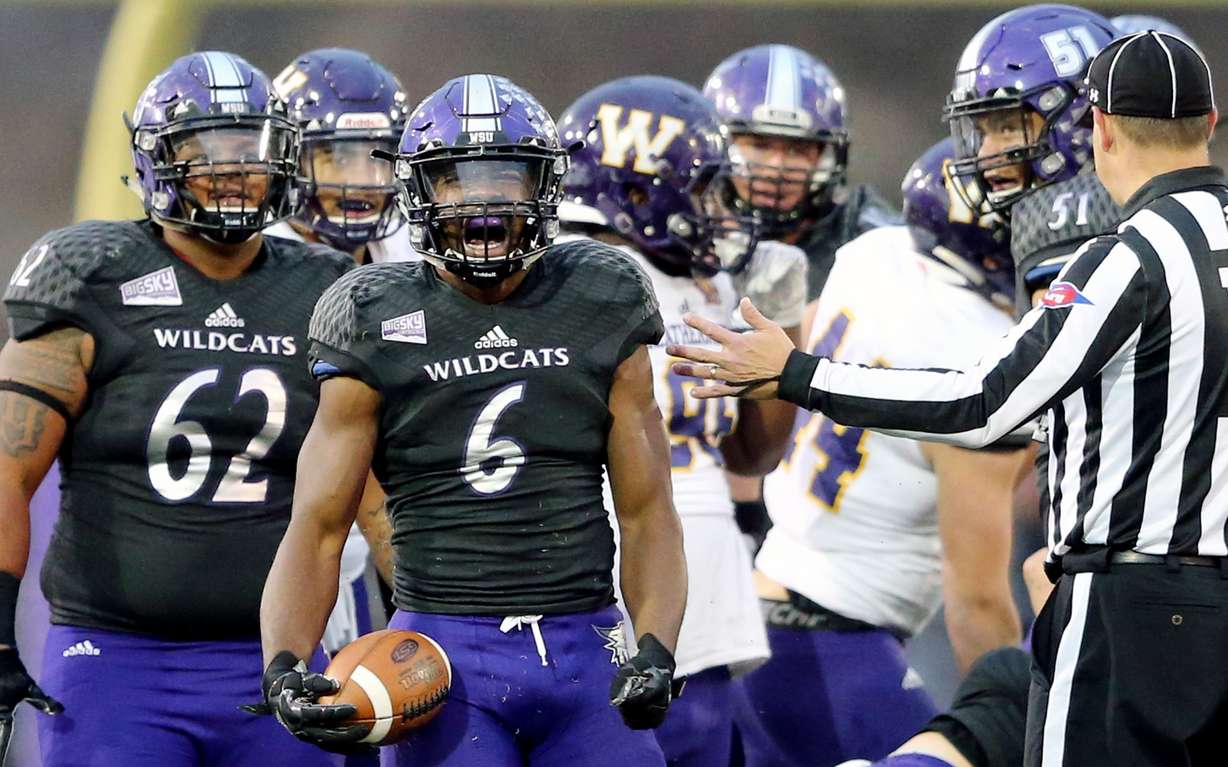 "That first win is hopefully one of five — hopefully we've got four more wins to come," Vollert said. "Southern Utah is next, and we can't wait.
"I think it's going to be lit. It's going to be fun. It's already sold out (at the Eccles Coliseum in Cedar City), and it will be compact and a great environment. We can't wait."
SUU will be focused and ready for revenge Saturday, too. Though the Thunderbirds won 32-16 Oct. 14 in Ogden, the last time these teams met in Cedar City, it was the Wildcats that pulled out the upset win by overturning a 36-14 deficit with a 23-0 fourth-quarter spurt en route to a 37-36 win Oct. 22, 2017.
That game was a turning point for both programs, too.
"Weber State has gotten a lot better, and when Weber finally got a win last year in that comeback, it really heated things up on the rivalry front," Vollert said. "Now we're meeting in the playoffs for a second time this year, and it's heated up."
×
Photos
Related stories
Most recent Sports stories