Estimated read time: 6-7 minutes
This archived news story is available only for your personal, non-commercial use. Information in the story may be outdated or superseded by additional information. Reading or replaying the story in its archived form does not constitute a republication of the story.
OREM — McKay Cannon didn't know he would be playing for the BYU men's basketball team this season until about 3:20 p.m. Wednesday, when he got a phone call as the team was boarding the bus on the drive down University Parkway.
But he was ready when the phone rang — maybe not for the 20 minutes he ended up playing against Utah Valley, but ready enough.
Cannon totaled eight points and six assists off the bench, and Yoeli Childs poured in 24 points, 11 rebounds, four assists and two blocked shots, and the Cougars drained 12 3-pointers en route to an 85-58 win over Utah Valley Wednesday night in the UCCU Center.
"It was kind of a blur. More than anything I just wanted to play hard, and I think that's what I did and the team followed," said Cannon, who also had two rebounds, a blocked shot and a steal. "It was a great win, and I'm just happy for the result. It was a great win. I'm just grateful to be part of this team."
Five Cougars drained multiple 3-pointers, including two by Childs and two more from Cannon, Jahshire Hardnett, Elijah Bryant, TJ Haws and Zac Seljaas. Hardnett, Bryant and Seljaas each finished with eight points, and center Luke Worthington added seven points in limited minutes for the Cougars (5-2).
But Cannon's play off the bench in his BYU debut stood out.
"McKay is a beast. He's been on the practice squad all year, because we were thinking he would have to redshirt. And he just kills us sometimes," Childs said. "That first pull-up three he had? That's automatic for him. He's so tough to guard, he's a gritty player, and he will do anything to win a game. I knew he was going to have a game like that."
The balanced score line came because of BYU's ability to share the ball, though. The Cougars assisted on 25-of-30 field goals, including the first 15 of the game, led by Canon's six dimes and four each from Childs, Bryant and Haws.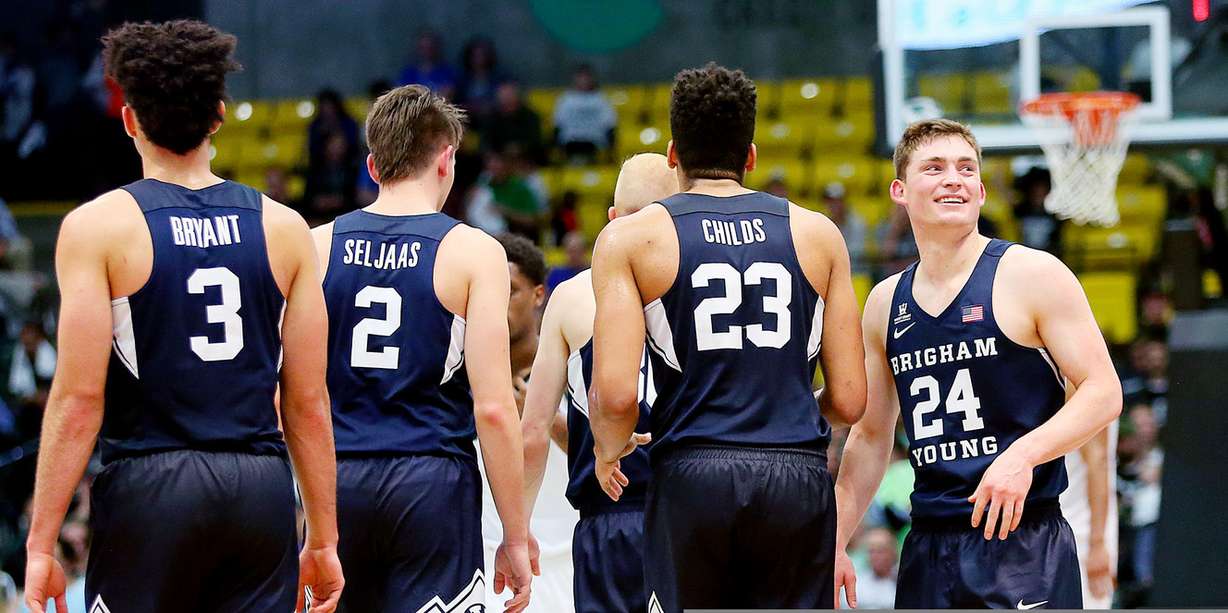 "The open guy is the go-to guy on this team," Cannon said. "We have a lot of great players, and the best thing about it is we are all unselfish. When that ball gets moving, we are hard to guard."
Brandon Randolph led Utah Valley (4-3) with 16 points, four rebounds and two assists, and former BYU guard Jake Toolson added 12 points and four rebounds for the Wolverines. The Cougars held 7-foot center Akolda Manyang to 11 points, five rebounds and two blocks in just 26 minutes due to foul trouble.
"I don't know if you can shut that guy down," Childs said of Manyang. "We were lucky to get him in foul trouble, and we were trying to go into him. But he's a great player. He's really hard to guard on the block, hard to guard. But I don't know if you can really take him out of the game."
The Wolverines turned the ball over 12 times in the first half, while BYU — which committed six turnovers — dished out assists on each of its 15 first-half field goals.
"It was miserable out there," said Utah Valley coach Mark Pope, a former BYU assistant and NBA journeyman. "But I'm happy for those guys over (at BYU). They had to hear about (last year's game) every single day from every single person for 365 days. Now we will.
"That's why this game is so great."
Cannon, a Weber State transfer whose eligibility was doubtful until the BYU coaching staff received a phone call two weeks ago, drained a deep 3-pointer with 1:25 on the clock to give BYU a 37-24 lead in the first half on his first official shot in a Cougar uniform.
"When you think about the youth of our team, and what he's done — started 41 Division I games — to bring that to this group, it will really help us," BYU coach Dave Rose said of Cannon.
Related Story
UVU trailed 42-26 at halftime, but opened the half with four-straight buckets. The Wolverines capped the run with Manyang's jam to pull within 15, 51-36 with 15:58 left in the game.
A hustle play by Cannon to block a ball in transition led to Childs' put-back attempt, and the BYU sophomore who prepped at Bingham High added a put-back slam with 10:35 left to give the Cougars a 63-42 advantage and put control back in the visiting team's favor.
"He hit a couple of threes and showed a lot of the work that he's put in all summer," But the thing I liked most about Yo was how determined and consistent he was throughout the game.
"He really grew up tonight, and played a great game," Rose said.
After making a school-record 18 3-pointers against BYU in last year's 114-101 upset in the Marriott Center, the Wolverines went just 1 of 8 from behind the arc Wednesday night.
BYU, meanwhile, converted on 12 3-pointers, including a shot from the top of the arc by Elijah Bryant with 3:23 left in the game.
"We try to treat every game the same, but personally, this was a big game," Childs said. "Every single day, we heard about the UVU game last year. We wanted to come out with a defensive effort and show what this team is capable of doing. I think that's what we did tonight: We worked really hard, and I think we showed that if we work harder than other teams, we can win every game."
The Cougars hit the road for a weekend clash at Utah State this Saturday, followed by a game against Weber State in Salt Lake City and at home against Utah to finish off an in-state swing with four local teams in five games.
"I love them when they are over and we won. They are tough," Rose said of playing the in-state opponents. "But I hope everybody keeps playing. It's really good for basketball in the state of Utah, and even non-BYU or non-Utah Valley fans were interested in this game. That's the same way with the rest of the in-state games.
"I really wish Mark all the best. He had a great crowd here tonight. Hopefully he can get this team to the NCAA Tournament, so we can get every team in the state into that tournament," Rose said.
Utah transfer Kenneth Ogbe finished with nine points, three rebounds and two steals for the Wolverines, who host UT San Antonio at 7 p.m. MST Saturday.
#Box
×
Photos
Most recent Sports stories