This archived news story is available only for your personal, non-commercial use. Information in the story may be outdated or superseded by additional information. Reading or replaying the story in its archived form does not constitute a republication of the story.
SALT LAKE CITY — Salt Lake City's struggle to write an ordinance to allow mother-in-law apartments or other add-on living structures — also known as accessory dwelling units — is inching closer to a resolution.
If votes remain the same as they did in a series of straw polls Tuesday night, the new law could pass next week — though at least one opposing council member hopes some of her colleagues will have a change of heart.
After months of grappling with each other over the ordinance and hearing fears from residents that accessory apartments would jeopardize single-family neighborhoods, most Salt Lake City Council members on Tuesday informally voted to support the ordinance with a few key changes.
Instead of a citywide law — which some east-side council members have opposed — most council members said they would support a boundary that would exclude areas like the east bench or the Avenues.
A majority also supported the removal of a cap of 25 permits, meaning the ordinance would place no limits on the number of accessory units that would be allowed each year.
However, to avoid landlords buying up properties for the sole purpose of renting and profiting from accessory apartments, the council also added a requirement to require the owner to live on the property in order for them to lease their garage, basement or backyard apartment. It also wouldn't allow exterior modifications in historic districts.
If the ordinance is approved next week, council members also supported revisiting it in three years to study its impact and whether changes are needed.
The proposal comes amid city leaders' push to increase Salt Lake City's affordable housing stock — and accessory apartments, Councilman Derek Kitchen said, are a "small piece" to that puzzle.
"It's not going to solve the affordable housing crisis, but it's a component to get to a healthy level of affordability in our community. We cannot build housing fast enough," Kitchen said Wednesday, noting Salt Lake City's vacancy rate under 3 percent and a population set to explode by 30,000 residents over the next decade or so.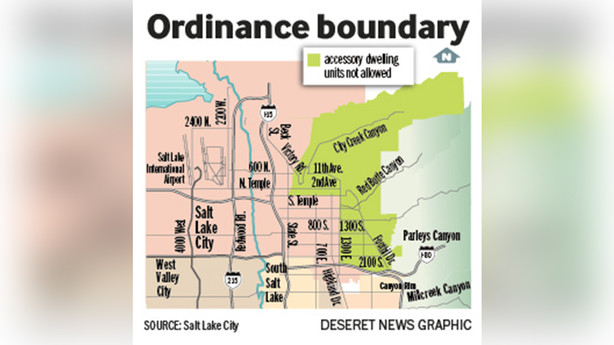 "What's great about the (accessory dwelling units) ordinance is homeowners and individuals can invest in their neighborhoods and their own properties that will allow them to drive up the value in their community while also adding housing to our stock," he said.
Kitchen originally pitched to the council a citywide ordinance, aiming for "geographic equity" to prevent excluding certain neighborhoods like the Avenues and the east bench from the effort to address Salt Lake City's housing need in all neighborhoods.
But Tuesday he proposed what he saw as a "compromise" to get the ordinance approved rather than stalled with a split vote.
"My philosophy here is housing is too important of an issue for Salt Lake City for one component to become toxic or to taint the well," he said.
Councilman James Rogers, who represents the city's west side, and Erin Mendenhall, who represents neighborhoods such as Ballpark and Liberty Wells, were the only two council members that opposed the boundary change in Tuesday's straw poll.
"To cut out the east bench and the Avenues entirely has gone too far," Mendenhall said in an interview Wednesday.
Related:
She said the decision is "indicative" of public sentiment around affordable housing and the desire to exclude "upper-income areas of the city" in the effort, which she said is inconsistent with the policy values the council has adopted to address affordable housing issues.
The councilwoman said she acknowledges the concern that accessory apartments "don't work everywhere, but I don't believe that's true for entire swaths of the city.
Mendenhall said she hopes other council members will change their minds before Tuesday's vote.
But if support stands, the ordinance will pass.
The council is scheduled to take action during its 7 p.m. formal meeting at the Salt Lake City-County Building, 451 S. State.
×
Photos