Estimated read time: 3-4 minutes
This archived news story is available only for your personal, non-commercial use. Information in the story may be outdated or superseded by additional information. Reading or replaying the story in its archived form does not constitute a republication of the story.
SALT LAKE CITY — The Orem Tigers defeated the Mountain Crest Mustangs, 26-0, to capture the 4A state championship Friday. It is Orem's first state title in 23 years.
"It's crazy," said Orem's Puka Nacua after the game. "I don't know what it's like to have a kid but this had to be pretty darn close."
Both offenses started out slow, but an interception thrown by Mountain Crest junior quarterback Brady Hall to Orem's senior free safety Remington Hill in their own territory turned costly as the Tigers picked up a 20-yard field goal on their next possession.
Mountain Crest's offensive woes continued after Hall threw another interception in the second quarter and Orem's senior cornerback Chris Daley returned the interception deep into Mustang territory. Orem had to settle for another field goal after Nacua dropped a touchdown pass in the end zone and junior quarterback Cooper Legas took a sack.
Orem got the ball to start the second half and Nacua got more involved in the offense. His first reception was a 41-yard catch that set up a 15-yard touchdown run by freshman Klaysen Christianson. Orem's attempt at a two-point conversion failed, but the Tigers were up 12-0.
"I'm ready for three more (titles)," Christiansen said. "We're coming up; it's a stepping stone. For me, it's one accomplishment down, I got many more to go."
Nacua made the Mustangs pay after he caught a 15-yard touchdown reception to put the Tigers up 19-0 early in the fourth quarter. Nacua finished with four receptions for 75 yards and one touchdown.
Orem scored once more later in the game after Hall threw his third interception. Legas scored on a 5-yard run for the final score of the game.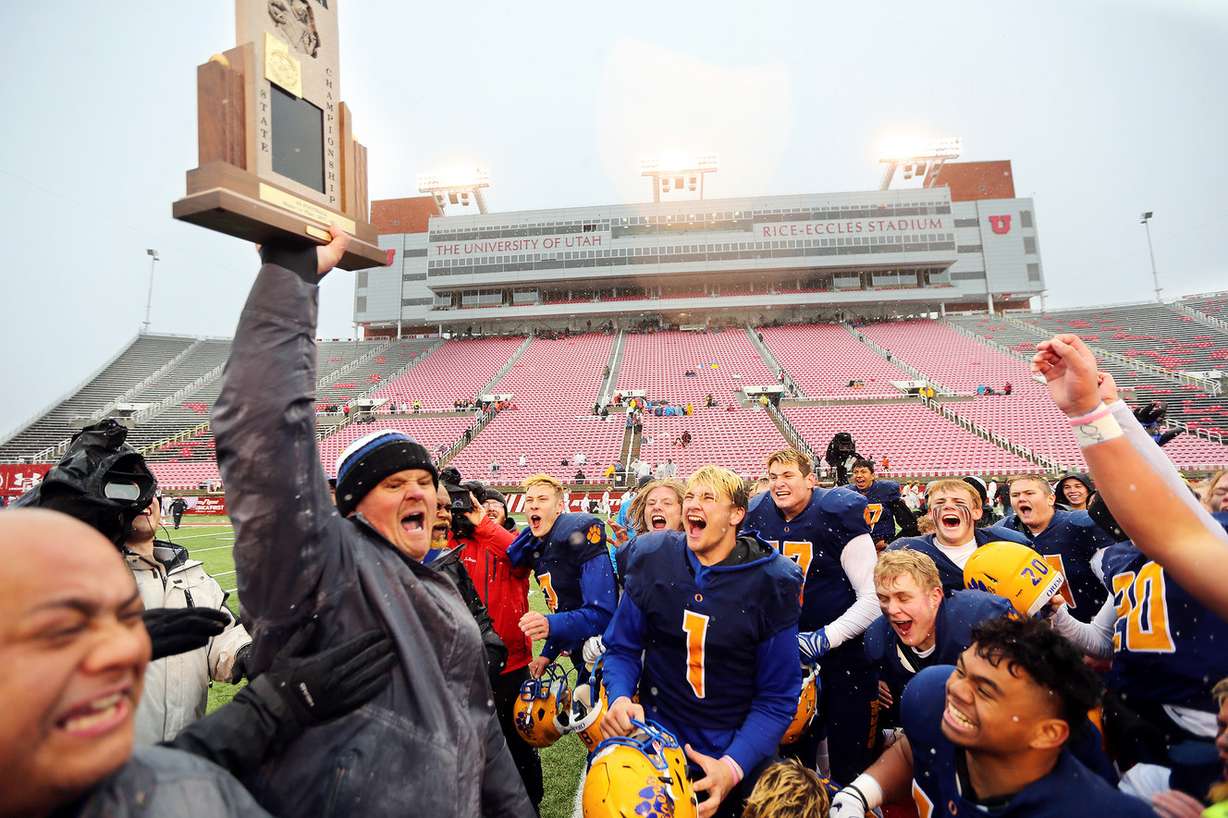 This is the first game during the playoffs that Mountain Crest failed to score a single point. Mountain Crest's senior kicker missed the only attempt the Mustangs had at scoring in the half.
"Our defense, we've done the same thing. We've done 100 percent every practice," Daley said. "We have the Kevin Garnett mindset. We don't let anyone score, we don't let the scout team score, we don't let anyone catch the ball ever. It pays off when you take the state ring."
Orem dominated the game from the beginning, posting 434 total yards of offense. The Mustangs were held to only 137 total yards. Mountain Crest lost the turnover battle with three interceptions and one lost fumble, and Orem scored 13 points off of Mustangs' turnovers.
"I just told my defense in this kind of weather, there's going to be opportunities to take the ball away," said Tigers' head coach Jeremy Hill, "We wanted to pressure their quarterback, try to get the ball out of his hand quick. And I think that helped us, we had a lot of opportunities to go snag some balls out of the air, which we did. Anytime you come out and put up a 0, you're usually going to come away with a championship."
It's is Orem's first championship in 23 years. Coach Hill was a state champion on the 1994 title team, and now he's a champion as a head coach.
"When I won as a player, I thought I couldn't be any happier being involved with this sport," Hill said, "It's definitely a sweet, sweet feeling for me and I'm just so proud of these kids."
"I'm just so happy, it couldn't have ended any better," Daley said. "We fought this entire season and I'm just so happy.
The last shutout in the 4A state championship was in 2004. Nacua tied the state record for touchdown receptions in a season with 24. Orem finished the season 13-2 overall and on an impressive 10-game winning streak.
×
Photos