Estimated read time: 7-8 minutes
This archived news story is available only for your personal, non-commercial use. Information in the story may be outdated or superseded by additional information. Reading or replaying the story in its archived form does not constitute a republication of the story.
SANDY — When Jennifer Rockwood first arrived in Utah to lead the club version of what would eventually become the BYU women's soccer team, girls soccer in Utah didn't even exist at the high school level.
Fast forward to 2017, and the state boasts six Division I college teams, two Division II teams, the two-time top-ranked team in the nation by USA Today HS Sports, and hundreds of thriving club teams.
As of Thursday, Utah boasts a top-flight professional women's team in the National Women's Soccer League, which Rockwood and her team were present to witness as Real Salt Lake owner Dell Loy Hansen formally introduced the new club to more than 100 fans, supporters, coaches, administrators and media at a press conference at Rio Tinto Stadium.
"This is a huge announcement and we are so excited to have our sport that we love so much at the next level," said Rockwood, who has coached 22 All-Americans and seven MAC Hermann Trophy award nominees. "There will be a bunch of amazing players and role models for young kids, the same that we try to do at BYU. But this takes it to a whole new level.
"Now my girls have more of a dream to play at the next level."
The excitement came from within the RSL organization, too.
"It's been a dream of mine for seven years," Hansen said. "When I got to RSL … I was much more versed in women's soccer than the men's game. It always felt like we needed fairness. We needed to make sure that we got a pro franchise here in Utah, and we moved very quickly."
Thursday's announcement was brought by a beaming Hansen sitting next to other RSL club administrators, like general manager Craig Waibel, chief business operator Andy Carroll and political luminaries like Utah Gov. Gary Herbert and outgoing Sandy Mayor Tom Dolan.
But the biggest impact of the new team will be felt in the community of women's soccer in Utah, Hansen said.
"To me, this will be their rallying point," said the Cache Valley native, who has seven daughters. "If you are a man, you can watch the Utes or BYU football or drag races — but I think that for a lot of women, this will be their epicenter. I don't think it takes a lot of research to think that we need that rallying point in Utah."
NWSL managing director Amanda Duffy came to the league from her previous post with Louisville City FC in the second-division United Soccer League, and she's seen success from smaller-to-mid-market clubs like Portland, Seattle and New Jersey-based Sky Blue FC.
"The community really rallied behind that team (in Louisville), and supports it in a unique way. It's a community-driven team, and that's what I see happening here," Duffy said. "It's the community, and having that support behind this women's team in a way that I think is going to be unique and special and these players and for the league as a whole."
The new club, whose name, crest and colors will be announced soon, will play its inaugural season at Rio Tinto Stadium in time for the first kick of the 2017 NWSL season.
RSL will inherit the club currently known as FC Kansas City, which has been involved in numerous ownership disputes since winning back-to-back NWSL championships in 2014 and 2015.
Neither RSL officials nor Duffy would confirm if the club was relocating from Kansas City, folding an existing franchise while adding another one, or some combination of the two. But they did say the NWSL's 2018 season would begin play with 10 teams across all four time zones — the same number as played in 2017.
"Kansas City is an ongoing conversation that is separate from this," Duffy told KSL.com. "We're continuing to work with that ownership to discuss their status and plans for the future in NWSL.
"We didn't want to take anything away from RSL and the wonderful opportunity it is for our league."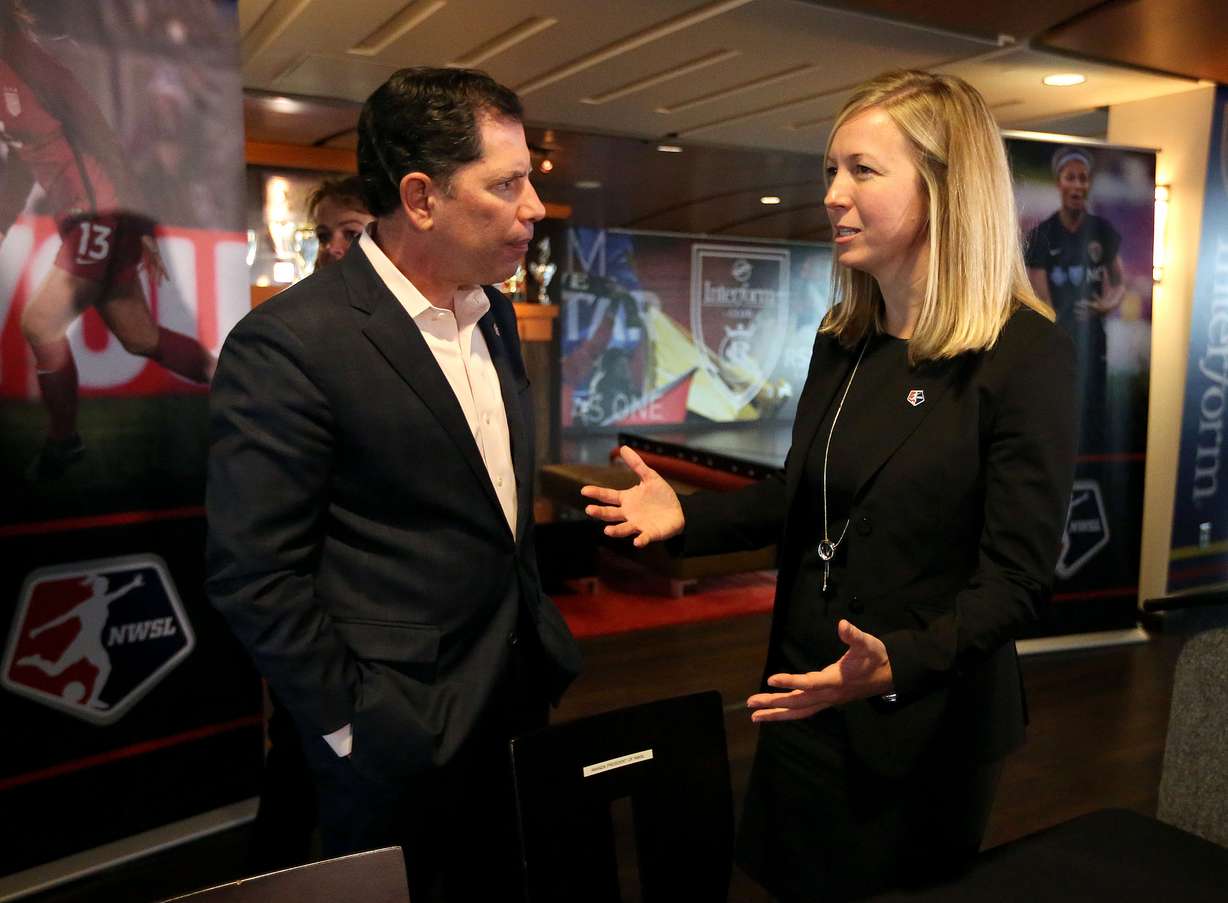 Multiple sources confirmed to KSL.com that the new team will take Kansas City's spot in the league, though the exact mechanism whereby the move will be made is yet to be determined.
Real Salt Lake becomes the fourth MLS team to back an NWSL program, joining the Portland Timbers, Houston Dynamo and Orlando City SC.
The backing from the MLS contingent of NWSL was crucial in getting a deal done for Salt Lake in just 15 days. Just as important was the voice of approval from an unlikely source, at least among RSL fan circles — Timbers owner Merritt Paulson, who also owns the Portland Thorns FC.
"The MLS owners that we have were able to recognize Dell Loy and his team, and they spent a lot of time with Merritt and the group in Portland," Duffy said. "Who better to learn from than those who are doing it the right way?"
Waibel admitted that the club's plan to add a professional women's franchise was always in the cards since the day he was named club technical director, and later general manager. But he credited Hansen for making the dream a reality so fast — two weeks later, and at least two years ahead of schedule.
"This was always part of the plan," Waibel said. "We're a few years early, but that's an awesome problem to have. It's a great issue to deal with when your owner has the ambition that Dell Loy does."
With Division I programs from Provo to Logan, and college soccer programs ranging from St. George to Ephraim and everywhere in between, Utah seems a natural fit for professional women's soccer.
And it gives the burgeoning community an added level of motivation.
"When I was growing up, people would ask me what I wanted to do and I would always say I wanted to be a professional soccer player," said BYU defender Taylor Campbell Isom, who will enter the NWSL draft in January. "The fact that there was no league was sad to me. But Amanda has done a great job of sustaining this national league, and the fact that my dream is now within my grasp is very exciting."
Waibel said the team will strive to ingrain itself in the local community, even holding local tryouts for potential players in the organization. RSL's semipro outfit Real Salt Lake Women will also be involved, though likely as a reserve team or feeder organization for the NWSL club.
The league has not made a formal decision about FC Kansas City, but one source confirmed that the players will likely be given the option of playing in Salt Lake City under the new franchise. Among Kansas City's roster are U.S. internationals Sydney Leroux Dwyer, Becky Sauerbrunn and Amy Rodriguez.
Among the other stars of the league are Houston's Kealia Ohai, who prepped at Alta High School in Sandy, and former BYU star Ashley Hatch, the 2017 NWSL rookie of the year at North Carolina.
The new team could try to find a permanent home of its own, or it could stay at Rio Tinto Stadium — especially with RSL's second-division side Real Monarchs set to move into the club's brand-new, multimillion-dollar training facility in Herriman.
And if Hansen has his way, Rio Tinto Stadium will fill up with fans of the "other" soccer team in Sandy.
"We're not going to build a small stadium because they are going to fill a big stadium," Hansen said. "We've got four months, and we want everyone to recruit their friends. When we open in April, I want to show that we have the loudest, rowdiest team (in NWSL).
"We'll be successful. I don't even blink at that."
×
Photos
Related stories
Most recent Utah stories