Estimated read time: 7-8 minutes
This archived news story is available only for your personal, non-commercial use. Information in the story may be outdated or superseded by additional information. Reading or replaying the story in its archived form does not constitute a republication of the story.
SALT LAKE CITY — A man accused of shooting and killing a University of Utah student near Red Butte Garden had staked out the area all day waiting for the right victim to carjack — and potentially kidnap and kill, according to charging documents filed Thursday.
But when Austin "AJ" Boutain, 24, and his wife, Kathleen Elizabeth Rose Boutain, 23, became impatient and started fighting with each other, the plan changed.
The result was University of Utah student ChenWei Guo, 23, being shot and killed by Austin Boutain, who then tried to lure a woman who was with Guo further into the foothills so he could kill her, too, the charges state.
More details about the tragic Oct. 30 incident were revealed in court documents filed in 3rd District Court by the Salt Lake County District Attorney's Office.
The Boutains arrived in Utah after killing a man in Golden, Colorado, and stealing his truck and guns, the charges state. They set up a camp in the foothills above the University of Utah.
On Oct. 30, the Boutains devised a plan to kidnap someone in Red Butte Canyon, then drive that person to Tennessee using the victim's money along the way for supplies, and then "kill the victim and hide or destroy the vehicle" once they reached their destination, the charging documents state.
Prosecutors say the couple's alternative plan was to "kill the person in the canyon and take their vehicle."
The two hid in an area overlooking the dirt parking lot above Red Butte Gardens, waiting for the right victim while they "discussed the different people and vehicles they observed," the charges state.
"Austin stated that he contacted several people looking for an opportunity to kill or kidnap them and steal their vehicle. Austin stated Kathleen would point out vehicle(s) to him and encouraged him to kill the person who was driving the vehicle," according to court documents.
Austin allegedly told investigators that he had settled on a victim a couple of times, but then another person would arrive and he didn't want to have any witnesses. He also said he was "hesitant to kill someone during daylight," the charges say.
Related
As the day went on, Kathleen Boutain "became more upset and more vocal" about her husband killing someone and "insinuated that Austin was a coward," the charges state. That angered Boutain who got into a physical fight with his wife.
About 8 p.m., police were called to the mouth of Red Butte Canyon where Elizabeth Boutain said her husband had pistol whipped her, was in possession of two guns, had already killed someone and was looking to kill another person in order to get that person's vehicle, the charges state.
About 30 minutes later, Austin Boutain approached a vehicle parked in the lot that was occupied by a man and a woman. He claimed his intention was to ask the driver if he had seen his wife.
Boutain knocked on the driver's side window, but Guo did not respond, police say.
"Austin started to yell at the occupants and attempted to open the driver's side door," the charges state.
Guo began to drive away and did a U-turn to head back down the canyon.
"Austin stated that he became enraged, pulled out the .44 caliber Ruger handgun and shot at the driver's side window," according to the charging documents. "Austin stated he shot at the vehicle five times until the gun was empty."
One of those shots went through the driver's side window and struck Guo. The vehicle continued to roll after Guo was shot, coming to rest after it hit a rock.
As Boutain ran back to his supplies to re-load his gun, Xiaoying Ding, who was in the passenger seat, "climbed into Mr. Guo's lap and attempted to drive the vehicle, but she did not know how to drive the car," investigators wrote.
As Ding called 911, Boutain returned and opened the passenger door. He told her to turn off her phone and get out of the car, the charges state. Police say Boutain told them he intended to steal the car "and kill the female."
"Austin stated that he wanted to lead the female to the foothills to kill her so her body would not be in the parking lot," according to the charges.
Ding threw the phone to the ground. But when Boutain bent over to pick it up, she ran. Boutain fired twice at the woman as she fled, according to the court documents.
Guo's body was still in the driver's seat when police found it. Guo, who was born in Beijing, was a pre-computer science major and a peer adviser with the International Student and Scholar Services Office at the University of Utah. He was a member of The Church of Jesus Christ of Latter-day Saints and served as a missionary for the church in Provo. He also served as a volunteer interpreter for the church.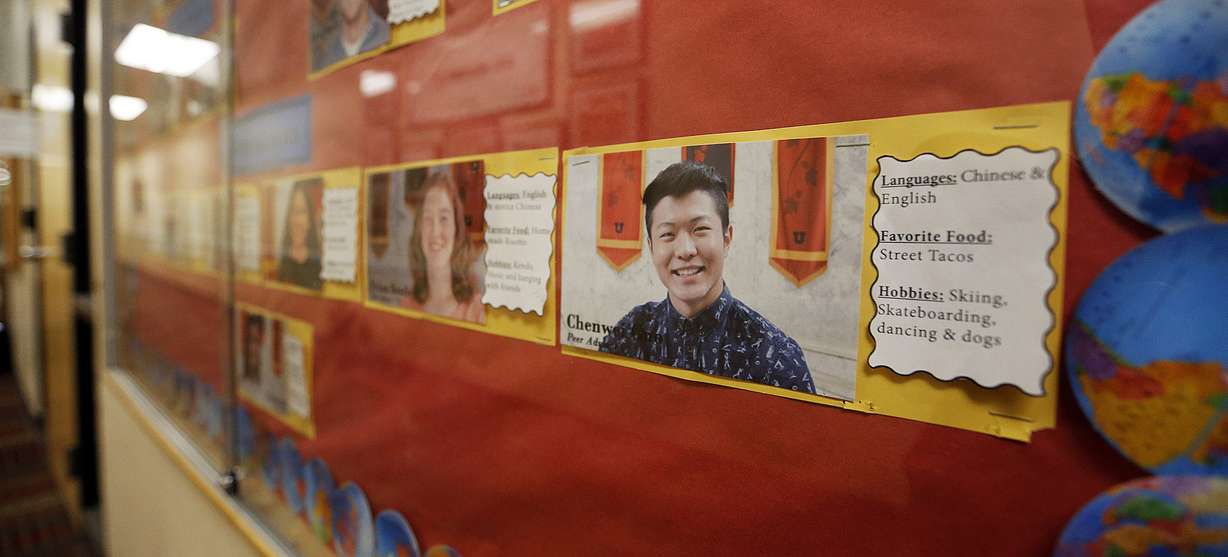 Law enforcement from across the Wasatch Front set up an intense 15-hour manhunt for Austin Boutain in the foothills above the U. But Boutain slipped out of the perimeter area before it was set up. He was arrested without incident on the afternoon of Oct. 31 after being spotted at the Salt Lake Main Library.
Austin Boutain was charged Thursday with aggravated murder, attempted aggravated murder, aggravated kidnapping, and aggravated robbery, all first-degree felonies. In addition, he faces two counts of possession of a firearm by a restricted person and three counts of theft by receiving stolen property, second-degree felonies; and five counts of illegal discharge of a firearm, a third-degree felony.
Kathleen Boutain is charged with criminal solicitation, a first-degree felony; plus two counts of criminal solicitation and three counts of theft by receiving stolen property, second-degree felonies.
The Boutains are also wanted on charges of first-degree murder in Golden, Colorado, where Mitchell Bradford Ingle, 63, was found dead in his recreational vehicle at the Clear Creek RV Park. Authorities believe the Boutains stole a truck belonging to Ingle to drive to Utah. It wasn't until after Kathleen Bountain was questioned by police that authorities learned of Ingle's death.
Utah authorities called police in Colorado to do a welfare check on Ingles. That's when his body was discovered.
According to arrest warrant affidavits, Ingle and the Boutains were "partying" in Ingle's trailer on Oct. 27 when Austin Boutain became upset with Ingle for "flirting" with Kathleen Boutain. After Ingle went to bed, according to the affidavit, the Boutains discussed robbing and killing Ingle in his sleep.
"The original plan was to kill (Ingle) while he was sleeping with a crossbow because there would not be much of a mess," the affidavit states. When that failed and Ingle had awakened, police and prosecutors say Austin Boutain followed him into the bathroom and slit his throat with a knife.
After taking Ingles' truck and some guns, the Boutains drove to Utah. They picked up a homeless couple along the way and gave the truck to them, Kathleen Boutain told police. The truck was found on Nov. 3 in Rawlins, Wyoming, according to charging documents.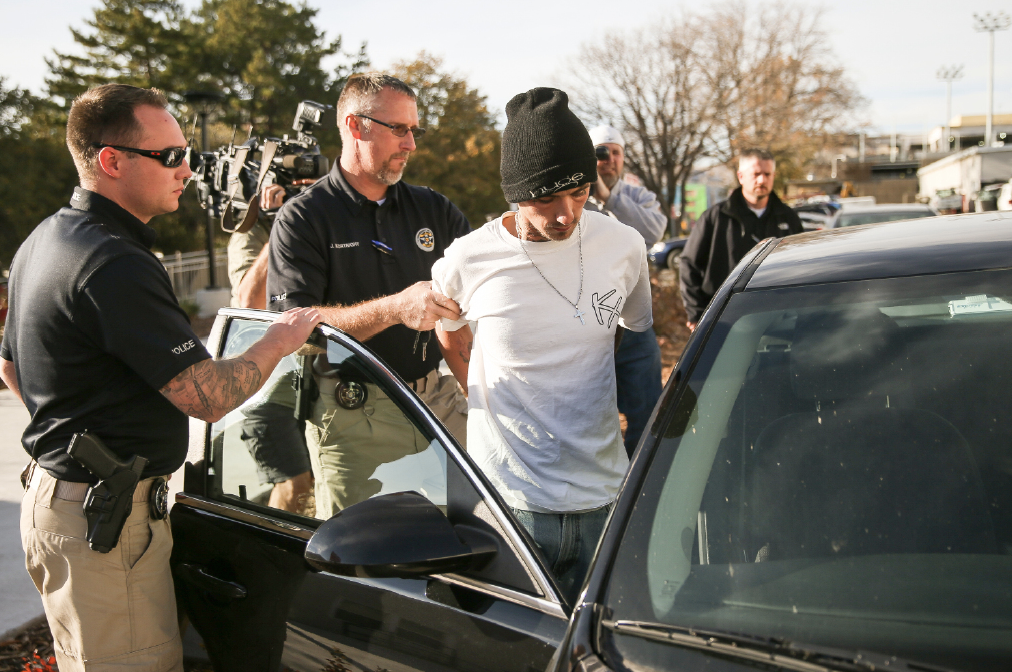 Austin Boutain appears to have a criminal history spanning multiple states.
He was arrested in 2015 in Cincinnati after police there said he fled from officers attempting to stop him in a hospital, according to Cleveland 19 News. Boutain later pleaded guilty to obstructing official business while a charge of disorderly conduct was dismissed, going on to serve one day in jail but failing to pay a $110 fine.
At the time of his arrest in Cincinnati, police wrote that Boutain "thought he was wanted out of Mississippi," according to the TV station.
The Alabama Media Group also reported that Boutain has been charged eight times since 2015 for offenses including theft, manufacturing of a controlled substance, attempting to elude police, and failing to register as a sex offender. He has pleaded guilty to the theft and sex offender violations, the outlet reported.
The New York Daily News reports that Boutain's brother, Lee Boutain, told reporters there that he hadn't heard from his brother "since he skipped parole in Wisconsin" several months ago. Email: preavy@deseretnews.com Twitter: DNewsCrimeTeam
×
Related stories
Most recent Utah stories