Estimated read time: 2-3 minutes
This archived news story is available only for your personal, non-commercial use. Information in the story may be outdated or superseded by additional information. Reading or replaying the story in its archived form does not constitute a republication of the story.
CEDAR CITY — At long last, Milford High's football team will bring home its second state championship in school history.
Bryson Barnes completed 11-of-19 passes for 178 yards and three touchdowns, and also ran for 90 yards on 16 carries to lift the Tigers to a 28-14 win over defending champion Duchesne in the Class 1A state championship Saturday at Southern Utah University.
Ty Netto added 76 yards and a touchdown on the ground for Milford (12-1), which surged to a 21-0 halftime lead and never looked back. Cole Wilson caught five passes for 109 yards and two touchdowns, and Jaxon Davis added a 13-yard touchdown from Barnes to open the scoring.
Stetson Wright pulled down an interception to lead the Milford defense, which held Duchesne standout running back Weston Poulson in check with 68 yards and a touchdown.
Poulson's scoring plunge came on a 2-yard run that pulled the Eagles (11-1) within 21-7 in the third quarter. But that was as close as they would get.
The title is the first for a generation of Milford players, going back to 1993, and also the first for head coach Thayne Marshall, who is in his fourth season.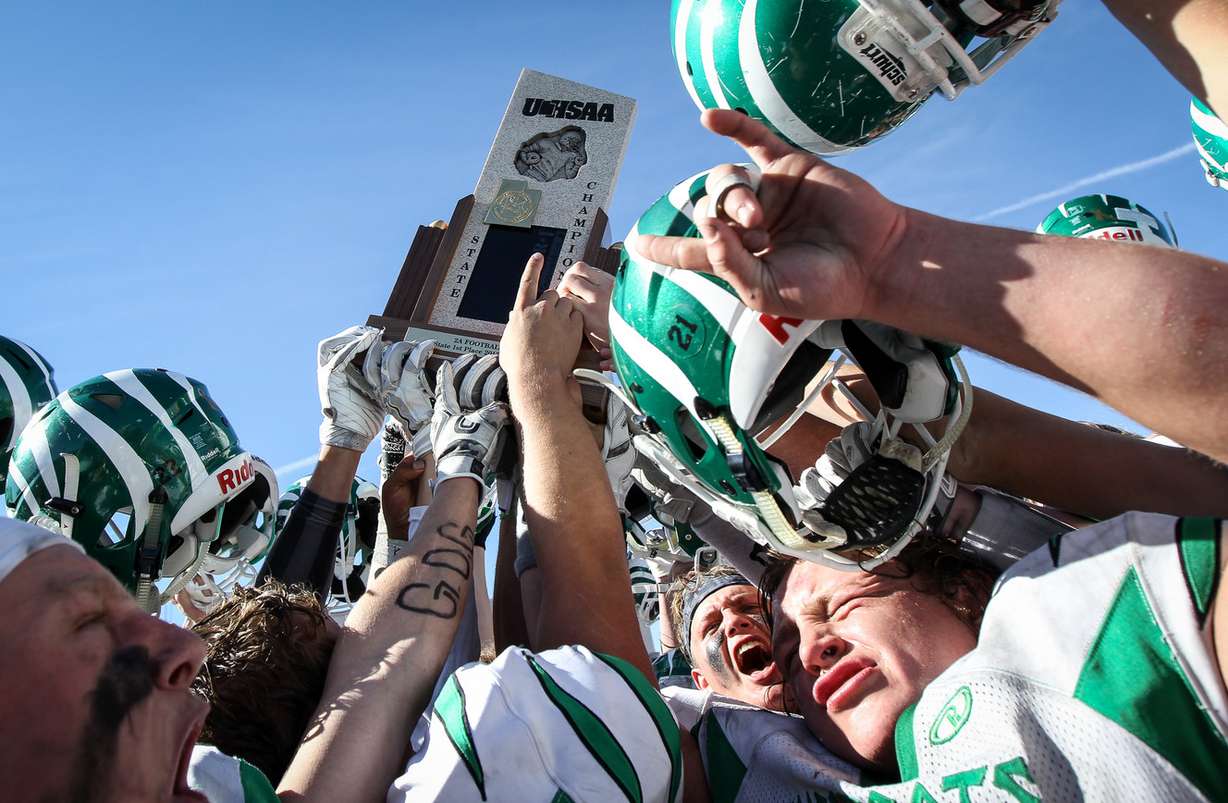 South Summit 38, Beaver 10
At Southern Utah, Jared Dansie ran for 150 yards and two touchdowns as the Wildcats reclaimed the 2A championship after back-to-back title-game losses to Beaver with a dominant win over their 2A rivals at Eccles Colliseum.
Kael Atkinson completed 12-of-19 passes for 196 yards and two touchdowns for South Summit (12-0), including six passes for 173 yards and two scores to Keegan Stracher.
Porter Hollingshead led the Beavers with 119 yards on 28 carries, and when Tyce Raddon plunged into the end zone for a 1-yard touchdown to pull Beaver within 14-7 in the second quarter, it looked to be a game of it.
But the Wildcats outscored the Beavers 24-3 the rest of the way, capped by Braxton Crystal's 25-yard interception return for a touchdown to seal the win and South Summit's first title since winning back-to-back in 2013-14.
×
Photos