This archived news story is available only for your personal, non-commercial use. Information in the story may be outdated or superseded by additional information. Reading or replaying the story in its archived form does not constitute a republication of the story.
SALT LAKE CITY — Marcus Ortega was only 28 years old when a truck blew past a red light, striking the vehicle in which he was riding.
Transported by medical helicopter to the hospital after the collision at 1700 South and 900 West, his mother rushed to see him. But her son, a father of two, was already gone when she arrived.
"It's been a year and I still cry every day," Arlene DeHerrera said. "It's horrible. It's like a nightmare I can't wake up from."
Still, DeHerrera said she continues to see the kind of behavior that cost her son his life.
"It's disturbing how much I see it happening," she said. "I see it a lot. Every time I see it, I think of my son. Like, it could happen to anybody. It could happen to anyone's son or father or any family member — anybody."
KSL spent time simply observing various intersections in the Salt Lake Valley — from 12300 South and State Street in Draper to 3500 South and Bangerter Highway in West Valley City — and watched numerous vehicles rolling right past red traffic signals.
Data KSL obtained from the Utah Department of Transportation on Salt Lake County's busiest intersections showed 374 crashes in the last five years caused by drivers running through red lights.
With motorists driving an average of 31 million miles on Utah's roads last year, and law enforcement spread too thin, is it time to rethink PhotoCop?
The National Transportation Safety Board seems to believe it's a useful tool, as it issued a report on the safety benefits of automated speed enforcement in August and recommended that it be implemented nationwide.
The practice, better known as PhotoCop, was utilized in Utah in the 1990s but was essentially eliminated over privacy concerns.
Maryland police: 'It works'
In Montgomery County, Maryland, police have been using automated enforcement for years — and with great success.
"We're averaging double-digit percentage reductions in crashes," said Richard Hetherington, manager of the Automated Traffic Enforcement Unit of the Montgomery Police Department. "Speeding is down throughout the county. It works."
He said their program, which utilizes 51 red light cameras and almost 80 speed cameras, has been evaluated numerous times and is nationally recognized for its effectiveness. Violations caught on camera result in fines and nothing more.
"You don't get points (on your driver's license), it doesn't go to your insurance, it doesn't show up on your driving record," Hetherington said. "It's still money coming out of your pocket."
Photos taken at intersections are of the back of vehicles as opposed to the front, which eliminates the issue of identifying the driver. Instead, photos are taken of license plates and issued to the vehicle's registered owner. Speeding citations are not issued unless someone is going 12 mph over the speed limit.
Daniel Anderson, a police aide, reviews videos and photos taken by red light and speed cameras. Images must be clear and the violation plain to get his approval.
"We're basically doing a second or third check on every citation," he said. "There are multiple checks that go on before somebody gets this ... a sworn police officer in the unit will actually review these and approve them."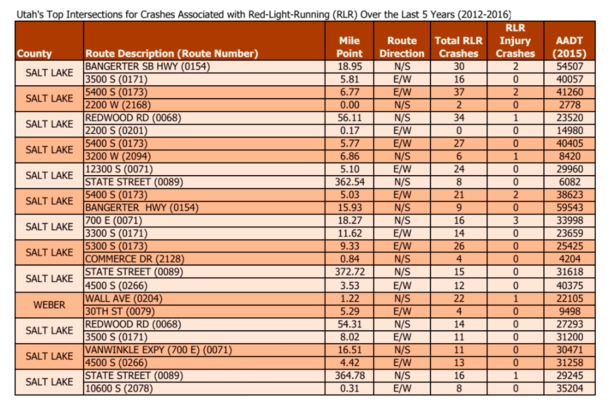 Capt. Thomas Didone, director of traffic for Montgomery County police, said integrity is the key to ensuring that their program is used effectively and correctly to "to keep our roadways safe, to get people to slow down, to change behavior and to prevent crashes."
"Defensive driving is a myth now," he said. "Running red lights, going as fast you can, is the norm."
As for the complaints about privacy, Didone said those are outweighed by the safety benefits.
"I'm sorry if they feel their privacy is being violated, but this is in the public interest," he said, noting that, unequivocally, he believes the cameras save lives.
And improving the safety of motorists isn't the only benefit, according to Hetherington, as it also frees up police to set their sights on more pressing issues.
"We have gangs and drugs and serious crime problems where the police should be focused," he said.
The program also generates a fair amount of revenue. In 2015, the program made almost $13 million. All of the profits, by law, are reinvested back into programs that make the community safer.
PhotoCop vs. Utah law
For almost two decades, though, Utah law has made PhotoCop impractical. For starters, it requires a police officer to sit by each automated camera. So if Utah were to implement a program like Maryland's, it could take hundreds of officers to man red light cameras around the clock.
DeHerrera believes it's time to re-evaluate the law.
"Put them out there," she said, referring to red light cameras. "It can really save a life."
KSL independently reached out to six different lawmakers on both sides of the political aisle and each rejected the notion of a return of automated enforcement or re-evaluating current laws on the issue, despite KSL's findings.
Over a year since Marcus' death on May 11, 2016, and DeHerrera said she still can't make sense of it. The driver was going the speed limit and police didn't find evidence of impairment or distraction.
"We just don't know why he ran the red light," DeHerrera said. "He just wasn't paying attention."
She said she had Marcus when she was young and they grew up together.
"He was more than a son," she said. "He was so smart. I would go to him for advice and he would protect me and his sisters."
It pains her to think that there were no consequences for the loss of her son, that it was considered merely an accident. Any measures that prompt drivers to slow down and pay attention can only help.
"Think if it was their child or their loved one," she said. "They would want it out there."
×
Photos