This archived news story is available only for your personal, non-commercial use. Information in the story may be outdated or superseded by additional information. Reading or replaying the story in its archived form does not constitute a republication of the story.
WEST VALLEY CITY — The 14th annual Day of the Dead celebration at the Utah Cultural Celebration Center on Saturday was a colorful and lively observance of a sacred Mexican holiday that honors departed loved ones.
The community event, which was expected to draw 6,000 people over the course of the day, was a mix of traditional and stylized observances, which included altars honoring deceased relatives and friends.
La Toya Alvarado, of West Valley City, said her family celebrates the holiday in their home, but bringing her daughters and nephews to Saturday's event further connects them to their culture and beliefs.
"We still have that tradition within us, and we can still experience it by coming here and seeing all of this," she said.
Alvarado said her family will celebrate Nov. 1 and 2 with a family dinner and remembrances of her grandmother, father, her fiance's brother and "lots of little cousins."
Family altars on display included traditional elements of the Christian cross, statues or pictures of the Blessed Virgin Mary, marigolds, sugar skulls, photographs, candles, and food and beverages intended to encourage visits by the souls so they can hear their families' and friends' prayers and comments.
One of the altars was a stylized tribute to the victims and survivors of the recent Route 91 Harvest festival in Las Vegas where 58 people were killed and 546 injured by a lone gunman on Oct. 1.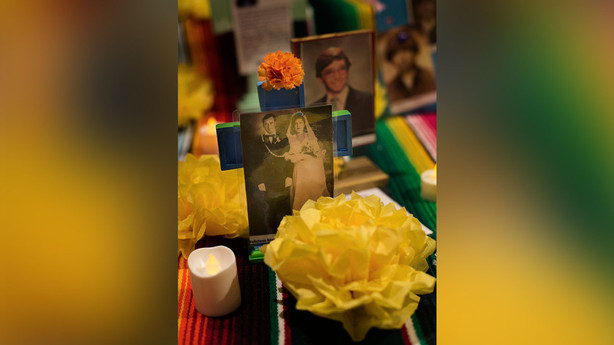 The festivities also included music, dance, crafts and a Catrina dress-up contest. Catrina is considered the grande dame of death, a satirical figure popularized by Mexican newspaper cartoonist Jose Guadalupe Posada.
Seven members of Laura Hamilton's family dressed the part, with Hamilton and her daughter Natalya costumed as Catrinas, female skeletons clad in nice dresses and large plumed hats. Male family members were attired as Catrines, male skeletons.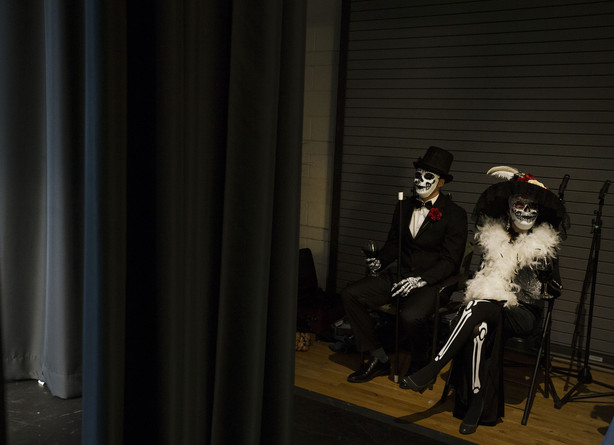 Hamilton said her family, who resides in West Valley City, observes Day of the Dead because their adopted daughter Natalya is of Latino heritage.
"When she joined our family it was one of the things that she had a veiled memory of from when she was real young, the Day of the Dead celebration. So this is just a really cool way to honor that and help her remember that as she grows older," Hamilton said.
Michael Christensen, the Utah Cultural Celebration Center's folklorist, said community altars and art commemorating the holiday were created by students elementary school through college age. The altar honoring victims of the Las Vegas massacre, for example, was created by Salt Lake Community College students.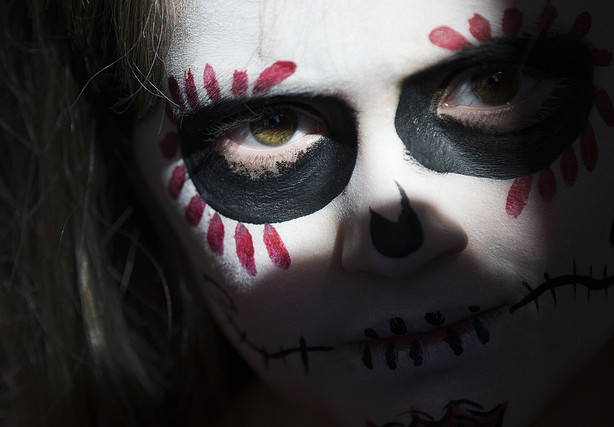 Christensen said the event has grown each year as the state's Latino population continues to increase and more people learn about Day of the Dead traditions.
"It's a holiday that's quite accessible. I think people identify with it. We try to educate people as well that this is not Mexican Halloween. This has nothing to do with Halloween. This is a day for family members to get together in a reflective and joyous way, think about and literally spend time with their deceased loved ones who can travel back from the beyond on the Day of the Dead when the veil is its thinnest," he said.
×
Photos