SALT LAKE CITY — What if someone owed you money but never paid it?
You take them to court. The judge rules in your favor. But they still never pay it. Then what?
In April, the KSL Investigators looked into the questionable practices of an RV rental business in Utah County.
Court records show the judge ordered the business owner in question to pay her customers thousands of dollars. But many of the customers said that money was never paid.
And they're not alone.
Every year in Utah, tens of thousands of people won civil judgments in court cases but claim none of the judgment.
"I laugh because it's a joke," said Rachel Cardenas, who won a lawsuit last year after taking some renters to court for failing to pay their rent.
The judgment was for $2,658. Cardenas said she hasn't seen a penny of it.
"Good, the right person won," Cardenas said, "but it doesn't really feel like it means anything when you can't collect."
And Cardenas raises a very interesting point: Whose job is it to collect the money after a judgment is ruled in your favor?
The short answer to that question: you — the same person the defendant refused to pay in the first place.
Corey Gates won a court case in February 2016 against a Utah boat repair company named Go Jump in a Lake Boat and PW Repair.
"The judge even said, 'It's up to you to collect,'" Gates said.
He sued Adam Brewer, the owner of the company, for doing poor work on his boat. The judge agreed, ruling that Brewer had to pay Gates close to $6,000.
More than a year went by and court records show Brewer paid Gates nothing.
In the midst of it all, Gates called and texted Brewer to the point of harassment and still came up empty.
"It came to the point where we just gave up," Gates said. "It's not worth it. The headache. The drama."
Different story but same result for Leslie Smith, who felt like a winner after winning her small claims case against a contractor who she claimed did shoddy work on a new driveway. A judge ruled in her favor to get back about $6,300.
That was two years ago and Smith still hasn't received a penny.
Related:
"The more people that I've talked to that have gone to court and have gotten a judgment, there's very few that ever, ever get any results from that judgment," Smith said.
To see if that statement was true, the KSL Investigators went digging through document after document, working with the courts, revealing judgments from the past nine years.
The fact is, nearly 60 percent of all civil judgments are not paid and often go unpunished.
This means every year, tens of thousands of Utahns go to court and win, but still come out the loser.
"It's just a fact of life and always has been," said Mike Bulson, senior attorney for Utah Legal Services. "Some people end up not being able to pay their debts."
Bulson often defends those who contribute to the tens of thousands of unpaid judgments each year. He said one can always take the debtor back to court to get a lien on their property or garnish their wages, but many times, that doesn't work.
The bigger problem is a lot of people ordered to pay these debts are what they call "collection proof," meaning they have nothing to give.
"They simply have nothing that can be taken," Bulson said.
Examples of being "collection proof" are those on welfare, those who make below minimum wage, people on disability or Social Security, or those paying alimony and child support. Under Utah statute, they are exempt from paying the debt.
"Well if they don't have anything to garnish, that's usually the end of it. The judgment sits there," Bulson said.
And it sits there, and it sits there, and it sits some more.
It sits with tens of thousands of other civil judgments that when added up are anything but small.
---
Good, the right person won, but it doesn't really feel like it means anything when you can't collect.
–Rachel Cardenas
---
During KSL's investigation into the years 2008 through 2016, the amount of money never paid in these judgments ranges from more than $404 million to nearly $1.5 billion.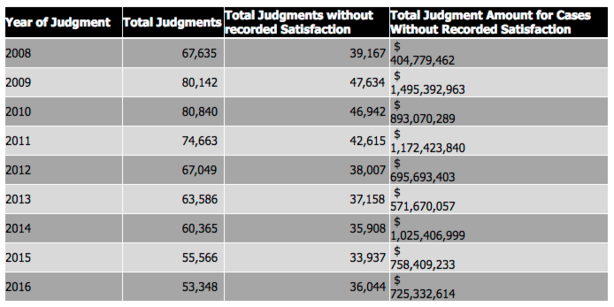 "I didn't realize it was that high," Bulson said in jest. "I mean, that's becoming comparable to the United States debt."
Just weeks after the KSL Investigators got involved in two of the cases, Smith and Gates got a portion of their money back.
Smith, with the sub-par driveway, got around $3,000 or roughly half of what she was owed. But she's still waiting for the rest.
And Gates, with the bad boat repair, got this message from Adam Brewer, who the judge ruled owes him $6,000:
"I have filed for bankruptcy and the judgment is included in it. … I'm going to make one offer for a settlement of $1,500 before I do … this is my only offer."
Victims KSL spoke with believe there needs to be a change in the way money is collected, or there is no sense filing a suit in the first place.
Winning their cases was the easy part. Everything after that had them feeling like the loser.
Anyone interested in learning more about collecting a judgment can visit the Utah State Courts official website.
×
Photos