Estimated read time: 6-7 minutes
This archived news story is available only for your personal, non-commercial use. Information in the story may be outdated or superseded by additional information. Reading or replaying the story in its archived form does not constitute a republication of the story.
SALT LAKE CITY — Real Salt Lake coach Mike Petke arrived in Utah last February, and took over as head coach of RSL's second-division Real Monarchs.
Three games into the 2017 MLS season, Petke was promoted to head coach of the first team after the firing of former boss Jeff Cassar. While the Long Island native's first season in Utah wasn't perfect — his club missed the playoffs by one point, after all — the progress showed on the field, and RSL went 12-13-3 under the former Red Bull New York coach.
And he'll get three more years to show even more.
Real Salt Lake announced a multiyear extension for its head coach during a press event at its downtown team store Thursday, putting an exclamation point on a season where RSL narrowly missed the playoffs on the final day of the regular season but showed enough promise under its new coach to merit an extended stay.
"To move my family across the country, it has to be to be a part of something special," Petke said while sitting in a leather lounger at Club Broadway in Downtown Salt Lake City. "I knew from the beginning this was something special, and every day has been the same.
"We are rooted in Utah right now … and I am completely ecstatic and over the moon."
Terms of the deal were not disclosed, but Hansen said the long-term deal guaranteed Petke "at least" three more seasons at Rio Tinto Stadium.
Not even a brief spat with general manager Craig Waibel could ruin the pleasant nature of the contract extension, Petke said. The duo had a "passionate" conversation during a meeting at the stadium, likely stemming from current player negotiations and the endless hours of scouting and signing that Waibel will put into the club's current offseason.
But when asked if Petke was the right man for the job, Waibel was unequivocal.
"We look forward, and we keep moving forward," Waibel said. "We are in a positive place with our roster, and we will continue to challenge the roster in the offseason."
"Contracts are earned, not given — especially when you work for Mr. Hansen. You earn your contract, and congratulations to Mike."
The club also announced that Petke will retain his technical staff of assistant coaches Freddy Juarez, Tyrone Marshall and goalkeeper coach Todd Hofford, video analyst Ted Eck and strength coaches Henry Ruggiero and Matt Howley beyond the 2017 season.
Petke thanked his wife, Kim, for abruptly moving the New Jersey-based family to the other side of the country. His family had never lived outside the Atlantic seaboard, and neither had Petke, save for a brief three-year spell with MLS's Colorado Rapids starting in 2005.
"I enjoyed my time in New York," Petke said. "But this couldn't be more different — and I say that in a good way. I'm given a lot more to work with (in Utah).
"We're all on the same page, and we all want the same goal."
Much of the family negotiations fell on Kim Petke, but the couple had to find a house, then put up a mailbox and try to protect the children from the upcoming bout with bobcats and rattlesnakes in his Salt Lake-area subdivision.
Those problems have been solved, at least for the moment — and the same can be said of Petke's current contract status. There are no sure bets in professional sports, and coaches know that. But a multiyear contract is as close as anyone can get, and RSL's offer likely keeps Petke in Salt Lake City through the 2020 MLS season.
"It's been a whirlwind in coming out here since February to take the Monarchs job," Petke said. "Things happened so quickly after that. But to me, the players deserve all the credit. ... My job is incredibly easy when you have players who buy into things and see the goal and want to be a part of something. My hat is off to these players since I took over."
He also took a moment to thank the club's fans, who showered Petke with support beginning with his introductory press conference and whom he repaid by attending pregame tailgates with them, talking about the club's affairs, and being open and candid in the way few others than a New Yorker in Mormon-dominated Utah can be.
"To the supporters out there who have shown me unbelievable love and respect, it's unbelievable," Petke said. "This is why we are in this business: to play for these supporters."
The news of Petke's extension was first reported three days ago by ESPN's Julie Stewart-Binks via Twitter. But it surprised nobody.
Petke took the RSL job three games into the season, following the firing of former head coach Jeff Cassar. While his ultimate goal of making the Western Conference playoffs fell short, Petke's 12-win record with RSL included win six of his final 10 games and eight-of-nine during a mid-season surge from July 4 through Sept. 9 that vaulted RSL from bottom of the MLS standings into playoff contention.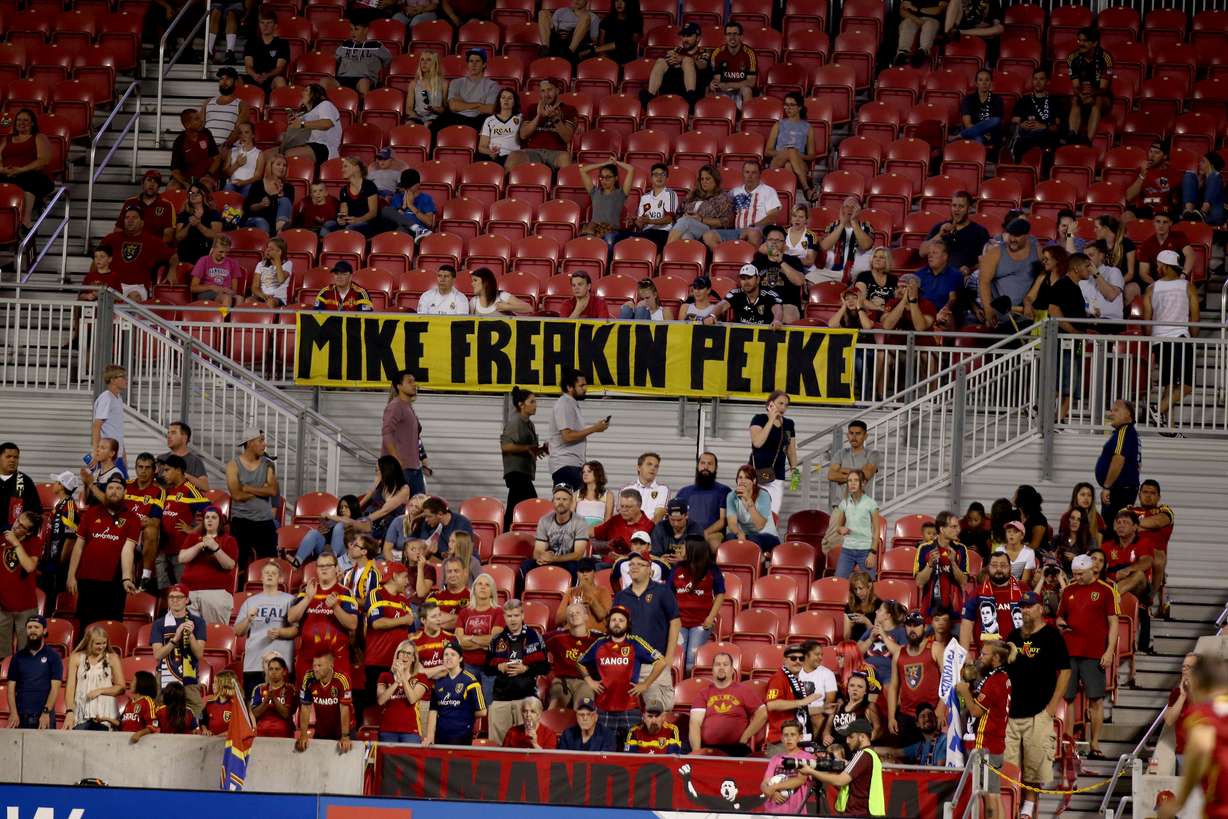 Yes, the early struggles were real — in part because of injuries, international call-ups, and simply acclimatizing to a new boss and a new style of player. But so, too, were the end-of-season results.
"I can now tell (Petke), and Kim will still throw an apple at me, but when I told him what his record would've equated to, we would've scored 69 points in 2017," said Hansen, making reference to Toronto FC's league-record 20-5-9 finish in 2017. "We won five games straight in our stadium and went eight undefeated.
"Mike has brought an amazing spirit to RSL."
Salt Lake won eight of nine matches during a stretch from July 4 through Sept. 9 and vaulted squarely back into Western Conference playoff contention. After a 1-0 setback at Colorado on the penultimate week of the regular season, RSL needed a win over Sporting Kansas City and losses by San Jose and FC Dallas to book its playoff admission.
RSL's busy offseason will continue after Petke's contract announcement. Waibel said he is in continuous negotiations to bring back RSL veterans Kyle Beckerman and Nick Rimando, as well as loan players like Jefferson Savarino, Brooks Lennon and Albert Rusnak, though he declined to mention specifics out of respect for Petke's announcement.
More information about those discussions will likely trickle out through the offseason, beginning with exit interviews next week. Hansen will also formally unveil the RSL Academy in Herriman with a Dec. 17 groundbreaking, bringing together Real Salt Lake, the Monarchs, and the academy set up for players 7-18 years old under one roof and with a 5,000-seat stadium that meets all second-division United Soccer Leagues standards.
"I think the groundwork has been laid and I know my guys understand, for the most part, what type of team we are and how we want to play," Petke said. "There are always going to be little tweaks in between to try and get better."
×
Related stories
Most recent Sports stories