This archived news story is available only for your personal, non-commercial use. Information in the story may be outdated or superseded by additional information. Reading or replaying the story in its archived form does not constitute a republication of the story.
SALT LAKE CITY — Nearly two dozen young professionals from the Baltic states and Hungary toured Salt Lake City on Wednesday as part of an international internship program.
The group visited the Lassonde Entrepreneur Institute at the University of Utah, as well as studios of KSL-TV, KSL NewsRadio, FM100.3, 103.5 The Arrow and Studio 5 in downtown Salt Lake.
For Anna Udre, the trip to the broadcast station was especially unique, as she worked as a journalist in her home country, Latvia.
"Everything in Latvia is smaller," she said. "Every time I go to any media (station) here in the U.S., there's a lot of excitement."
She and 22 other top university graduates are working as interns in the United States on scholarships sponsored by the Baltic-American Freedom Foundation and the Hungarian-American Enterprise Scholarship Fund. The scholarship is open for research scholars, high school students and recent college graduates who want to get professional experience in the United States.
The professional scholarship program places each participant in prominent internships in cities across the country, lasting anywhere from six months to a year.
The purpose of the scholarship service is to strengthen ties between these countries and the U.S., said Kelly Francis, program specialist at the Council on International Educational Exchange, a nonprofit that promotes international education and exchange.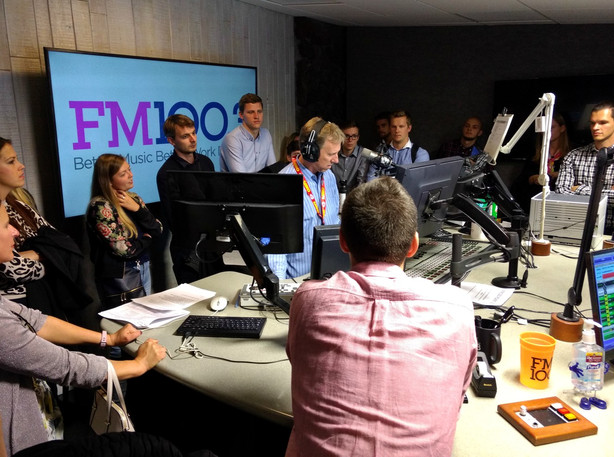 "When these young professionals go back to their own countries, they're expected to grow their economies and contribute what they've learned here in the U.S. in their home country," she added.
The scholarship program accepts applicants in a wide variety of fields, from engineering to finance majors. Applicants go through a rigorous selection process, including interviews and visa requirements, Francis explained.
As well as gaining professional training, the scholarship participants also attend an enrichment trip once a year. The group travels to a selected city to experience the culture in the area, as well as network with professionals in various fields.
"This is a really interesting experience because this city is very unique," Udre said. "There are a lot of mountains around, and you don't see a lot of people on the streets. That's kind of different."
Other enrichment trips have taken participants to Las Vegas, New York, San Francisco and New Orleans.
×
Photos