This archived news story is available only for your personal, non-commercial use. Information in the story may be outdated or superseded by additional information. Reading or replaying the story in its archived form does not constitute a republication of the story.
PARK CITY — October is dedicated to increasing awareness of breast cancer, and a lot of people wear pink to show their support. But as the month winds down, those fighting the disease should know there is support out there year-round, and right here in Utah.
It took Lehi resident Karen Lewis some time to discover the Image Reborn Foundation, and now she's trying to get the word out to fellow cancer patients.
"I couldn't figure out ways to find things, places to go to get help," said the 59-year-old who celebrated her 15-year-survivor mark only to find out her cancer was back — and worse than before. It spread to her lungs.
"It makes you want to put as much as you can into relationships. I have a 14-year-old son; he'll be 15 next week," Lewis said.
But balancing life and battling advanced cancer wears on you. It was her niece who told her about the Image Reborn Foundation.
"I am out of my comfort zone, but I'm also out of home. I'm out of my dilemma," Lewis said.
KSL interviewed her while attending one of the Park City nonprofit's free, monthly retreats for those fighting the disease.
"Up until the point I got the itinerary, I was very nervous because I didn't know what to expect," Lewis said. "But when I got the itinerary, I thought 'massage, acupuncture, oh my gosh, I've never tried anything like that before.' It's great."
She was one of four women from Utah fighting stage 4 breast cancer who were getting pampered at the weekend retreat.
---
It's relaxing, but also a comfort to know that you know you're not out there alone.
–Karen Lewis, retreat attendee
---
The women are put up in luxurious accommodations. In this case, Mary Chamberlain donated her home for the weekend. The Park City resident was diagnosed with breast cancer three years ago.
"You don't stop and take care of yourself during that process, so unless someone says 'Stop' and, 'Here it is: We're going to do it for you' — like I said for me, I didn't realize I needed that at times," Chamberlain said.
"It's relaxing, but also a comfort to know that you know you're not out there alone," Lewis said. "You're talking with someone who is taking the same medication as you are, so you can compare notes."
And that's the goal.
"I've wanted to try (acupuncture)," said 54-year-old Shari Sheranian, another retreat participant. "See what it helps with."
The Midway resident had been searching for a support group when she found the Image Reborn Foundation online.
"I had the yucky kind of chemo and lost my hair, and got my hair back. I do still do chemo treatments, and now it's just chronic illness. You just, day to day, deal with," Sheranian said.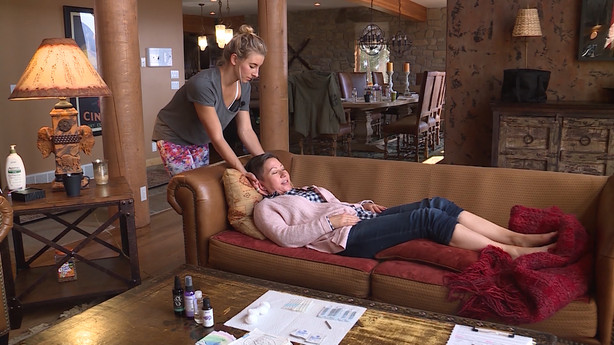 Despite her diagnosis 18 months ago, she still works full time.
"It keeps me busy and my mind off of the obvious. And you know, you have good days and bad days," Sheranian said.
She wanted to find women to talk to who are in a similar situation. As for her experience with the Image Reborn Foundation, Sheranian said,"so far it's been lovely."
The Image Reborn Foundation is helping build a community of brave women battling a scary disease.
"A lot of times they're local, but a lot of times they're from out of state. So this collection of women who may not have known they had this community before," said Amanda Valenti, the acupuncturist administering Sheranian's procedure.
Valenti has participated in many of the retreats, which aim to remind the women that they are not alone.
"The more things like this that are out there, the more people will be aware that there is help out there and that there's hope and there are things to do," Lewis said.
To learn more about the Image Reborn Foundation and its monthly retreats, visit its website: imagerebornfoundation.org.
×
Photos
Related Links
Related Stories