Estimated read time: 7-8 minutes
This archived news story is available only for your personal, non-commercial use. Information in the story may be outdated or superseded by additional information. Reading or replaying the story in its archived form does not constitute a republication of the story.
GRAND STAIRCASE-ESCALANTE — An elderly Texas couple survived six days stranded in the Grand Staircase-Escalante National Monument after their GPS led them astray into the desert, according to Alan Alldredge, chief deputy in the Kane County Sheriff's Office.
Dell LeFevre, of Boulder, was checking on his cattle early Oct. 2 when he came across 78-year-old Houston resident Helena Byler lying on Croton Road severely dehydrated and confused, Alldredge said. LeFevre immediately contacted police and transported the elderly woman to a main road, where they met with the sheriff's deputy and she was taken to the Kane County Hospital.
After receiving some food and water on the way, she began to recall what had happened to her.
Helena and her husband, Gerald Byler, 76, had left their hotel in Kanab early Sept. 26 for a day trip to Lake Powell using a GPS device to guide them. After driving for awhile, Helena Byler became uneasy as the roads became more rural and few cars passed them.
"I told Gerry, 'Sweetheart, this doesn't sound right.' And he said, 'No it's ok' ... He wanted to continue. See, us women know better," she said with a chuckle.
The couple continued to drive, but the terrain became more and more rocky, until finally they came to a sign that said any car driving beyond that point should be equipped with four-wheel drive. Helena Byler wanted to turn back, but her husband told her it would be fine, they were so close to their destination.
As they continued on, the rocks on the road got bigger and bigger, Helena Byler said, until finally the car popped a tire. They put a chain on the tire and continued on, but could eventually go no further. Yet the GPS told them they were 16 miles from their destination. It was then they realized it had been leading them to the Lake Powell trail rather than Lake Powell itself.
"There was no way back or forward, there was nothing," Helena Byler said. "In that moment, we knew it was impossible. We had to do something about it, so when the GPS said 16 miles, I said, 'I can do 16 miles.'"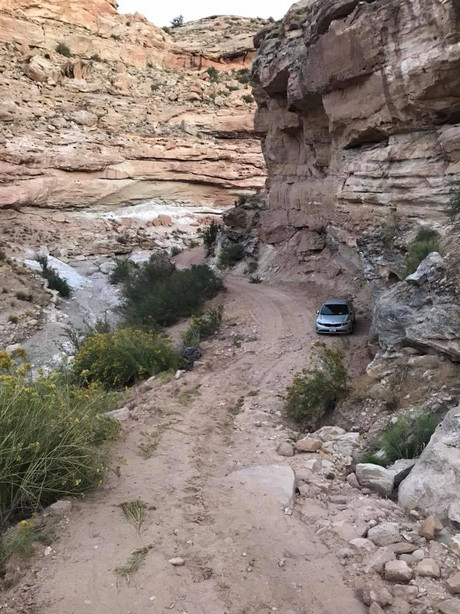 But her husband's knees were hurting him and the trail ahead looked formidable, so the couple decided to turn back the way they came. The car had become stuck in what looked like a riverbed, and they were afraid of remaining there. A tour guide had previously warned them of flash floods that would come quickly and kill anyone in their path. So the Byler's tried to retrace their steps.
It soon became dark, and the couple spent the night in the rain with lightning breaking closer and closer, Helena Byler said. By the morning, Gerald Byler could no longer walk, so his wife left to get help. After becoming dehydrated, she drank rainwater from puddles on the ground and even resorted to her own urine.
"I guessed I would do what I saw on the History Channel, drinking your own urine. I never thought I'd do that," she said.
HAPPENING NOW: 78-yr-old Helena Byler and 76-yr-old Gerald Byler tell @KSL5TV how they survived six days in #Utah's Grand Staircase Nat'l Monument by drinking rainwater and own urine. @KSLcom@kslnewsradiohttps://t.co/1MY9MX07bxpic.twitter.com/SZdiHojf6W — Ladd Egan (@laddegan) October 13, 2017
Soon after, the dehydrated woman began hallucinating.
She still distinctly remembers talking to a person she believed was a dispatcher named Theresa who told her they would pick up her husband and told her to go back. There is no record of this call to any dispatcher, police said.
"I went to a place that I saw, maybe in my mind, made of marble, the walls different colors, beautiful. And I talked to the girl again, I said, 'I'm in the wrong place.' And she said, 'Go back.' I stood there waiting," she said.
Helena Byler also remembers seeing people she imagined were Navajo Native Americans, all dressed in white and dancing in a large marble tent. Police believe she may have witnessed these hallucinations while she sought shelter in an abandoned trailer.
"She was definitely seeing things, but they were very vivid to her, even after it had taken place and she had gotten out of the hospital. Those things were still very real to her," Alldredge told KSL. "This little trailer she was in ... she had to walk over a broken case of water bottles to get in, and there were cans of food in the trailer … but she was saying people were guarding the food and wouldn't let her have any to eat."
LeFevre found her on the road five days later, Alldredge said.
Police assumed her husband must still be near the couple's vehicle and dispatched a medical helicopter and a Kane County deputy to the area. While in the air, the helicopter discovered an SOS sign made of rocks and flowers at the junction of the Croton and Grand Bench roads that Helena Byler remembers constructing. They located the couple's car about three miles away but didn't find Gerald Byler with the car.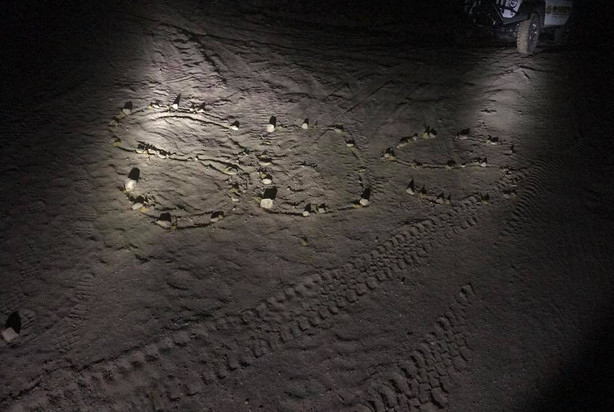 The helicopter landed near the vehicle, and emergency crews worked their way back up the road. About a half-mile away, they found Gerald Byler, still alive, in an abandoned trailer near a corral and a few other trailers. Police later discovered Helena Byler most likely spent the night in a trailer nearby, unaware that her husband was close, according to Alldredge.
Gerald Byler remembers seeing the trailers and believes he saw a man working on a cattle chute near them. He tried to get to the man to help him because he had helped his father build something similar when he was young. When he arrived, however, the man was gone, so he crawled into one of the abandoned trailers.
"This little trailer house, there's no heat, there's no water, there's no A/C, but there's no wind on the inside," Gerald Byler said while his wife cried quietly beside him. "I hung my towel on the side of the fence as an SOS. I remembered what was going on in Houston, and they had advertised, if you're in trouble and you need help, take out a white cloth, a sheet, a towel, anything. Hang it outside so people can see you and that will mean help."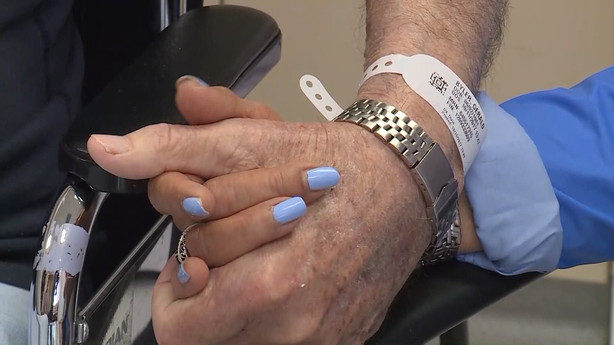 Once found, Gerald Byler was quickly transported to Dixie Regional Medical Center and placed into the intensive care unit. Helena Byler spent one night in Kane County Hospital and was then discharged and transported to St. George to be with her husband.
"We had to rely on (God). … Nothing else was happening," Gerald Byler said. "It won't keep us from coming back (to Utah), but I'll do a little more planning next time."
As of Friday, he was still hospitalized but had improved significantly. The couple is expected to recover completely and return to Texas soon, according to Alldredge.
"It's totally unbelievable," Alldredge said. "Thanks to all those who had a part in this incident. Many little things fell into place that allowed the Bylers to be located alive. ... One more day would probably have resulted in a very different outcome."
This article will be updated as more information becomes available.
The location where emergency crews found the Byler's car:
Contributing: Caitlin Burchill and Mark Weaver
×
Photos
Related Stories