This archived news story is available only for your personal, non-commercial use. Information in the story may be outdated or superseded by additional information. Reading or replaying the story in its archived form does not constitute a republication of the story.
SALT LAKE CITY — If you plan on bringing laptops, tablets, cameras or other electronic devices inside your carry-on, be prepared to unpack your bag at airport security checkpoints.
The Transportation Security Administration is implementing new baggage security screenings at airports across the nation, including six in Utah.
The new procedure requires travelers to remove all electronics larger than a cellphone from their bags during X-ray screening. Any large device with battery power or electric power should be put in bins, with nothing on top or below the device.
Items smaller than cellphones — such as bluetooth devices or chargers — are OK to leave inside bags.
The change is a countermeasure against terrorist groups targeting commercial flights, TSA spokeswoman Lorie Dankers said at a media event Thursday at the Salt Lake City International Airport.
"We know they are aggressively pursuing innovative methods to disrupt the aviation system by finding ways to smuggle explosive devices into various consumer items, with a focus on electronics," Dankers said.
There are no changes to what items travelers can bring through the checkpoint, she said. Food, books and liquids less than 100 milliliters are still allowed in carry-ons.
The screening change will add some slight delays while passengers and security officers adjust. Dankers recommended arriving for flights about 90 minutes early.
"We're getting ready for some peak travel periods, so people should plan ahead," she continued. "But at the same time, we'll never rush anybody through the checkpoint just for the sake of time."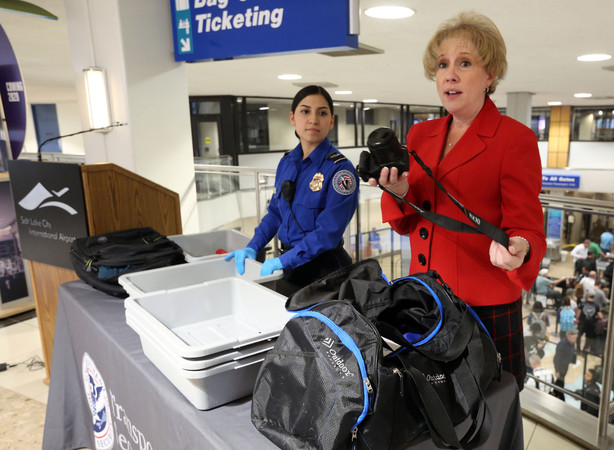 It's difficult for officers to analyze electronic devices when they are stuffed tightly into a bag, said TSA officer Susana Coria.
"We're looking for anything that is out of the ordinary," said Coria, who has worked at the Salt Lake City International Airport for five years.
"It may take a little bit of time to get used to, but it's helped us as officers improve our ability on screening and keeping the public safe," she said.
The biggest problem Coria has seen so far, she said, is travelers accidentally leaving items behind after passing through the screening. Airport officials are working to find the owners of several laptops left behind at the checkpoint.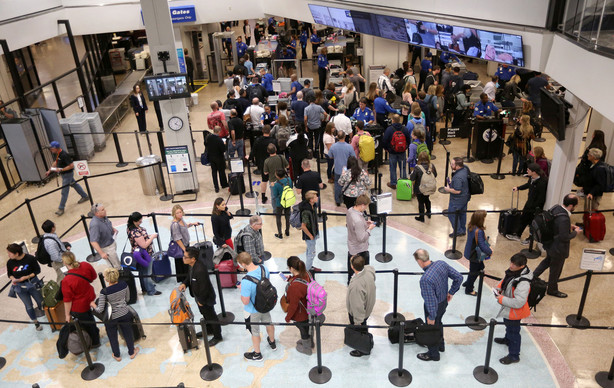 The new electronic screenings are required at airports in Salt Lake City, Cedar City, Ogden, Provo, St. George and Wendover.
By the end of the year, every airport nationwide is expected to have the new electronic security screenings in place, Dankers said.
"I always believe the passengers are most successful when they go through the security screening process when they know what to expect," she added. "This is all for your ultimate safety and security."
×
Photos
Related Stories