PROVO — After two years away from the NCAA Tournament, only one goal will do for the 2017-18 BYU men's basketball team: Get back.
"There's no question that the goal for this group is to get back to the NCAA Tournament," BYU coach Dave Rose told reporters during the team's annual preseason media day Thursday. "In my 12 years as a head coach, this is the first we've experienced back-to-back years without going. But these guys have kept their heads down, we have a goal in sight, and I think we are in very good condition."
The Cougars return 10 players from last year's squad that finished 22-12 overall with a 14-4 record in West Coast Conference play. The list includes returning starters sophomore TJ Haws, sophomore Yoeli Childs, junior Nick Emery and junior Elijah Bryant — as well as a quartet of returned missionaries, three of whom have NCAA Tournament experience.
Playing "well" isn't good enough by the end of the year; it's about finishing.
"We played one of our best games late in the year," Rose said, referring to the Cougars' upset at Gonzaga on the final weekend of the regular season. "But to finish the way we finished was really disappointing. Hopefully, this year will be way better late in the year."
The Cougars lost just two players from last year's squad that were defeated in the opening round of the NIT, but one of them was leading scorer and rebounder Eric Mika. But sophomore Yoeli Childs, who returns with his 9.3 points, 8.2 rebounds and 1.4 blocks per game, said one area the 2017-18 Cougars can make up for it is on defense.
"This team has a chip on its shoulder. We're going to come out and punch teams in the mouth," said Childs, a former Bingham High standout. "One thing we are really motivated by is defense; we love defense. I know it's not something you associate with BYU as of late, but we're a team that wants to get after it, get stops, and get the best shots available."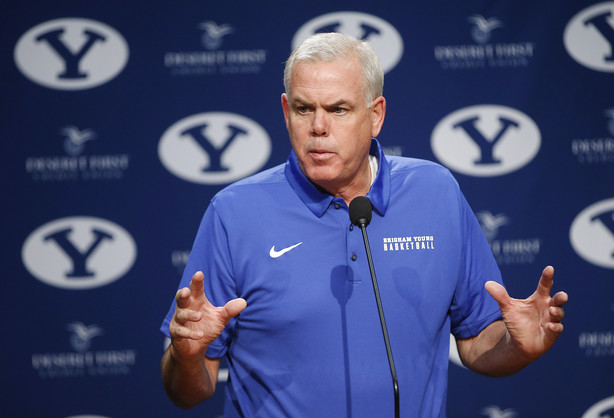 Childs and his returning teammates weren't satisfied with how the season ended, even with the regular-season upset at Gonzaga. The WCC tournament was sub-par for the Cougars, and failing to make the NCAA Tournament in back-to-back seasons for the first time in Rose's tenure is still upsetting for the group.
Combine it with a core of returning missionaries like Dalton Nixon, Ryan Andrus and Luke Worthington, who all played in the NCAA Tournament, and Rose said it's a recipe for success.
"The returning guys who played last season have a memory of a disappointing end to a season," Rose said. "And we have returned missionaries who played on tournament teams and understand their role."
The Cougars are healthier than a year ago, too; while three of BYU's top four guards a year ago missed significant preseason time with injuries, even Elijah Bryant has fully recovered from minor knee surgery in the offseason. Only Andrus was sidelined at media day, limping slightly after coming down awkwardly on his knee to induce swelling. But Rose said the 6-foot-11 big man should be ready to go by the time the Cougars open up the exhibition season Oct. 25.
"I think we are way ahead of last year's team, even with the new guys," Childs said. "This offseason has been more basketball-oriented, instead of just working on the track. It's a super cool vibe, and we're just a bunch of dudes who want to get better."
Conditioning is also ahead at BYU. With the addition of the new Marriott Center Annex practice facility, players have been able to organize team pick-up games without the coaches' approval, and 2-3 player shootaround has been possible 24 hours per day.
The extra work has even caused returning forward Payton Dastrup to shave 40 pounds off his frame. The sophomore who returned from a mission to Panama just over a year ago will enter the season listed at 250 pounds on his 6-foot, 10-inch frame.
But none of it matters, Dastrup was quick to add, if the Cougars can't get back to the Big Dance next March.
"It's our top priority," he said. "I know there are some things we have to achieve before we get to that point. But coach told us we haven't experienced a three-year drought since he's been here, and that's always in the back of our minds.
"It's not just for us; it's for coach. We want to make him proud, make Cougar nation proud, and give them something to be excited for."
×
Photos