Estimated read time: 2-3 minutes
This archived news story is available only for your personal, non-commercial use. Information in the story may be outdated or superseded by additional information. Reading or replaying the story in its archived form does not constitute a republication of the story.
Preparations are getting under way in earnest for one of the biggest and most expensive dirt-hauling projects ever.
It's radioactive dirt, and Moab residents have been arguing about what to do with it for a quarter of a century.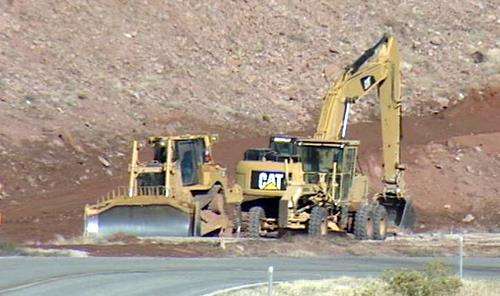 For more than two decades, the government has been trying to clean the radioactive dirt-piles left behind when the uranium industry went into a deep slump.
Lots of radioactive dirt has been moved to safer places, but the biggest pile of all is right here in Utah.
It's a pile of red dirt so big, if they shipped it to the EnergySolutions Arena, it would fill it to the ceiling 23 times. But the EnergySolutions company has other plans.
Under a contract with the U.S. government, EnergySolutions will ship the giant plateau of radioactive soil 30 miles north and bury it.
Residents of Moab say they'll be glad to get rid of it. "Yes, I'm glad, and so is the whole county glad that we're finally starting to see some movement," said Gene Ciarus, Grand County Council chairman.
Right now, they're preparing for the move -- building loading facilities and making improvements to a nearby railroad.
That move will take several trains a week for nearly 20 years. It's a taxpayer-funded cleanup of the toxic legacy from the defunct Atlas uranium mill, once the world's largest.
"There is still people who regret losing some of the history," Ciarus said.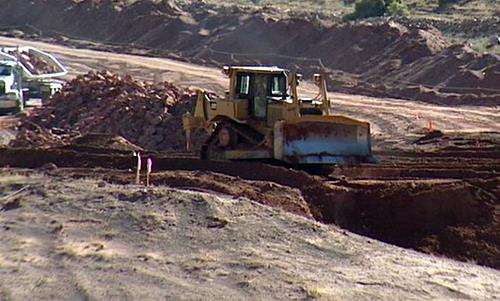 By switching to rail hauling, instead of having a truck departing every five or 10 minutes, it reduces the concern about accidents.
"I believe it's going to speed up the system, and it takes the biggest concern about accident rates completely out of the question," Ciarus said.
EnergySolutions is preparing the final resting place. They're building a huge .5-square-mile disposal cell.
The project's payroll has already boosted the nearby economy. The Crescent Junction store opened this week for the first time in five years, with a fresh coat of paint.
"Cleaned up the whole inside, remodeled basically the inside of it. Eventually, we're going to do the restaurant and have food out here too," said Lori Bell, with Papa Joe's Stop & Go.
Taxpayers will likely spend close to $1 billion by the time the project is finally finished. If it stays on current schedule, the hauling will begin late next spring and continue until the year 2028.
E-mail: jhollenhorst@ksl.com
×
Most recent Utah stories