Estimated read time: 3-4 minutes
This archived news story is available only for your personal, non-commercial use. Information in the story may be outdated or superseded by additional information. Reading or replaying the story in its archived form does not constitute a republication of the story.
PROVO — For the first time in more than 60 years, caffeinated soft drinks are available to students on BYU's campus, and the soda was flowing across the university Thursday.
Students purchasing the cold beverages joked around, some asking, "How's your caffeine?"
"It's a historic day," one student said, sitting at a table at BYU's Ernest L. Wilkinson Student Center with a bottle of caffeinated soda in-hand. He was surrounded by others with their own caffeinated drink of choice.
Meanwhile, employees at the university spent their morning rushing around to keep up with the demand for caffeinated Coca-Cola products.
"We've been very busy," said Jason Carter, assistant general manager of BYU Dining Services, as he stocked more soda into a campus refrigerator. "We've probably sold six or seven cases in the last few hours, which is six times more than what we normally sell."
The excitement over the newly-stocked drinks came after BYU Dining Services announced Thursday morning that it would sell caffeinated soft drinks on its campus for the first time since the mid-1950s. The decision, director of BYU Dining Services Dean Wright said, was supported by the school's Administrative Vice President's Office.
BYU Dining Services will continue selling caffeine-free versions of Coca-Cola products. Energy drinks, however, will not be sold. Other caffeinated products, like coffee or tea which are barred by The Church of Jesus Christ of Latter-day Saints doctrine, will also not be sold on campus despite the change.
The decision to reverse the school's policy on caffeinated soft drinks came as a response to changing consumer preferences and a growing demand for the product, said BYU spokesperson Carri Jenkins.
"This is in response to the requests from our customers and our consumers who have been making more requests for caffeinated soft drinks on campus," she said. "We have been listening to the requests that have come to us."
How do you feel about BYU's decision to start selling caffeinated drinks? https://t.co/9o5tJc62E0

— KSL (@KSLcom) September 21, 2017
There were some indications leading up to Thursday's decision that signaled that BYU would possibly begin selling more caffeinated drinks.
For one, the BC Cafe run by the church-owned LDS Business College in Salt Lake City began selling caffeinated soft drinks in March, according to the school's website.
"We did so to serve public demand following a pattern observed from other LDS Church-owned entities, like the eating establishments in the Joseph Smith Memorial Building in Salt Lake City," LDS Business College President Bruce Kusch said in a prepared statement.
For another, a student began a change.org petition asking the university to allow caffeinated soft drinks on campus in 2012. This was after officials from The Church of Jesus Christ of Latter-day Saints, which owns BYU, issued a response to an NBC News special clarifying its stance on caffeinated products.
"Despite what was reported, the Church revelation spelling out health practices does not mention the use of caffeine," the church officials said in a statement at the time. "The Church's health guidelines prohibit alcoholic drinks, smoking or chewing of tobacco, and 'hot drinks' — taught by Church leaders to refer specifically to tea and coffee."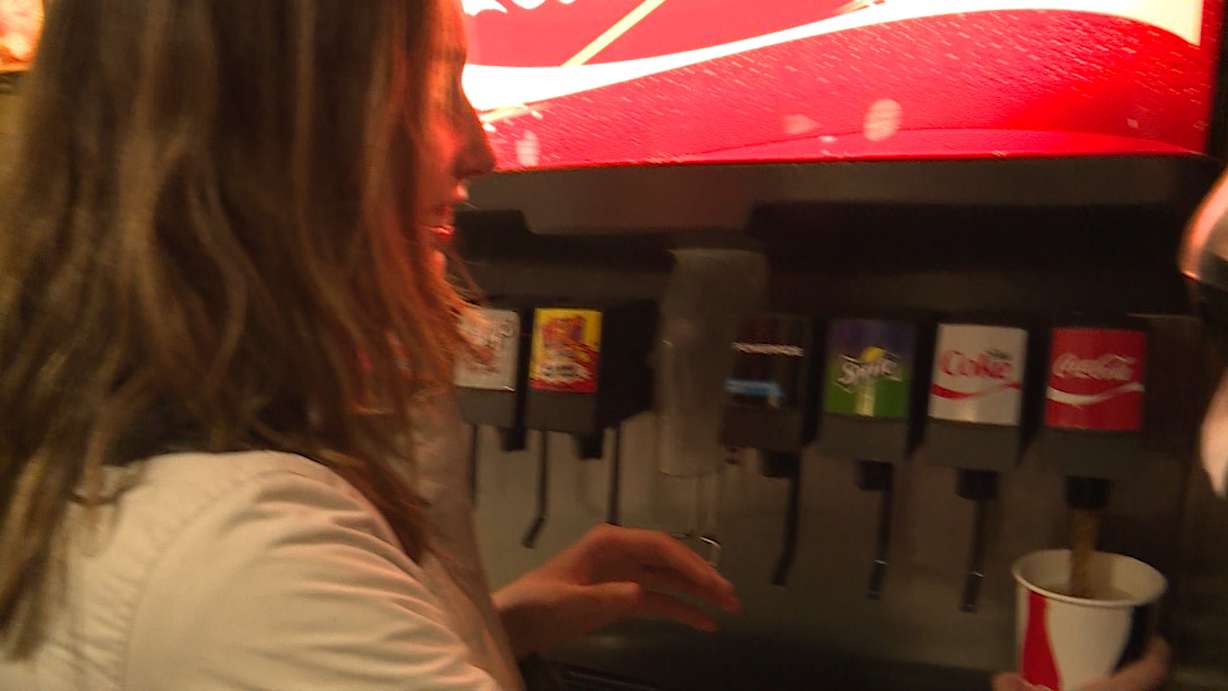 As the news of the policy change grew across campus Thursday, it was clear the decision was a popular one.
Among those celebrating a "historic day" were BYU students Kathleen Andrade and Kimberly Garrison, who made their way to the student center during the lunchtime rush in search of caffeinated, fizzy drinks. Andrade learned the news from a friend through social media.
"They were like 'finally, the answer to my prayers. We have caffeine on BYU campus!'" she said.
Shortly after, Rebecca Garrett, another BYU student, headed to soda dispenser and filled a cup full caffeinated soda, celebrating that she no longer needed to smuggle caffeinated soda onto BYU's campus from home.
She waited for a second to allow the fizz to settle before taking a sip.
"It tastes really good," she said, smiling. "This is great."
Contributing: Caitlin Burchill
×
Photos