Estimated read time: 4-5 minutes
This archived news story is available only for your personal, non-commercial use. Information in the story may be outdated or superseded by additional information. Reading or replaying the story in its archived form does not constitute a republication of the story.
PROVO, Utah (AP) — No. 10 Wisconsin ran roughshod over BYU on Saturday, doing whatever it wanted for 60 minutes on the Cougars' home field.
Alex Hornibrook threw for four touchdowns and 256 yards as the Badgers eased to a 40-6 victory over BYU.
Wisconsin (3-0) met little resistance as it put the game away in the first half and led 24-6 at halftime.
Hornibrook missed on only one pass all day. He completed 10 of 11 passes in the first half for 149 yards and two touchdowns. The second half was more of the same as he hit on all eight attempts. The sophomore put up career highs in passing yards, passing touchdowns and completions. The 94.7 completion percentage was a single-game school record.
"It seemed like everybody was locked in," Hornibrook said. "It just felt like a different energy on the field a little bit. I was glad that we saw our receivers have a great game, our running backs, our O-line. It just felt good as an offense.
"I think we came out with an edge."
Jonathan Taylor gave the BYU defense fits as he repeatedly sidestepped defenders and finished runs with power. The freshman running back gained 128 yards and scored once on 18 rushes.
The Badgers' first punt of the day didn't come until the third quarter after scoring on all four first-half drives, including three touchdowns. The Cougars (1-3) were outgained 491 total yards to 192.
BYU quarterback Beau Hoge, son of former Pittsburgh Steelers running back Merril, made his first career start with Tanner Mangum out with an injury. Mangum was on the field with a boot on his left foot and used a scooter to move around the sideline.
Hoge threw an interception on his first attempt and never got a whole lot going. He managed 111 passing yards and had two interceptions. Freshman running back Ula Tolutau was the bright spot on an offense that has struggled all season. He ran for a career-high 58 yards on 13 carries.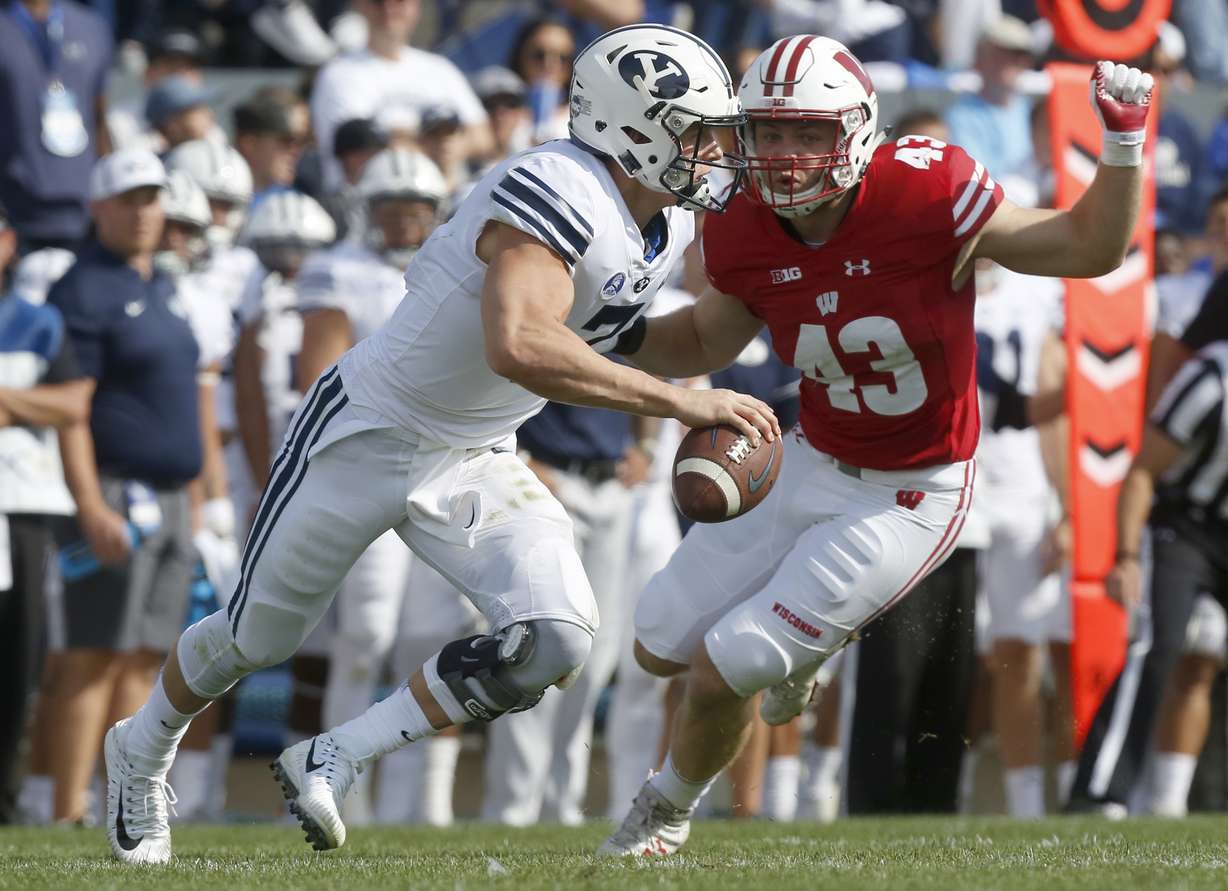 "We were overwhelmed as a group," BYU coach Kalani Sitake said. "It's just difficult to win games when you're getting under 200 yards of production and you're not getting in the end zone.
"And when our defense isn't playing great, there's the result — 40-6. We've got a long ways to go."
THE TAKEAWAY
WISCONSIN: BYU was supposed to be the first test of the season for the Badgers and it wasn't much of one. The Badgers overwhelmed the Cougars in every way. Hornibrook was locked in and Taylor continued to look like one of the best freshmen in the country. The offensive and defensive lines dominated.
"I thought Alex saw the field really well," Wisconsin coach Paul Chryst said. "I thought he was decisive. He played really sharp and clean. He was in better rhythm than he was last week.
"Our offense executed and made things happen."
BYU: The Cougars should be thrilled to be done with a brutal stretch that included No. 12 LSU, rival Utah and No. 10 Wisconsin — all losses. The defense had been the strong suit of this team early on, but it was overmatched Saturday. Hoge had a few moments and BYU will need him to grow quickly as Mangum looked like he will be sidelined for the near future. The loss was the worst since being beaten 54-10 against Utah in 2011.
"It's just hard to get the momentum going when we're not completely doing our job," BYU tight end Matt Bushman said.
POLL IMPLICATIONS
The Badgers pounded the unranked Cougars, but it's hard to imagine they will get a ton of credit for beating a struggling team that was without its starting quarterback. Wisconsin is unlikely to move up from No. 10.
RB ROTATION:
BYU has searched for a consistent run game all year as it replaces all-time leading rusher and current Green Bay Packer Jamaal Williams. Tolutau was the primary back this week after Squally Canada and Kavika Fonua failed to grab hold of the job in previous weeks.
#box
NO MORE NO. 6
BYU retired the No. 6 of Robbie Bosco, Marc Wilson and Luke Staley during a halftime ceremony. All three were All-Americans and are in the BYU Hall of Fame.
UP NEXT
Wisconsin hosts Northwestern in its Big Ten opener on Sept. 30.
BYU travels to in-state rival Utah State on Sept. 29 and faces its first non-Power 5 opponent since the season opener.
___
More AP college football: http://collegefootball.ap.org and https://twitter.com/AP\_Top25
Copyright © The Associated Press. All rights reserved. This material may not be published, broadcast, rewritten or redistributed.
×
Photos
Most recent Sports stories