This archived news story is available only for your personal, non-commercial use. Information in the story may be outdated or superseded by additional information. Reading or replaying the story in its archived form does not constitute a republication of the story.
BAKER, Nev. — Most people identify strongly with the state where they live and work. For many, it ranks right up there with nation, church, job and family for the things that define a person.
So what happens when a state line runs right through the place where someone lives and does business?
"We are the only service station on a 155-mile stretch of road between Delta, Utah, and Ely, Nevada," Denys Koyle said as she contemplated her unique property.
The Border Inn sits directly on the boundary of Utah and Nevada. Koyle co-owns the establishment with her son Gary Perea.
The establishment is on U.S. 50, often called and marketed as "the loneliest road in America." The Border Inn serves presumably lonely travelers who need a place to stop in a vast desert that stretches across the Great Basin. The nearest town is Baker, which is 5 miles off the main highway.
Koyle's gas pumps are in Utah and her house is a few feet over the border in Nevada.
"My bed is as close to Utah as you can get without tipping over," she said, seated firmly in Nevada at a table in her combination store, bar and casino.
The Border Inn's RV park is also on the Nevada side of the border. So, too, is a full-service, full-menu restaurant that keeps long hours to serve the needs of travelers on the loneliest road.
A few steps to the east, in Utah, sleepy travelers can fill their tank with gas and spend the night at the Border Inn.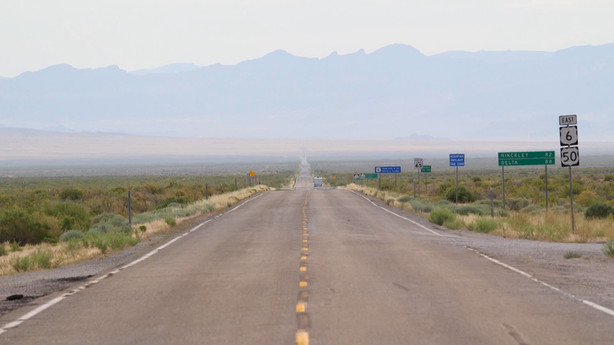 Koyle's customers walk the line. Literally. Every day. Sometimes with one foot in Utah, the other in Nevada. The state boundary runs directly between the gas pumps and the store where customers can pay for their gas.
Koyle and her family bought the place more than 40 years ago.
"There wasn't much here," she recalled, "(just) a shack and a couple of old sheds, and two really old gas pumps."
In the old days, ranchers would literally fly in to gas up, landing their planes right next to the pumps in one state or the other. There were a few barstools back then, and a few thirsty customers who had their own version of interstate commerce.
"They would drink in Nevada, and they would go out to Utah to use the bathroom," Koyle said, "even in January when it was 30 below zero."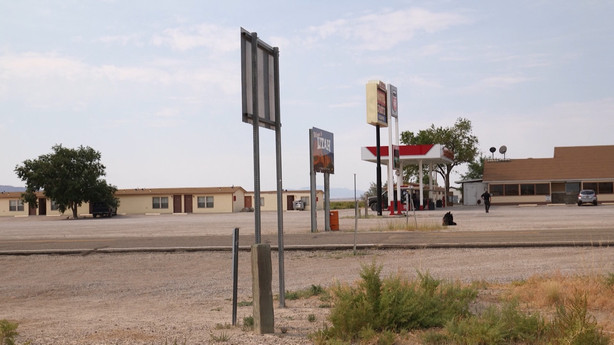 The gas pumps have always been in Utah because gas taxes are higher in Nevada.
"We pay two property taxes; we pay two sales taxes (and) two room taxes," Koyle said as she rattled off some of the paperwork issues that bedevil a business with a split personality.
It takes imagination to think you could make a living off travelers on the loneliest road in America. But it turns out there is a bit of an advantage to being on the border.
Sandy residents Ellen and Clark Wallace stopped for gas at the Border Inn and then took a moment to smooch next to the highway, their lips meeting somewhere around the exact boundary between two states.
"I just thought it would be fun to have him in one state, me in another, kissing," Ellen Wallace explained.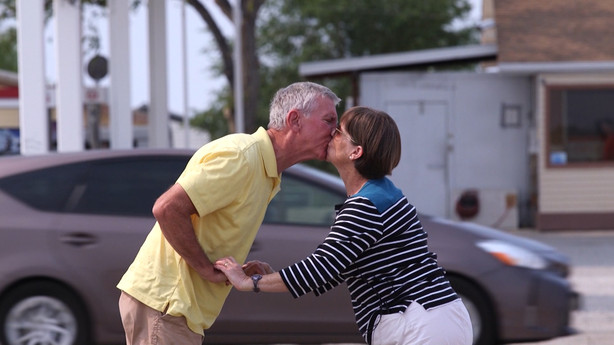 It's part of a pattern. Many customers express surprise — even delight — when they find themselves stopped right on the state line.
"We say, 'Yeah, you're in Nevada now, but you got your gas in Utah,'" Koyle said. "And then they get all intrigued, and they go back and forth across the state line and take pictures of the kids. … It's something they remember. And it's good for business."
As for Koyle's own divided loyalties, well, that doesn't extend to sports.
"I'm a Utah man," she said, recalling the school fight song. "I went to the University of Utah. I'm a (Utah) Jazz fan."
Way back when, Koyle also went to high school in Delta — 88 miles away in Utah.
"I'm a Delta Rabbit," she said with a laugh. "I guess, sportswise, we're going to stay in Utah."
×
Photos