SALT LAKE CITY — Onboard a motionless Delta airliner, 25 Utah families shifted in their seats. Parents and children fiddled with the seat belt buckles, played with the folding tray tables and pulled at the window shades.
It was the one flight that was never meant to leave the airport tarmac on Thursday afternoon. Instead of taking off, the families were part of a simulation for parents who have kids with autism.
The simulation gave autistic kids and their families a chance to experience air travel without the stress of leaving on a trip, said James Vaughan, president and cofounder of Families for Autism and Asperger's Standing Together, which hosted the event.
"Going through the process of ticketing and security, all of these things can be a little bit overwhelming for kids on the spectrum," he said. "We just provide them with an opportunity to share in that experience and get an idea of what the travel process is."
Nearly 100 participants received tickets and passed through Transportation Security Administration security for the event at the Salt Lake City International Airport. Airport personnel brought out service dogs, treats and water for families waiting in the terminals before the plane arrived.
Mindy Hunt, of Eagle Mountain, is planning a trip for her family to Disney World in Florida. But she worries about her 9-year-old autistic daughter, Brynley, who has never been on a plane before. Even waiting in the airport was difficult for her, Hunt said.
"We're kind of worried about how she'll do," Hunt said. "I want her to get kind of familiar with it, and not get kicked off the plane when we do try it."
---
Looking at Brynley, you can't tell anything is wrong with her. So when she does act out, people think she's just being a brat or not disciplined.
–Mindy Hunt
---
Hunt also hopes the simulation will bring awareness to others about families traveling with autistic children.
"Looking at Brynley, you can't tell anything is wrong with her. So when she does act out, people think she's just being a brat or not disciplined," Hunt said.
Tiffany Van Gelder is also planning a trip with her four kids, all of whom have autism. At the event, she said the volume of the airport was often overwhelming for her kids, ages 6 to 12.
"I'm just hoping that we walk away from it just being able to understand how an airplane works, and what we need to do," she said. "It's not that they can't do a lot of these things. They just need to figure out the best way to learn it, to experience it."
This is the sixth year of hosting the flight simulation, Vaughan said. Families can register for the event online, but a few are turned down because the event has become so popular.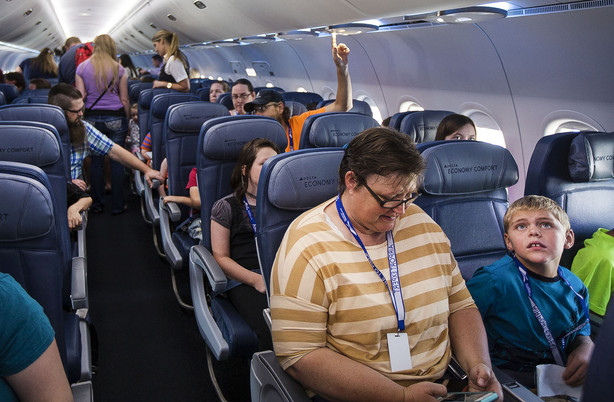 "Autism is just one of those invisible disabilities that we don't quite completely understand as a society," he said. "So for parents who are trying to see if their kid would be able to experience something like this, it's really important for them to have this experience."
Amber Jones, from Spanish Fork, believes her 9-year-old autistic son, Quinton, would be fine flying alone with her. It's keeping track of her other three kids that's the trouble.
"This was better practice than I thought," she said. "He's a runner, so being able to practice with him and try to show him how to be safe as well as keep track of the other ones is huge."
Jones said traveling in a car to St. George was the first step in getting her family ready for a longer trip.
"We haven't traveled since (Quinton) was probably 1, because it's been so dangerous," she said. "So we're really grateful for these kinds of opportunities."
Once the families boarded the plane, flight attendants ran through preparations for an actual flight: demonstrating how to buckle the seat belts, use the air masks and find the emergency exits.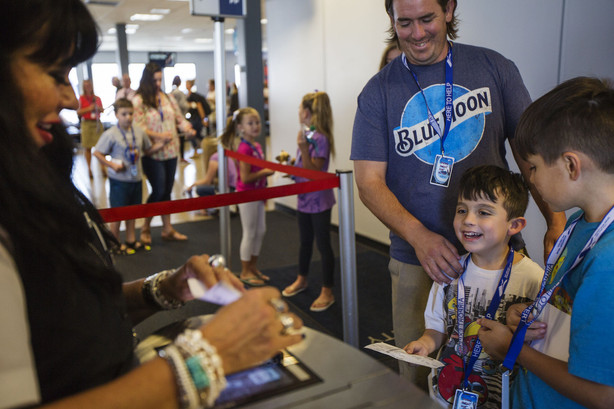 This is the third year Delta pilot Jim Hailey has participated in the simulation. He said he enjoys seeing the excitement on the kid's faces and the relief on faces of their parents.
"They can experience the airport, and their parents can experience an airport environment just to see how well families are going to be on a real trip when real money and real tickets are on the line," he said.
He said flying on the plane seldom upsets kids with autism. It's going through security, pushing through the crowds and waiting in the terminals that overwhelms them.
"Once you're on the airplane with the droning of the engines and just flying along, we typically don't see as many problems on the actual airplane," Hailey said.

Email: astilson@deseretnews.com
×
Photos