Estimated read time: 1-2 minutes
This archived news story is available only for your personal, non-commercial use. Information in the story may be outdated or superseded by additional information. Reading or replaying the story in its archived form does not constitute a republication of the story.
ABC's George Stephanopolous talked this morning about what John McCain needs to do tonight to have a chance at moving the polls in his direction. He said we might see a long ball like his announcing that he would have a bipartisan cabinet or would pledge to only serve one term. The moderator is Bob Schieffer tonight and he is planning to bring up the William Ayers issue, as McCain has also vowed to do. Click here to hear more from George Stephanolpoulous.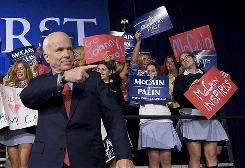 Torie Clark, who was his press secretary in the 1980s, says we'll see anger from John McCain tonight, not directed at Barack Obama, but in general. She told us about the email sent to the McCain campaign by Joe MCcain, the candidate's brother, who said, "Let John McCain be John McCain. That's how he got to where he is." Click here to hear more from Torie Clark.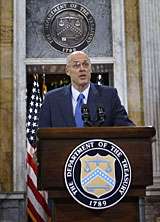 How long will the recession last? How deep will the job losses be? Those questions were put to Treasury Secretary Henry Paulson this morning in an interview you heard on KSL. Paulson said that his opinions have changed as conditions have changed, that we need to do what we have to do to get the money moving. Click here to hear more.
×
Most recent News stories