Estimated read time: 2-3 minutes
This archived news story is available only for your personal, non-commercial use. Information in the story may be outdated or superseded by additional information. Reading or replaying the story in its archived form does not constitute a republication of the story.
SALT LAKE CITY — With tears, chants and songs, about 100 protesters gathered on the steps of the state Capitol Sunday, joining a nationwide chorus in support of Venezuela citizens and their protests against their government.
Similar rallies formed throughout the U.S., as Venezuelans protested at least seven deaths during Sunday's election over a vote to grant Venezuela President Nicolas Maduro's ruling socialist party virtually unlimited powers in the face of a socioeconomic crisis and a battle against its political opponents and groups of increasingly alienated and violent young protestors.
"The country's in ruins economically, politically," said Vianey Villamizar, a Utah protestor who is also a BYU mathematics professor.
Villamizar said he was born in Venezuela and used to teach at the Central University of Venezuela — where many students now protest.
Villamizar said just three days ago police in Venezuela tore down his mother's front yard fence in search of people inside her house.
"They're violating even the most private thing, the most sacred thing you have — your home," he said.
Villmizar said because of the government's military force and its court rulings, the Venezuelan government "can do almost anything because they have the arms and the law in their favor."
"It's almost impossible for the people now to fight against them and succeed," he said.
Meanwhile, in the U.S., "We're doing nothing here," Villmizar said.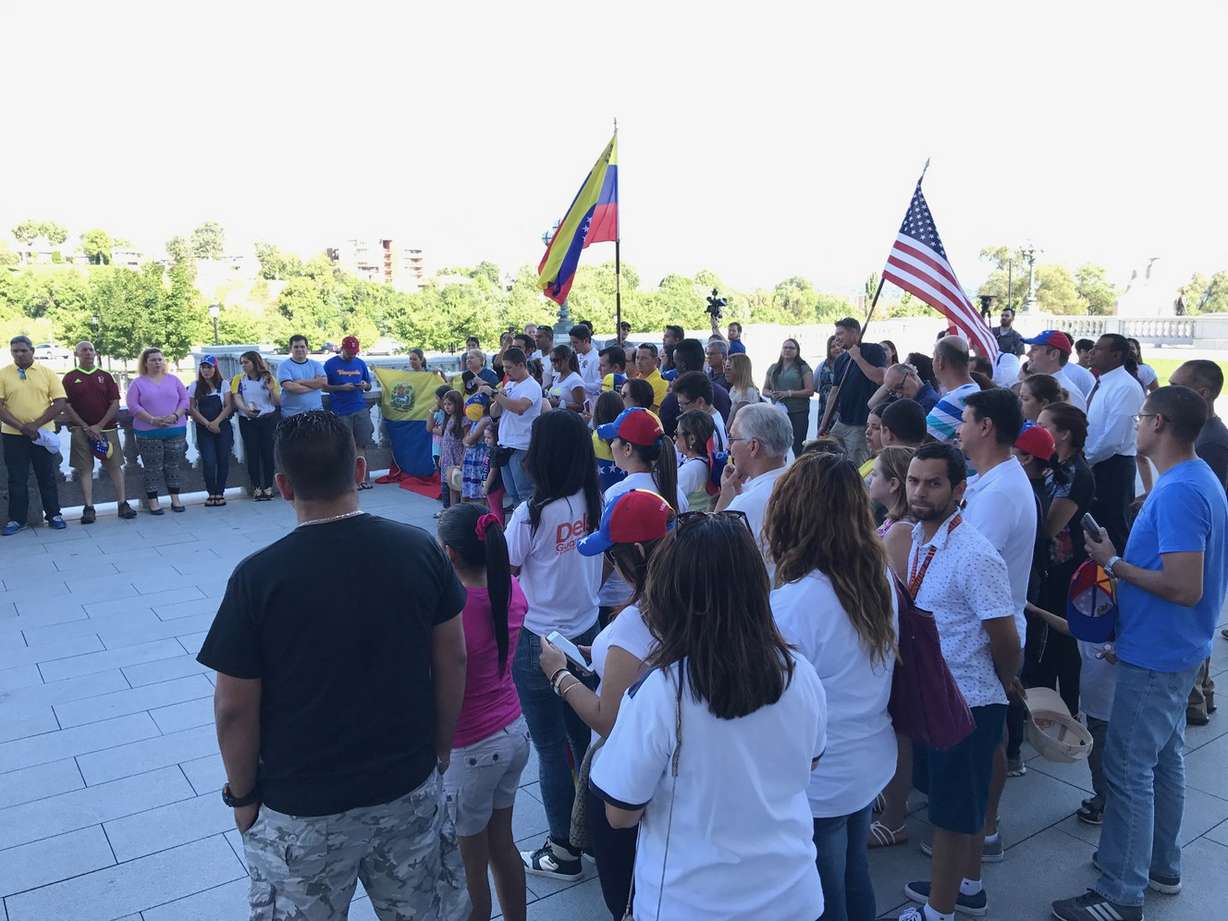 The protestors at Utah's Capitol Hill signed letters urging members of Congress to step in and help the Venezuelan people take control of their government.
"We need to do something," Villmizar said. "We really hope things will change."
Venezuela's president called the Sunday vote for a constitutional assembly in May after a month of protests against his government, which has overseen Venezuela's descent into a devastating crisis during its four years in power.
Thanks to plunging oil prices and widespread corruption and mismanagement, Venezuela's inflation and homicide rates are among the world's highest, and widespread shortages of food and medicine have citizens dying of preventable illnesses and rooting through trash to feed themselves.
---
They're violating even the most private thing, the most sacred thing you have — your home.
–Vianey Villamizar
---
The government swore to continue its push for total political dominance of Venezuela, a move likely to trigger U.S. sanctions and new rounds of the street fighting that has killed at least 122 and wounded nearly 2,000 since protests began in April.
Opposition leaders had called for a boycott of the vote, declaring it rigged for the ruling party, and by late afternoon they were declaring Sunday's low turnout a resounding victory.
Argentina, Colombia, Peru, Panama, Peru and the United States said they would not recognize Sunday's vote. Canada and Mexico have also issued statements repudiating the election.
Contributing: The Associated Press, Nicole Vowell
×
Photos
Related stories
Most recent Utah stories