Estimated read time: 4-5 minutes
This archived news story is available only for your personal, non-commercial use. Information in the story may be outdated or superseded by additional information. Reading or replaying the story in its archived form does not constitute a republication of the story.
SALT LAKE CITY — Dr. Toby Enniss says easily preventable injuries related to off-highway vehicle accidents are becoming a common sight at the University of Utah Trauma Center.
Enniss shared his experiences Thursday as one of the first people to take care of patients injured in a serious accident. Among the typical daily sights for a trauma surgeon, Enniss and other professionals at the trauma center have seen a high rate of accidents for OHV riders — especially middle-age men.
Though OHV accident victims often sustain injuries similar to those from car crashes — blunt trauma to the torso, broken ribs, bruised lungs, head trauma — OHV accidents are of greater concern because those vehicles often are less protective and riders are failing to take the safety precautions, Enniss said.
"One of the most difficult situations we have is when patients come in after an accident, having a severe traumatic brain injury and the emotional toil that goes along with that, with their families," he said at a news conference at the Jordan River OHV recreation area
It's often tough to determine the prognosis of a person with a severe head injury, he said, and explaining to families what level of recovery and quality of life their loved ones will have after an accident is even more difficult.
"It is heart-wrenching from our standpoint because it is so easily preventable," Enniss said.
According to the University of Utah's accident statistics, about 13 percent of OHV accidents have been alcohol-related, which increased the mortality rate of an accident by almost 2 percent.
Enniss said intoxicated riders are about eight times more likely to be in an accident than riders who haven't been drinking. Additionally, Enniss said distracted riders are about 24 times more likely to be in an accident than those who are not distracted.
University of Utah Health Care spokeswoman Suzanna Winchester said hospital officials began noticing a pattern of injuries that skewed male and saw an average age of about 40 years old.
"It's not that 10-year-old; it's the 40-year-old," said Chris Haller, OHV program coordinator for Utah State Parks.
Related:
Haller said the OHV program helps train thousands of youth riders yearly, but older riders are less current on their safety training and often are less safety-oriented.
As a male-driven sport, OHV accidents typically involve men, he said. But with the rise of larger OHVs, including four-seat vehicles, more women and children are coming into the sport, Haller said.
Of those riders injured in OHV accidents, only about 24 percent of the hospital's patients were wearing protective devices such as helmets, eye-protection and pads.
Haller said only 58 percent of surveyed Utah riders reported regular helmet use. State parks officials are hoping that number increases to about 65 percent this year, he said, with 5 percent annual increases over the next three or four years.
Utah State Parks recently launched the Nobody Is Invincible campaign to demonstrate the various dangers associated with outdoor recreation. While much of the campaign's focus has turned toward children and other young people, state parks and recreation officials are hoping to share the message with the 40-year-old demographic, Haller said.
"We still want you to go out and have fun, but we want to make sure you're wearing the proper protective gear when you go out," he said. "Because we want you to come back."
Unlike bicycle helmets, a proper OHV safety helmet is designed to take more damage and will have a U.S. Department of Transportation label on the back or side to indicate that it is protective enough.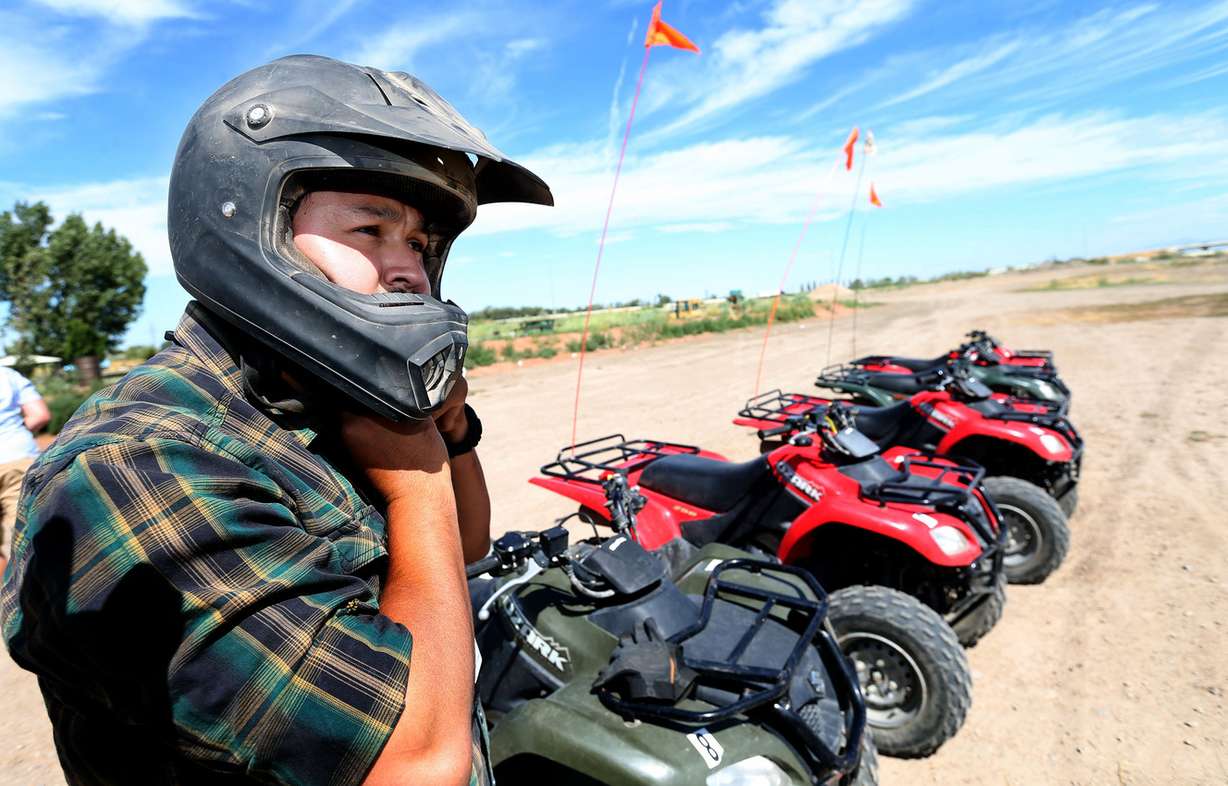 In addition to wearing a helmet, riders should replace headgear that has been compromised in an accident, Haller said. Chipping paint or spidering crack patterns are signs of a compromised helmet, he said.
Riders also should test the side of the helmet for any bowing in the shell — another indicator of compromising damage, Haller said.
Riders should also check under the lining of helmets for the manufacture date, as the protective structure of the helmet is only good for about five to seven years, he said. Expired helmets should be discarded, not passed on or donated.
Haller demonstrated some of the simple safety techniques for riding during his presentation Thursday. Riders went through a warmup routine, testing their throttles and breaks, and gradually learning to take sharper turns in a practice lot at Rose Park.
Haller also advised riders to make a preride inspection to check tire pressure, oil and other fluid levels, as well as lights. He said riders should let people know where they are planning to ride and suggested that they learn to ride within their ability.
"They are not succumbing to peer pressure. They are not trying to go up a hill that they are not comfortable with," Haller said. "The machine will only do what the rider tells it to."
×
Photos
Related stories
Most recent Utah stories