Estimated read time: 3-4 minutes
This archived news story is available only for your personal, non-commercial use. Information in the story may be outdated or superseded by additional information. Reading or replaying the story in its archived form does not constitute a republication of the story.
SALT LAKE CITY — Before firing multiple rounds at the police K-9 that was trying to hold him, Torey Chase Massey looked at Dingo's handler, Unified Police Sgt. Chad Reyes, and gave him a "taunting smirk," according to charging documents.
Massey, 28, of West Jordan, was charged Thursday with two counts of possession of a firearm by a restricted person, a first-degree felony, injuring a police service animal, a third-degree felony, and six other charges.
On July 6, the Fugitive Apprehension Strike Team of the U.S. Marshals Service was trying to locate and arrest Massey, a parole fugitive wanted for investigation of theft, robbery and aggravated assault, and who allegedly led the Metro Gang Unit on a chase the week before.
He was spotted about 1 a.m. in the Millcreek area and fled from officers, who attempted to use spike strips to flatten his vehicle's tires. Massey continued driving a little longer before getting out and running when his vehicle couldn't go any further, the charges state.
Dingo and his handler, Reyes, got ready to chase after Massey. When the police dog put his paw on Reyes' shoulder, indicating he had the target in sight, he was released.
"Dingo quickly closed in on Massey as they approached a steep, weed-covered drop off. Sgt. Reyes observed Massey look back at Dingo and then at Sgt. Reyes with a taunting smirk on his face," the charges state.
After Dingo leapt onto Massey and used his mouth to grab onto him, both the dog and Massey tumbled into nearby weeds.
"As Sgt. Reyes ran towards Dingo and the defendant, he heard three gunshots, Dingo yelping, a pause, and then two more gunshots," according to the charges.
Dingo was struggling to breathe when Reyes was able to get to him.
Related:
"Dingo then collapsed at Sgt. Reyes' feet and became unresponsive," investigators wrote.
Despite efforts by both the marshals and a vet clinic, Dingo died due to his injuries.
Marshals continued chasing after Massey, who eventually surrendered. Police say he was found to be in possession of both a knife and a gun. He was also carrying baggies of methamphetamine and heroin, the charges state. A backpack found in the vehicle Massey was driving had items believed to have been taken during various burglaries, including wallets, jewelry, stolen credit cards and stolen IDs, according to police.
Based on previous convictions, prosecutors are seeking enhanced penalties if Massey is convicted on the new charges.
In addition to injuring a police service animal and possession of a firearm by a restricted person, Massey was also charged Thursday with failing to stop at an officer's command, a third-degree felony; acquiring someone else's bank card, a third-degree felony; possessing someone else's identification, a class A misdemeanor; failing to stop at the command of a law enforcer, a class A misdemeanor; and two counts of drug possession, a class A misdemeanor.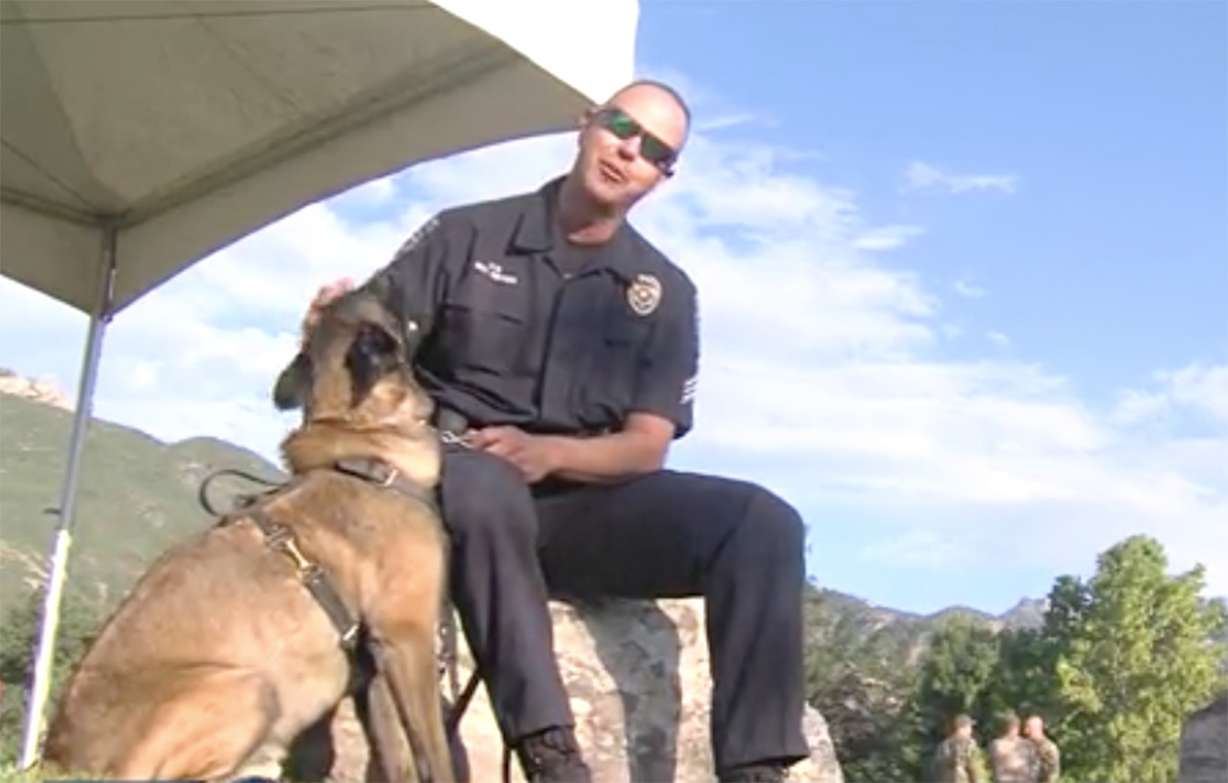 Massey was convicted of theft by receiving stolen property in 2016 and was sentenced to one to 15 years in the Utah State Prison. That sentence was to run concurrent with a 2015 conviction of forgery, for which he was sentenced to up to five years in prison, according to state court records.
In 2007, Massey stabbed another man in the torso during an argument in West Jordan. He was originally charged with attempted murder, but after agreeing to a plea deal, he was convicted of aggravated assault and obstruction of justice.
Massey was sentenced to up to five years in prison on each charge. Those consecutive sentences were also ordered to run consecutively with his conviction on robbery and fleeing from police earlier that same year, when he received probation and a year in jail.
×
Photos
Related stories
Most recent Utah stories