Estimated read time: 4-5 minutes
This archived news story is available only for your personal, non-commercial use. Information in the story may be outdated or superseded by additional information. Reading or replaying the story in its archived form does not constitute a republication of the story.
PROVO — Like a lot of high school football players with Division I aspirations, Moroni Laulu-Pututau wore a lot of hats in his prep days at Mountain Crest.
Wide receiver. Safety. Cornerback. Punt returner. He even took snaps out of the Wildcat formation and was an all-state first-team selection and three-year starter with the Mustangs' basketball team.
But there was one position he didn't try: tight end.
Until now, when the converted receiver will line up at tight end when BYU opens fall camp.
"He asked to make the move last year before the season. We didn't feel like we could sacrifice him at receiver back then, though," BYU tight ends coach Steve Clark said. "It was really his idea."
What better place to prove himself a true tight end — both to the coaches and the fans — than the university that produced the likes of Brian Billick, Todd Christensen, Chad Lewis and Dennis Pitta?
"It's been so prestigious here for tight ends and I get to be a part of that," Laulu-Pututau said during BYU media day. "They've made it happen here, and I'm excited for the opportunity."
The former Mountain Crest standout who caught 27 passes for 277 yards and two touchdowns as a sophomore is the kind of tight end the Cougars have been looking for: a pass catcher who doesn't mind putting his hand on the ground, but can run routes with the precision of Pitta or Lewis.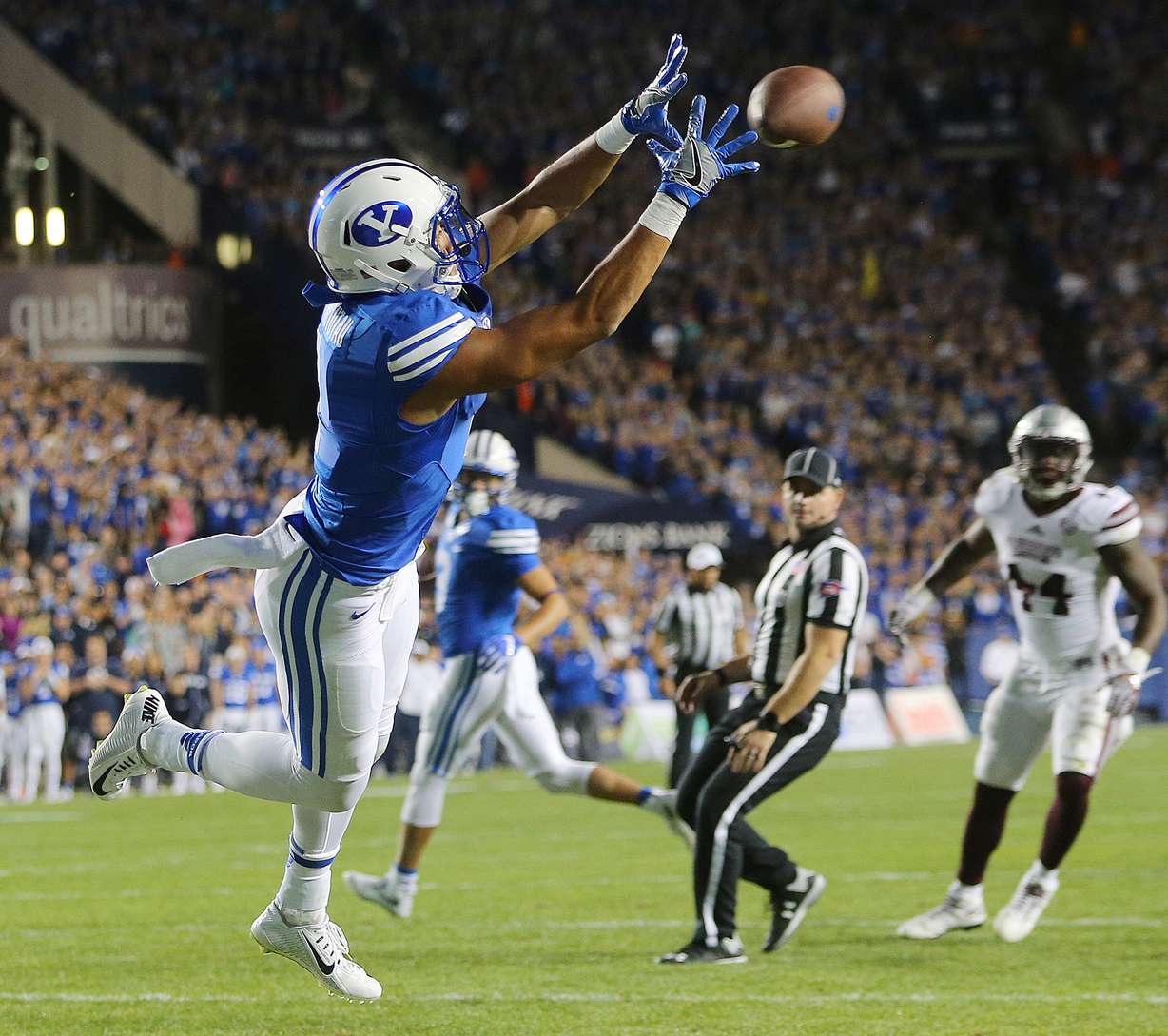 It's something the second-year coaching staff hasn't had. So rather than find more junior college transfers or other stop-gap fill-ins, why not take a receiver with a 6-foot, 4-inch frame and bulk him up while still letting him catch passes from quarterback Tanner Mangum?
"I like to get bigger receivers who might be too slow to play split out wide," tight ends coach Steve Clark said. "They come in with an idea of running routes, so they just need to put weight on and then teach them run blocking."
Not many high school coordinators use the tight end the way Clark and BYU offensive coordinator Ty Detmer did when they were in college. Even at BYU, the tight end was used more as an extra blocker than a lithe, crisp route-runner.
But in Laulu-Pututau, the Cougars may have found both. At least, that's what Clark hopes.
First, though, he had to put on some weight.
"I've already gained 20 pounds; I might not look it, but I have," Laulu-Pututau said. "I don't want to gain too much and lose speed — I still want to get out and stretch the field.
"It's hard to gain 20 pounds in a year," added Laulu-Pututau, who was eating every few hours to try to pack on the pounds. "Mentally, I have to be willing to grind on every play — to take on a 280-pound defensive end."
The Cougars don't have a bare cupboard going into the 2017 season. Tanner Balderree and Hunter Marshall lead a core group of returning players, adding in talented freshman Matt Bushman and former Davis High standout Troy Hinds.
"Tanner's the leader of the group," Clark said. "He'll do whatever we ask him to do. We asked him to block a lot last year, and he never complained — not one time."
But Laulu-Pututau will have plenty of chances to impress — and more if freshman Joe Tukuafu isn't granted his release from Utah State and must sit out a season per NCAA transfer regulations.
"I don't know, but I highly doubt that he'll be eligible," Clark confided. "If he were eligible, he would be in the mix. But he's not (right now)."
BYU's recruiting efforts are firmly focused on finding the right tight end of the future. Youngsters like Tukuafu and Bushman will have time to make their mark on the BYU football team.
But having an extra 232-pound body who can catch passes — both down the field and in the flats — can't hurt.
"For everyone and myself, it was a better overall fit," Laulu-Pututau said.
×
Related stories
Most recent Sports stories