Estimated read time: 5-6 minutes
This archived news story is available only for your personal, non-commercial use. Information in the story may be outdated or superseded by additional information. Reading or replaying the story in its archived form does not constitute a republication of the story.
Thanks to Gypsy Magpie for providing this article.After touring the local Parade of Homes, a friend of mine got a little discouraged. Like many of us, she has million-dollar dreams on a penny-pinching budget. Walking through the beautiful, lavishly decorated kitchens made her feel pretty disgruntled with her own 1990s oak-filled one. I'm pretty sure many of us can totally relate! Which begs the question: Can the average homeowner create a lovely space, keep with the trends, and not break the bank? The answer is yes!
Here are 5 DIY ideas that can help give a builder-grade kitchen a shot of 2017 without having to sell your first born.
Paint
One of the best ways to give a kitchen new life is with a gallon of paint. Whether you tackle painting the cabinets or just your walls, a fresh coat of paint in an on trend color can revive and refresh for minimal cost. Cabinetry in rich, beautiful color was all the rage at the Utah Valley Parade of Homes last month.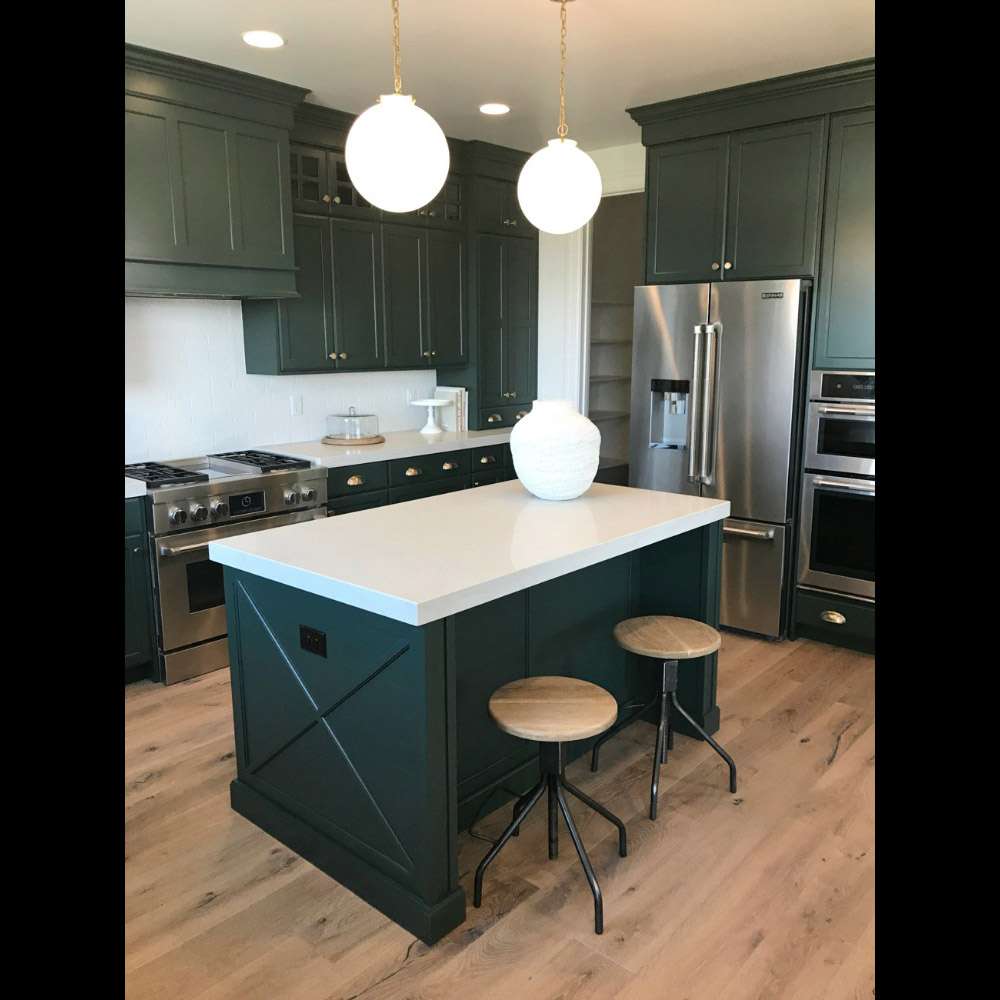 This gorgeous green kitchen, designed by Studio McGee is a fantastic example of what color can do for a space! Love the look but can't afford to repaint all of your honey oak? How about painting your island or even your pantry door? A little bit of color can go a really long way in bringing an outdated kitchen on trend.
If painting cabinetry is completely out of the question, embrace those natural wood tones. A quick glance at decorating magazines or Instagram proves that white mixed with wood is all the rage these days. The cool thing is, this style can be totally inexpensive to mimic. Simply scrub down old cabinets, give walls a coat of clean white paint, and you're well on your way to a bright new space! Angie from Postcards from the Ridge has a great post sharing 11 gorgeous kitchens that feature wood cabinets, if you need more ideas.
Whether you lean Scandinavian or more farmhouse style, with a little paint, you can follow the trends even with those old wood cabs.
Backsplash
Installing a backsplash can add major wow factor to a tired kitchen. Glass mosaic, classic subway, brick veneer, and cement tile in neutral colors are gold star in 2017 kitchens.
This beveled subway tile in a soft shade of grey is not only beautiful but functional too.
This amazing backsplash stole the show in a kitchen designed by Osmond Designs. Absolutely gorgeous, y'all!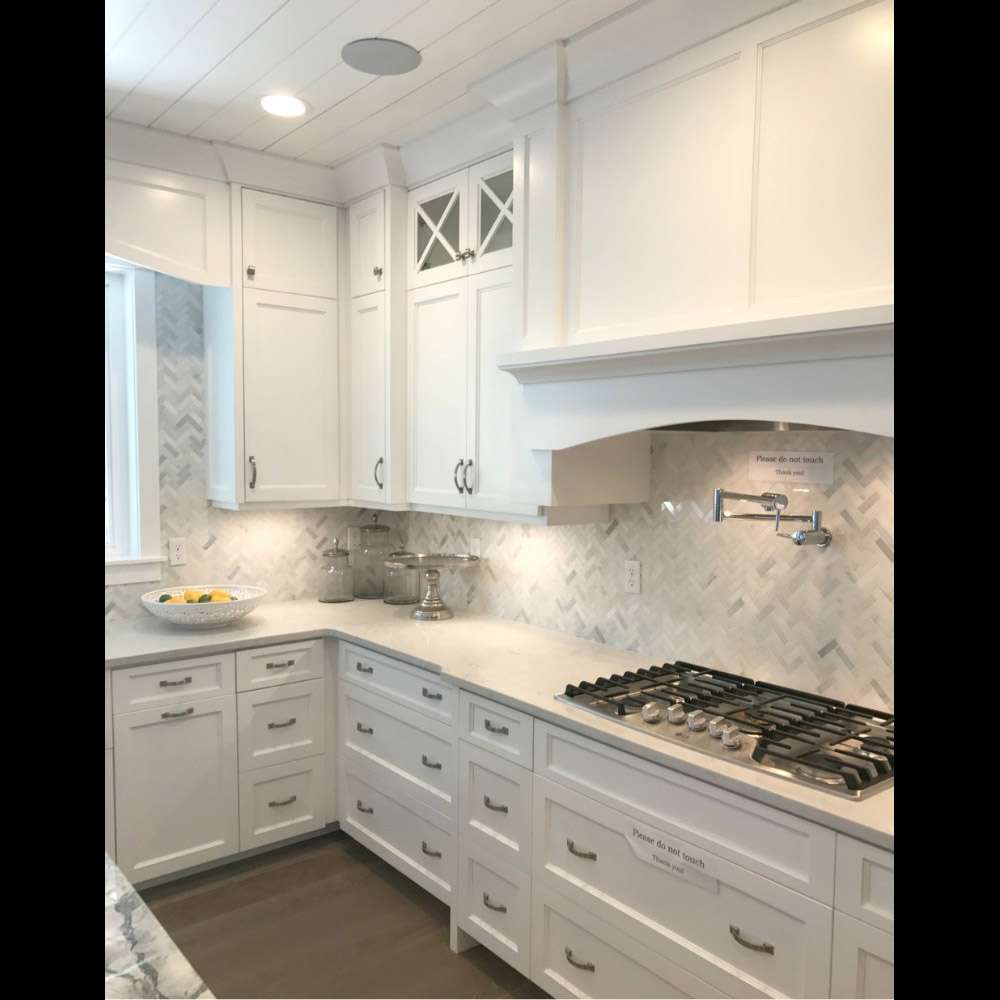 Maybe you can't afford marble countertops, custom cabinets, or an inset gas stove with massive hood and pot filler. Sigh, in our dreams right? But, with rented tools from the home center, a helpful friend, and a couple hundred dollars, you can knock out a killer backsplash in a matter of days.
If the idea of setting tile makes your head spin, why not give removable wallpaper a try? The girls over at Lolly Jane recently added a beautiful faux subway tile backsplash using wallpaper they found at Target and it looks amazing! Simple, inexpensive, and renter friendly. Winner! Winner!
Pendant Lighting
Luxurious lighting was huge in the Parade of Homes this year and is completely on trend. Glass orbs, bowl pendants, drum shades, and industrial fixtures stole the show. The great thing for the average homeowner is that lighting doesn't have to break the bank! For the price of a family night out to dinner and a movie, you can buy beautiful new pendant lights.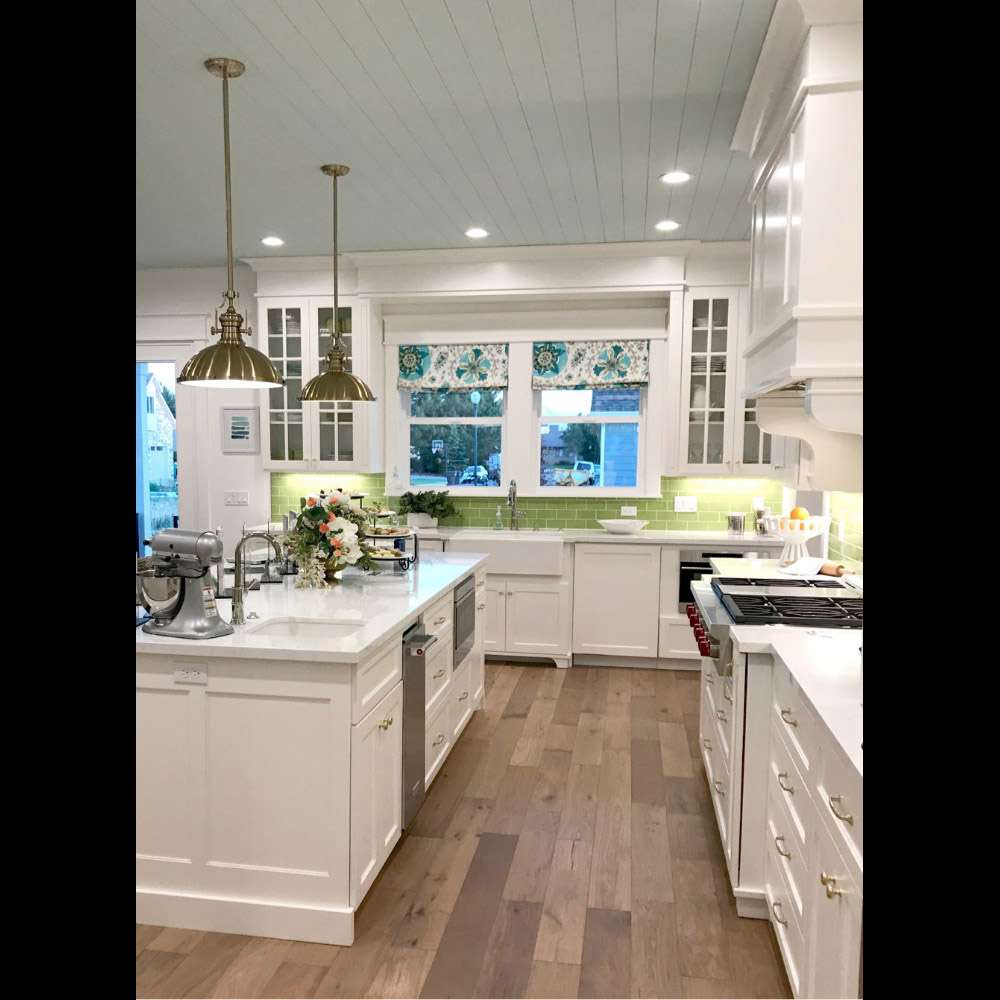 If you currently have canned lighting in your kitchen, you are in luck! Pendant lights with conversion kits are as low as $40.00 at the big box store. It's as easy as screwing in a lightbulb! I kid you not.
Hardware
Changing out hardware is one of the easiest updates you can give a home and all you need is a screwdriver. Is your kitchen still rocking those gold and white ceramic pulls from the 80's? You will be absolutely amazed at how changing out those bad boys for some matte black bin pulls or satin nickel bars can change the whole style of a kitchen!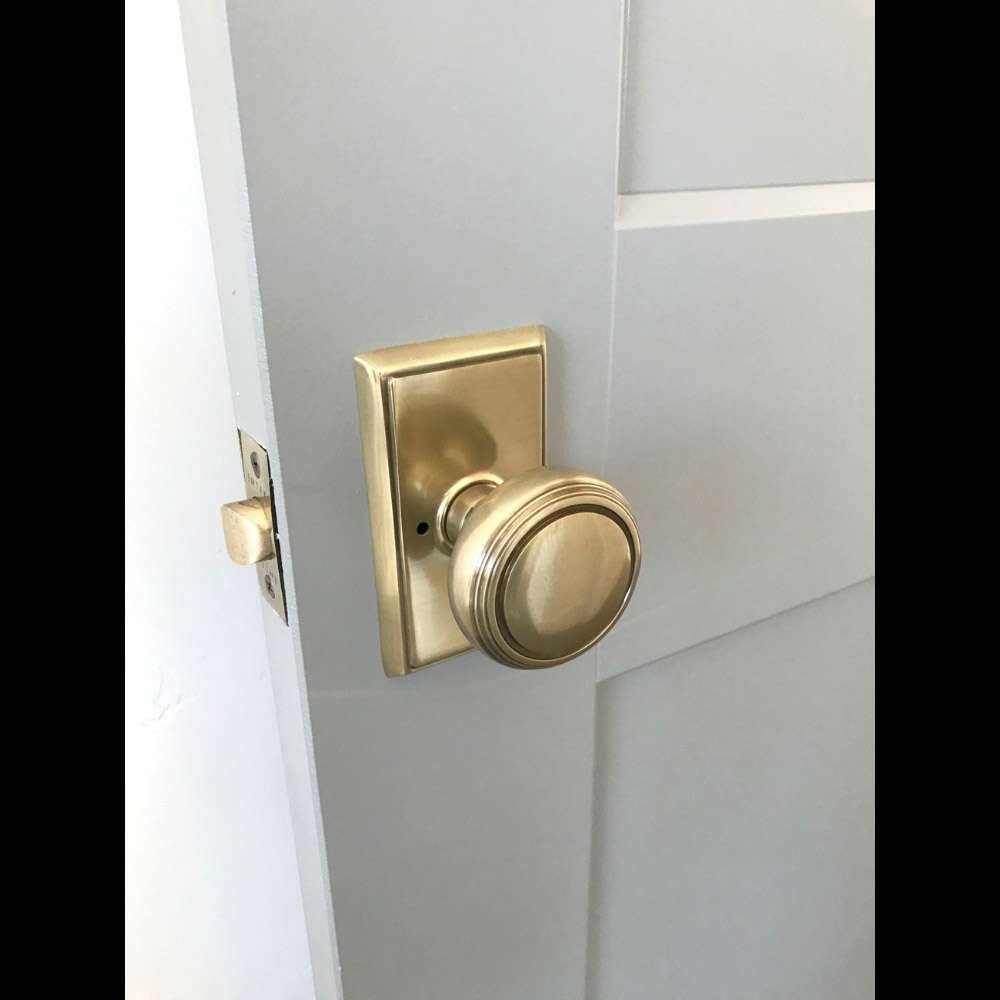 I saw a lot of beautiful brass in the homes I toured and I fell in love. Yes, I'm one of those women who takes pics of pretty door knobs. And no I'm not weird, I'm quirky. But seriously, I now have the urge to replace every knob in my home! Nobody tell my husband.
For the peeps out there who can't afford new hardware, I've got you covered. With a couple cans of spray paint, you can update old hardware without having to buy all new. There are some fantastic metallic colors out there these days. You might be surprised how simply changing the finish can jazz things up.
Seating and Accessories
Lastly, let's talk seating and accessories. Chairs and accessories can update a space at a very minimal cost. Swap out those curly wrought iron barstools, circa 2002, for some metal stools with clean lines. Throw some new covers over those stained upholstered chairs. Paint over your scratched wood swivels with a deep navy blue. You see where I'm going here.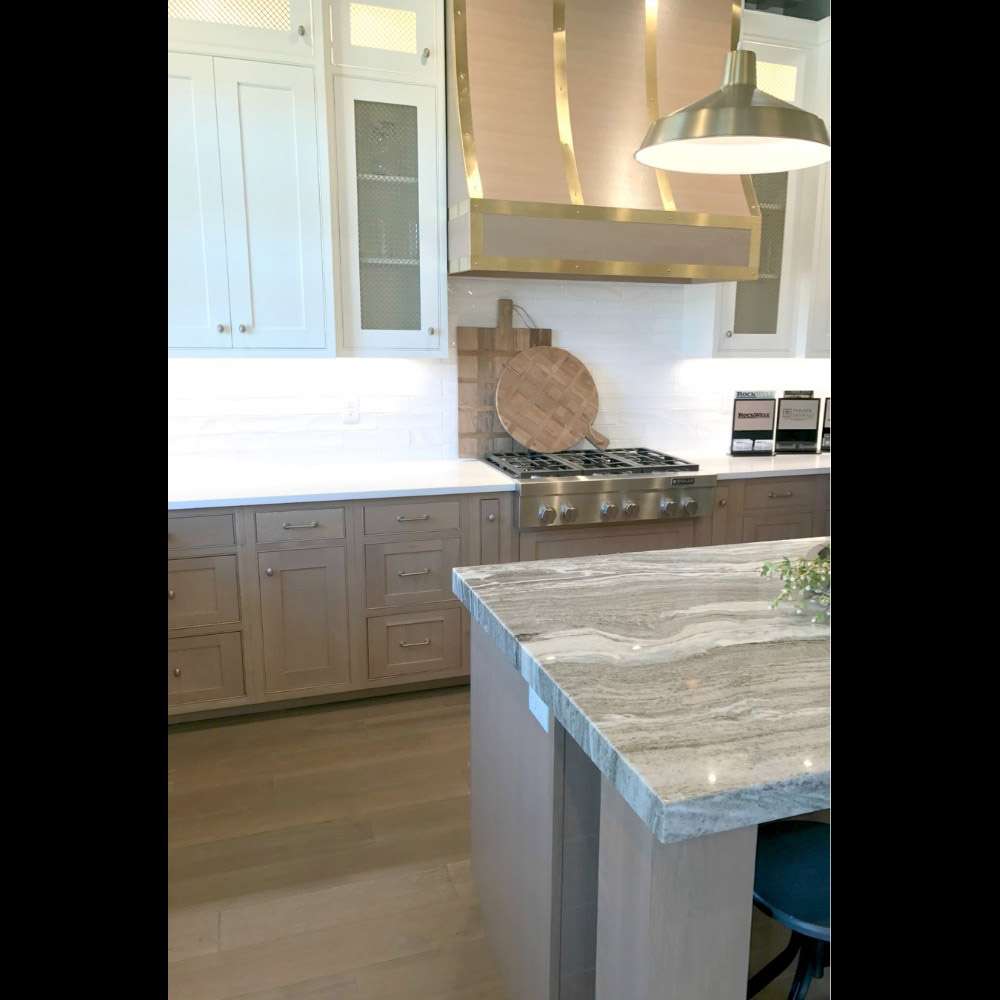 Big cutting boards are everywhere. Make your own using planks of wood, a jig saw, and some hemp oil! Lean your cutting board creation against your removable wallpapered backsplash, add a mason jar of peonies, and that happy little corner in your kitchen will put Pinterest to shame!
Whatever your budget, there is a DIY fix for the kitchen trend that you're drooling over. With a little creativity you can totally make that style your own. Beautiful kitchens aren't just for the ridiculously wealthy, my friends!
Remember, little changes can make a huge difference. Now go on and love where you live.
Still need help remodeling your kitchen? Find a professional today at KSL Classifieds.
×
More stories you may be interested in