Estimated read time: 3-4 minutes
This archived news story is available only for your personal, non-commercial use. Information in the story may be outdated or superseded by additional information. Reading or replaying the story in its archived form does not constitute a republication of the story.
BURLEY, Idaho — Tag Elliott knows just how dangerous bull riding can be.
One wrong move can be disastrous when you're balancing on the back of a 1,500-pound beast, after all.
And just as Elliott was ascending to the top of the world rodeo circuit 10 years ago, as the 19-year-old was ranked No. 24 in the world, tragedy struck his career.
"It was something that I wanted to do and wanted to be successful at," Elliott said. "Stuff was kind of turning around and starting to turn around — and then a bump in the road."
The date was July 24, 2007. Elliott was riding in the Days of '47 rodeo, attempting to saddle "Werewolf" for the full eight-second ride. The former Utah high school rodeo state champion had reason to be optimistic.
The ride lasted less than two seconds.
"I don't remember much," Elliott said from his home in Burley, Idaho. "I remember the night before pretty good. Then I remember bits and pieces of that day, but not a whole bunch."
Elliott leaned over the top of the bull, but Werewolf reared back at the same moment, hooking its rider in the face. The bull's horn hooked Elliott in the eye, shattering his right eye socket, jaw and a few teeth. He was knocked unconscious and transported via ambulance to a nearby hospital.
The accident nearly killed him. He was revived twice, and it took 10 hours of surgery to stabilize him.
"The doctors and everybody were awesome," Elliott said. "They just worked on me and wanted to get me fixed as soon as they could."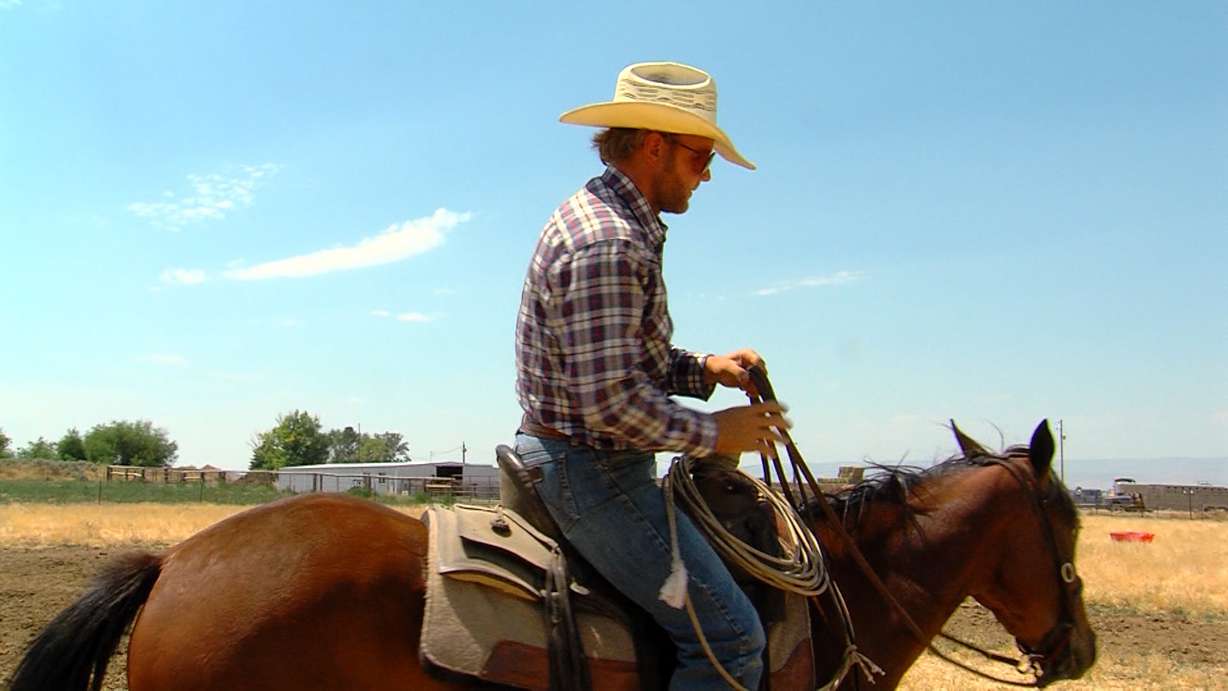 Since the accident 10 years ago, Elliott's road to recovery has been intense. He's endured more than 20 surgeries, but come out well on the other side each time.
Still, you'd think getting back on a bull would be the last thing on his mind.
"I don't really remember anything from the accident, so there wasn't much as far as fear or being scared," Elliott said. "I just had a little bump in the road, and I was going to get back to doing what I wanted to do."
Elliott returned to ride in 2009, working his way back to the National Finals Rodeo in Las Vegas by 2012.
"It was really fun and a really cool experience," Elliott said. "I didn't have as much success there as I would have liked, but it was an experience. It was pretty cool."
Elliott spends less time riding bulls and more time working on his ranch just outside Burley. An arm injury has kept him out of the professional circuit — but the desire to get back on a bull hasn't left him.
After what he's been through, don't be surprised to see him back in the saddle one day.
"I guess you can kind of lay down and quit, or just go on with it," he said. "It happens; you know the risk going into it. You know that can happen.
"I guess you just love the sport and want to do it, so that's what you're going to do."
×
Photos
Related stories
Most recent Sports stories