Estimated read time: 4-5 minutes
This archived news story is available only for your personal, non-commercial use. Information in the story may be outdated or superseded by additional information. Reading or replaying the story in its archived form does not constitute a republication of the story.
ELK RIDGE — You can't spell 'rodeo' in Utah without 'Feild' — specifically, Lewis Feild, the five-time world bareback champion who died in 2016 after a battle with pancreatic cancer.
But for his son Kaycee Feild and the rest of the family, Utah's Days of '47 rodeo represents a special place — starting with the new statue that sits outside the rodeo arena honoring a legend of the sport.
Not only has Kaycee Feild followed in his father's footsteps with four world titles of his own, but from an early age, he shared his father's love of the Days of '47.
"It was so much fun to watch a rodeo in the Delta Center and to watch my dad there," Kaycee Feild said. "I don't remember a whole lot (as a kid), probably a whole more or less the snow cones and the popcorn than him riding."
The Days of '47 has been a tradition in the Feild family for decades. It's a time for the first family of Utah rodeo to get together and show off a sport they love.
And now, it's a time to remember the leader of the pack.
"It meant a lot," said Veronica Feild Jackson, Kaycee's mother. "When our friends come from all over and see how beautiful Utah was, they couldn't believe that it's so amazing. We could rodeo out of here and have all these great rodeos here, and it's meant a lot to us."
Kaycee Feild has traveled the world to spar in some of the biggest rodeos on the planet. He's ridden bareback broncs since he was 13 years old, and he was coached by his father en route to a National Intercollegiate Rodeo Association national bareback title in 2008 while riding for then-Utah Valley State College.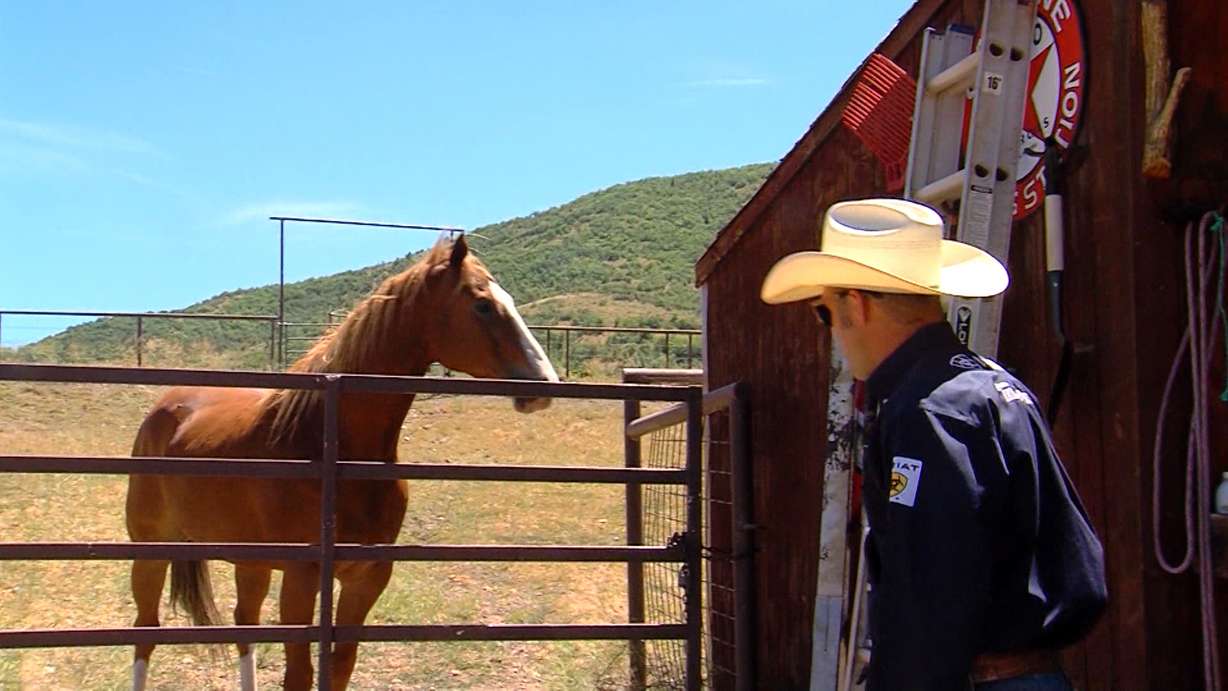 That launched a pro career that took the younger Feild to elite competitions, from the NFR in Las Vegas to the Middle East and almost everywhere in between.
But there was something special about riding close to home.
"When you get to the Days of '47 rodeo, it's Utah, and I'm worse than a Texan when it comes to Utah," Kaycee Feild said. "I'm a proud Utahn. It's just a different feeling when you get there. You have history there. You have a different mentality when you ride and (it's) somewhere where you have memories and friends and family and your home state watching."
There's also filling the big boots of the first family of Utah rodeo, made larger by the legendary status of Lewis Feild.
"I've got big shoes to fill," Kaycee Feild said. "I don't know if I will ever fill those shoes, even if I accomplish my goals and win five world titles like him. There were so many things he did outside of the arena that made Utah proud."
One could make an argument that Kaycee Feild has come close to matching his father's world championship run. But there's still one belt buckle that has eluded Kaycee's grasp, and he's spent nearly a decade trying to win it.
"I remember the first time he got on (at the Days of '47 rodeo)," his mother recalled, "I said, 'Louie … you go do it for him.' I knew he could do it, though."
Lewis Feild (1956-2016)
Kaycee glanced at his mother in recounting the story, then added: "It was 2007, I had a little brown horse, and I can't remember her name. But the nerves got me, and the best of me. I remember leaving there thinking I just blew it … and I can't believe it, I couldn't even think about riding."
So what would winning the Days of '47 rodeo mean to four-time world champion Kaycee Feild?
"It would be amazing," he said. "With what's been going on with our family and the legacy that my dad left behind, and what's going to be going on at the arena, I don't know if I could even speak about it.
"I would be overwhelmed with emotion, and I know there would be someone pretty proud of me."
×
Photos
Related links
Related stories
Most recent Sports stories