Estimated read time: 6-7 minutes
This archived news story is available only for your personal, non-commercial use. Information in the story may be outdated or superseded by additional information. Reading or replaying the story in its archived form does not constitute a republication of the story.
SANDY — It was an international friendly in the middle of the Major League Soccer season on a Monday night.
But for 20,241 fans at Rio Tinto Stadium, it was a unique opportunity.
Newly signed Romelu Lukaku scored the game-winning goal, and world soccer powerhouse Manchester United came from behind for a 2-1 win over Real Salt Lake in the Utah side's first match since July 4.
Luis Silva gave Salt Lake the early lead, latching on to a through-ball from designated player Jefferson Savarino to give the hosts a 1-0 lead in the 24th minute.
"It's funny. Before the game, our coaches just told us to enjoy ourselves," Real Salt Lake captain Kyle Beckerman said. "When I came back from the warm up, I thought, 'forget about enjoying yourself; let's win this thing.'"
Silva, who started alone atop Petke's 4-2-3-1 formation, poked the ball in from the corner of the six-yard box — but the lead only lasted four minutes.
Henrikh Mkhitaryan leveled the match for the internationally renowned visitors, scoring just two minutes before Petke made wholesale changes to his lineup. The first-year RSL manager rolled out a side consisting of the Real Monarchs, plus a few regulars like Chris Wingert and Luke Mulholland, at the 30th minute as RSL rotated regularly in preparation for its return to MLS play Wednesday at Portland.
The line change marked the first action for new center back Marcelo Silva, whom RSL recently signed July 2 after eight years in Spain's La Liga and La Liga 2.
United's Lukaku, who just completed his signing from England's Everton FC, gave the visitors their first lead in the 38th minute, taking a ball from Mkhitaryan and dribbling around a prone Lalo Fernandez while beating a recovering defense for the 2-1 lead.
Antonio Valencia was sent off with a red card for Manchester United in the 68th minute, two minutes after a horrific challenge against RSL winger Sebastian Saucedo. Mulholland, who played the final 60 minutes as a substitute for RSL, nearly equalized with a shot from distance that swerved just past the left post with about 20 minutes remaining.
Manchester United was the first team from the English Premier League to visit Utah since Everton FC made a pair of trips in 2007 and 2009. Salt Lake also hosted Italian power Inter Milan in 2016.
United opened its North American summer tour with a 6-2 victory at the L.A. Galaxy on Saturday.
Here are three thoughts on an midseason friendly that could open the doors to an annual tradition in Utah.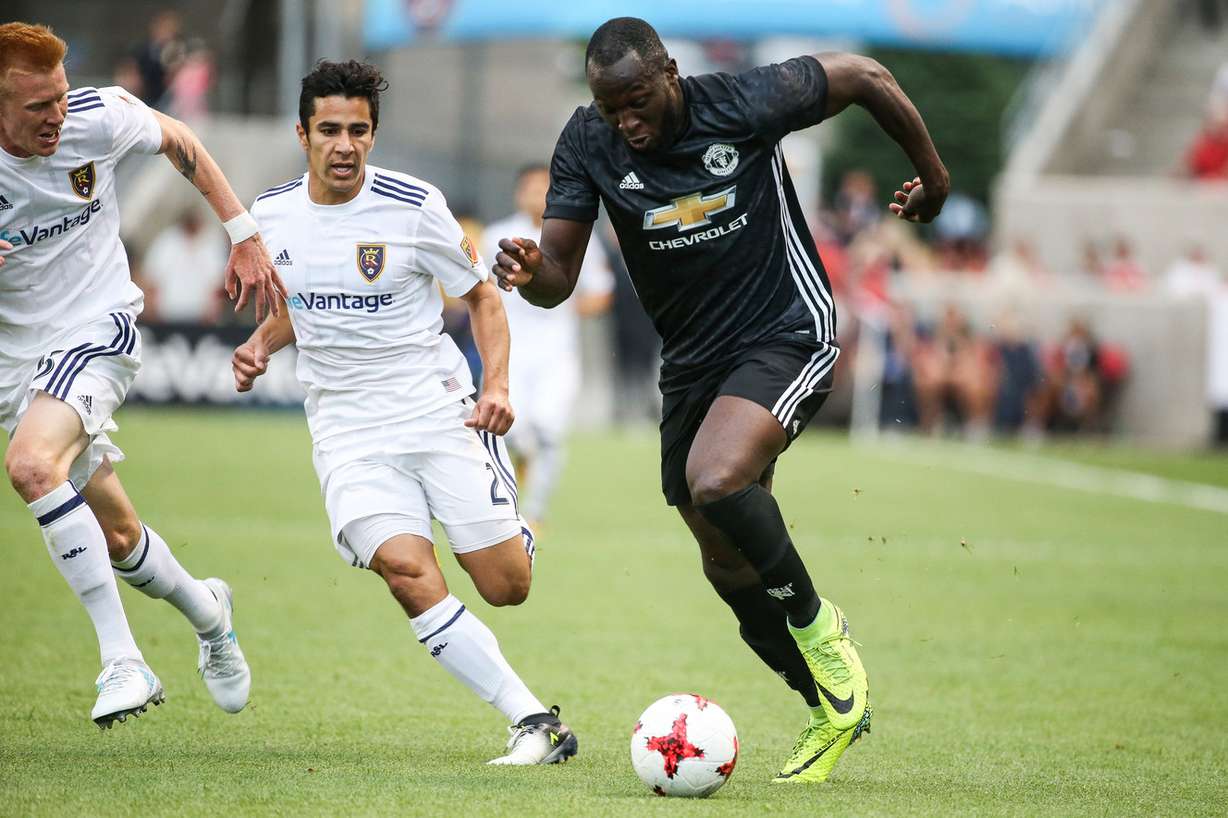 That was fun, but RSL has an important two-game trip
After the fun and games of Monday's international friendly — a treat to the fans, but an otherwise meaningless preseason assignment for the Manchester squad — Real Salt Lake returns to MLS play Wednesday against Portland, as well as a massive game Saturday against Sporting Kansas City.
"I completely down played this game to this team. I didn't want the focus to be on ManUnited; I wanted the focus to be on Portland," said a casual Petke, dressed in his polo shirt and slacks instead of the trademark sweater and tie. "But what we talked about was taking this game as a stepping stone two days before a very important league game, and I saw it tonight. I'm very impressed with the balance throughout."
It's the time of year where RSL, which sits at 6-12-2 and ninth in the Western Conference, needs to accumulate points if it wants to make a run at the MLS Cup playoffs.
"I just feel sorry that they have a game on Wednesday, and because of that, they couldn't play the whole game with their best team," United manager Jose Mourinho said.
RSL went toe-to-toe with a world power, and don't forget the Monarchs, too
For the first half hour, Real Salt Lake dictated tempo, moved the ball from side-to-side in the midfield, and was handily rewarded with the early goal via through Savarino and Silva. They looked, for all intents, like a mid-season pro team playing with an identity playing a team at the beginning of preseason.
"I think the team that played the first 35 minutes is well coached, have good ideas, a good understanding of the game, and playing in relation to the qualities of their players," Mourinho said. "They are good moving the ball … and I really liked the way they played.
I think the quality is better, and I like playing in soccer stadiums; you have absolutely amazing stadiums that you adapt to (American) football, but I like the concept of the soccer stadium, even if it is smaller.
"I like the fans, I like the enthusiasm around them, and the quality is improving all the time."
The Real Monarchs have been the talk of the United Soccer League, rising to the top of the second-division league's Western Conference and setting a record for consecutive wins, and Petke rewarded guys like Jose Hernandez, Lalo Fernandez and Monarchs captain Nick Besler with plenty of playing time against a world power.
"This game was very important for this organization, for this city, for MLS, for the supporters. But it was terrible timing. We have two days until a big game.
"That's not to say that if this game were a week and a half ago, I would've gotten our Monarchs players up — because they deserved it. Seeing what Mark (Briggs) has done since I left, these guys deserved a shot, and perhaps even more of them. I was very happy to be able to incorporate them into this night. Every one of them did very well."
So much for a friendly
Who said international tune-ups don't carry emotion?
Valencia's tackle against Saucedo threw the RSL homegrown talent to the turf for several minutes, and a deserved red card came out of the pocket of local referee Allen Chapman. According to witnesses, Chapman gave United manager Jose Mourinho a chance to sub off Valencia in place of the red card. But when the volatile manager refused, Chapman sent the Manchester side down to 10 men for the second match of their North American tour.
"Saucedo was really aggressive during the second half, with what happened to Mata, and some of his actions were a bit dangerous," Mourinho said. "We tried to change some things around for his enthusiasm.
"If you have that mentality in a friendly match, I think you will find yourself in a different mentality. But it was no problem; it's good experience for us to play (down a man)."
×
Photos