Estimated read time: 4-5 minutes
This archived news story is available only for your personal, non-commercial use. Information in the story may be outdated or superseded by additional information. Reading or replaying the story in its archived form does not constitute a republication of the story.
PROVO — Plenty of people around the BYU football team are wondering who will replace all-time leading rusher Jamaal Williams at tailback.
The former BYU star and fan favorite was a fifth-round draft pick of the Green Bay Packers, where he went through training camp with former teammate Taysom Hill, ex-Utah State running back Devante Mays and the rest of the Packers' newcomers this spring.
BYU's next step, then, was to find the next power back to replace Williams.
Squally Canada has had hopes of being that guy. But after a life-changing event March 24, he's just happy to be alive.
Canada's cousin Vinshay Bracy was killed in Fairfield, California, last spring. Around the same time, Canada had another cousin in prison and a good friend was shot twice (he would later recover), and his grandmother died from natural causes.
A day after Bracy's death, Canada ran for 45 yards on five carries in BYU's spring game. His mother informed him of the tragedy when she visited her son in Provo this past spring.
"All of this was going on, and I knew that I could be back home in that area, doing what they were doing, getting shot at. Instead, I'm here playing ball," said Canada, who lived with Bracy and his family at his home in Milpitas, California, when they were young. "I'm doing something that they don't have the opportunity to do. I'm using this energy to work my tail off, push myself to my limits until I can't go any more.
"That's the only way you are going to see success: working until you can't. Pressure makes a diamond."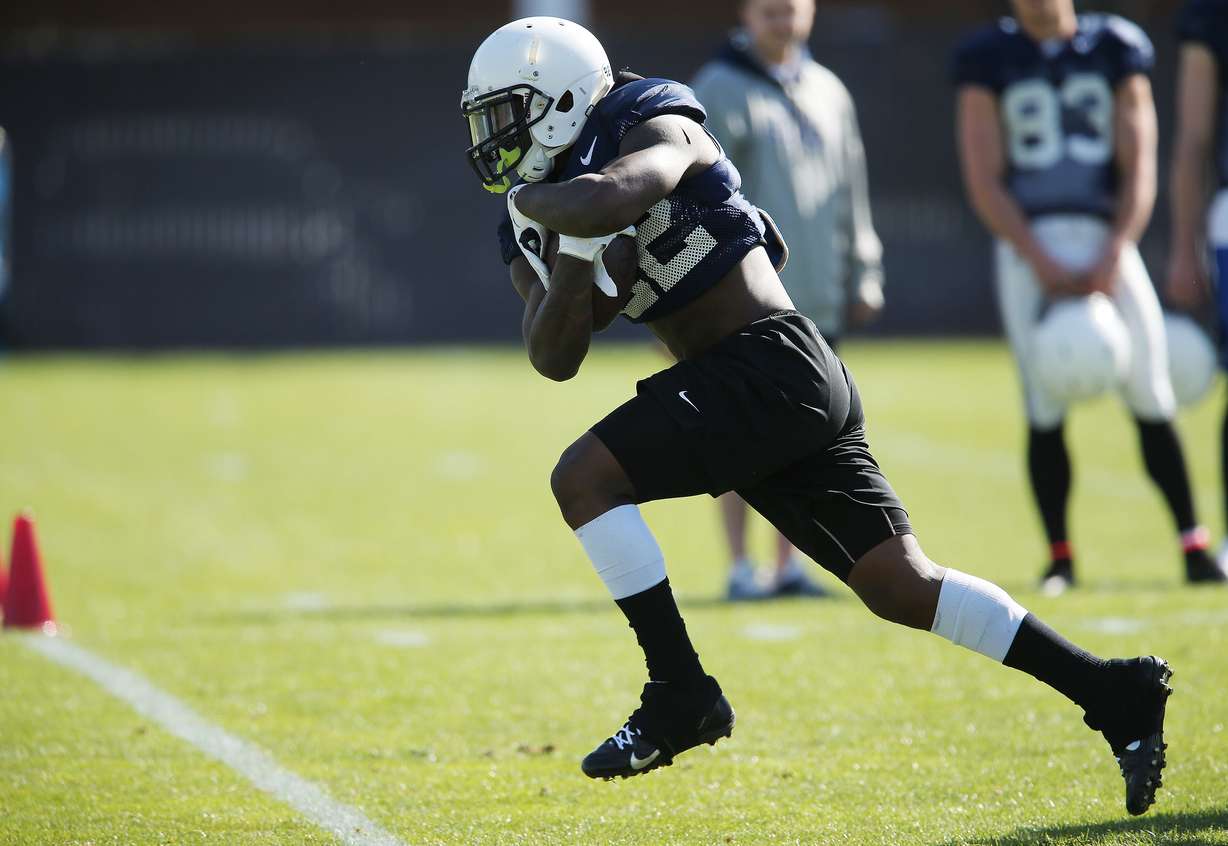 Canada spoke with emotion at BYU media day in June as he talked about his cousin and the impact of his death on his life. The 5-foot-11, 205-pound running back has the words "RIP ShadyBo," a reference to his cousin's rap moniker, tattooed across his chest.
"You don't rehearse this. You just let it naturally happen and there's so many different ways of dealing with adversity," BYU coach Kalani Sitake said at media day. "It takes time to heal, time to get over some things.
"It's great that he's able to turn something that could be a negative and hurtful into something that can be positive for him and honor his family the right way."
Canada has big hopes for BYU football in 2017. He declined to discuss specific individual goals — "It's more than me; it's about the team," he said — but tried to focus on improving on the Cougars' 9-4 season in Williams' senior year.
Canada ran for 315 yards in his first full season after transferring from Washington State. It was the third-most on the team, behind Williams and Hill.
But he knows he'll need to do more as an upperclassman.
"We need a back, and I am that guy," Canada told KSL Sports. "I went back and watched my film — nine minutes of cut-ups — and I didn't like what I saw. I need a lot of improvement."
Canada will be fighting for the main carries with returning backs KJ Hall and Trey Dye, as well as Riley Burt and former Wisconsin commit Ula Tolutau. He entered spring camp with the edge in experience and impressed his offensive coordinator during the rain-soaked spring game.
"He runs with power," Ty Detmer said of Canada last March. "The running backs played well today, so that was good to see them in live action.
"We had a pretty simple game plan, so we didn't give them a lot to work with and that was by choice. We just wanted to see them play a little bit."
Canada has a long way at BYU to catch one of his best friends in Williams, who graduated with 3,901 rushing yards and 35 touchdowns.
But he has even more motivation to be "the guy" this fall.
"Hopefully all this hard work pays off," Canada said. "I know it will. But if it didn't pay off, I wouldn't be here right now."
×
Most recent Sports stories