Estimated read time: 4-5 minutes
This archived news story is available only for your personal, non-commercial use. Information in the story may be outdated or superseded by additional information. Reading or replaying the story in its archived form does not constitute a republication of the story.
OGDEN — The reserves would've been understandably low for BYU redshirt freshman golfer Kelton Hirsch in the championship match of the Utah State Amateur, just over a year after returning from a two-year mission for the LDS Church in Mexico City.
A walk-off birdie putt on the 18th hole in Friday's semifinal against defending champion and BYU teammate Patrick Fishburn set up Saturday's final against Utah State golfer Braydon Swapp, who was the stroke-play medalist Tuesday.
After a slow start, Hirsch poured it on. The former Viewmont High basketball player carded four birdies on the back nine and went on to a 7 and 5 victory over Swapp at Ogden Golf & Country Club.
"I love competing. When I'm out there playing — basketball, baseball, football — I just love competing," said Hirsch, who won a Class 5A state title in 2013. "When I get in that situation, I don't feel anything else. I'll be really tired tonight, though.
"I've been working so hard and I've played a lot of good golf this week. It's been really big, a lot of fun to be able to hit the shots that I wanted to hit for a long time. It's been a struggle for six months, but I've been playing great golf lately."
Hirsch became the third-straight BYU golfer to win the State Amateur, joining current pro Jordan Rodgers (2015) and Fishburn (2016).
"Hopefully we can keep it rolling," Hirsch said. "We have a great team with some great players, and I don't see why we can't keep doing it."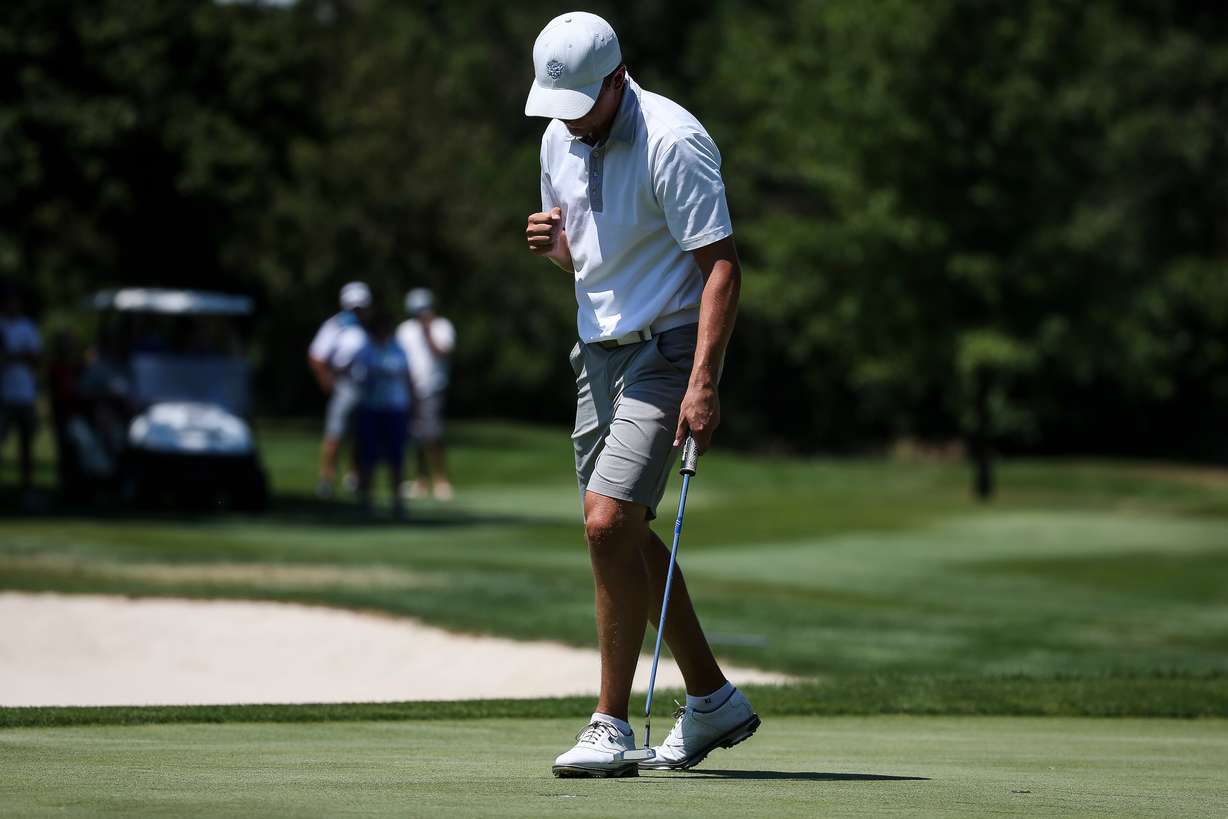 Swapp, who was the first Utah State golfer to advance to the State Amateur final since 2008, took two of the first three holes for an early lead. Hirsch's first lead didn't come until the par-4, 441-yard ninth hole — but once he had it, the BYU freshman never trailed again.
"That first round of golf was as good as I've seen out here. He was bogey-free and tough to beat," said Swapp, who prepped at nearby Venture Academy. "I'm proud of the way I played this week, and the way that I fought."
Back-to-back birdies around the turn gave Hirsch a two-stroke advantage, and he finished the first 18 holes with a birdie on the par-4, 425-yard 17th to go 4 up halfway through the final round.
In all, Hirsch outpaced Swapp 4-1 on their first pass through the back nine to take a commanding lead.
"I don't even know what happened," Hirsch said of the back nine. "I was just hitting the shots, got in the zone, and picked my spot and hit it there.
"I felt really comfortable on that back nine, saw the lines well, and it was a lot of fun."
Swapp pulled one back by winning the par-3 at No. 20. But Hirsch dropped back-to-back birdies on the next two holes to take a 5-hole advantage midway through the second round.
"He made a great charge. Braydon is a great player, and he hits a lot of good shots," Hirsch said. "He made a lot of birdies today and put a lot of pressure on me. It came down to who could roll in a couple of extra putts."
Swapp carded six birdies on the afternoon. But Hirsch took 12 of his own for the early win.
"Kelton is such a solid player that you aren't going to win with pars," Swapp said. "I had to make birdies, and I had a couple of good looks that just didn't go in."
Swapp was the first Aggie to play in the State Amateur final since Devin Daniels in 2008, and was seeking to become the first State Amateur champ from Utah State since Jason Wight in 1995.
"Utah State is a great program and a lot of good history," said Swapp, who won medalist honors after stroke play Tuesday. "It was good to be able to represent the school."
Hirsch next turns his attention to the NCAA season, which starts in September alongside teammates Fishburn, State Amateur quarterfinalist C.J. Lee and reigning West Coast Conference individual champion Peter Kuest, as well as WCC freshman of the year Rhett Rasmussen.
"It's a huge confidence boost, to win on the biggest stage we have in Utah," Hirsch said. "It's a boost for me and for our team. We have a great squad, and I think it's going to be an awesome year."
×
Photos
Related stories
Most recent Sports stories