Estimated read time: 3-4 minutes
This archived news story is available only for your personal, non-commercial use. Information in the story may be outdated or superseded by additional information. Reading or replaying the story in its archived form does not constitute a republication of the story.
SALT LAKE CITY — Along with a breast cancer diagnosis can come depression, anxiety and fear. A team of scientists from the University of Utah hopes to quickly reduce some of that stress.
Allison Payne is a research assistant professor in the University of Utah's department of radiology and imaging sciences. She is also the principal investigator on the team pioneering what is called the Muse System, which is a magnetic resonance guided focused ultrasound system.
"It's a bit like getting a massage," Payne said. "You lie here (on the Muse table) with your face down." The woman's breast hangs down through a special space where it is suspended in water.
The system is designed to be therapeutic. But this treatment could actually save lives. Using sound waves about the size of a grain of rice, the Muse System will target breast tumors, cooking the cancerous tissue until it's destroyed.
"I think the impact could be tremendous," said Dennis Parker, the Mark H. Huntsman professor of radiology and imaging sciences, who is also the director of the MRI guided thermal therapy program.
The availability of the treatment could be widespread since the system attaches easily to the top of an MRI machine.
J. Rock Hadley is also on the team and directs the U.'s Coil Lab. "It's (the Muse System) a beautiful thing to see because the ultrasound system had to be manipulated, tweaked to be able to have it function in the MRI scanner," he said.
If approved by federal regulators, this system could eliminate small but very dangerous breast cancer tumors after just a few hours of painless treatment.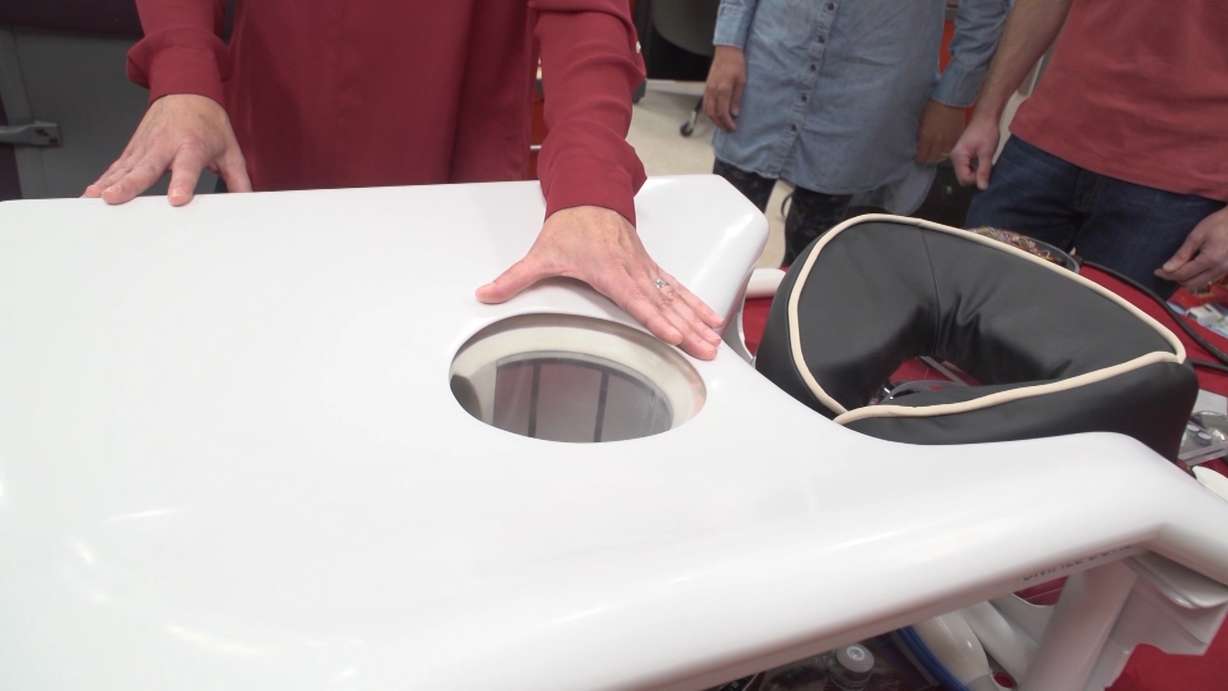 "It's a completely non-invasive treatment. So we are able to destroy tumor cells without causing any incision of the skin at all," Payne said.
Research assistant Rob Merrill, who helped design the system, is quick to point out another feature of it. "We have various height and tilt adjustments to make sure the patient is as comfortable as possible."
For a decade now, patient comfort, speed of treatment and cancer-free outcomes have driven the 24/7 work of this team of engineers, doctors and physicists.
"So there's been a lot of personal investment in the project," Payne said.
"We patients are the real beneficiaries of these tenacious, persistent, resilient researchers," Carla Lloyd said. The retired Syracuse University professor who now lives in Sandy is a stage four breast cancer survivor.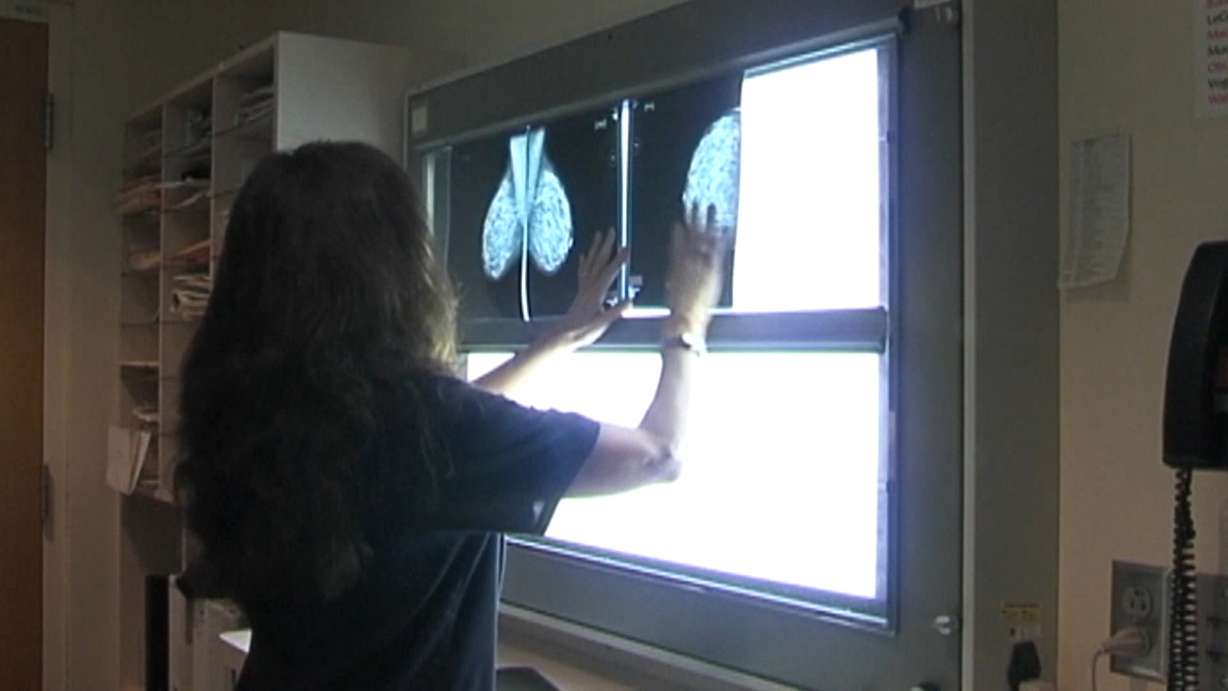 Lloyd has given the research team her perspective as a former patient. "Mentally you are going through a tremendous amount of stress. I mean, you are facing your own mortality."
Looking back on her often painful long-term treatment, Lloyd said she believes the Muse System is a potential game changer.
"How different my life would have been with something like this system," she said.
Now an adjunct professor at the U., Lloyd spent more than a year in intense chemotherapy.
Everyone on the development team knows someone like Lloyd — a friend or family member who has battled breast cancer — some successfully and others who have lost their battles with the deadly disease.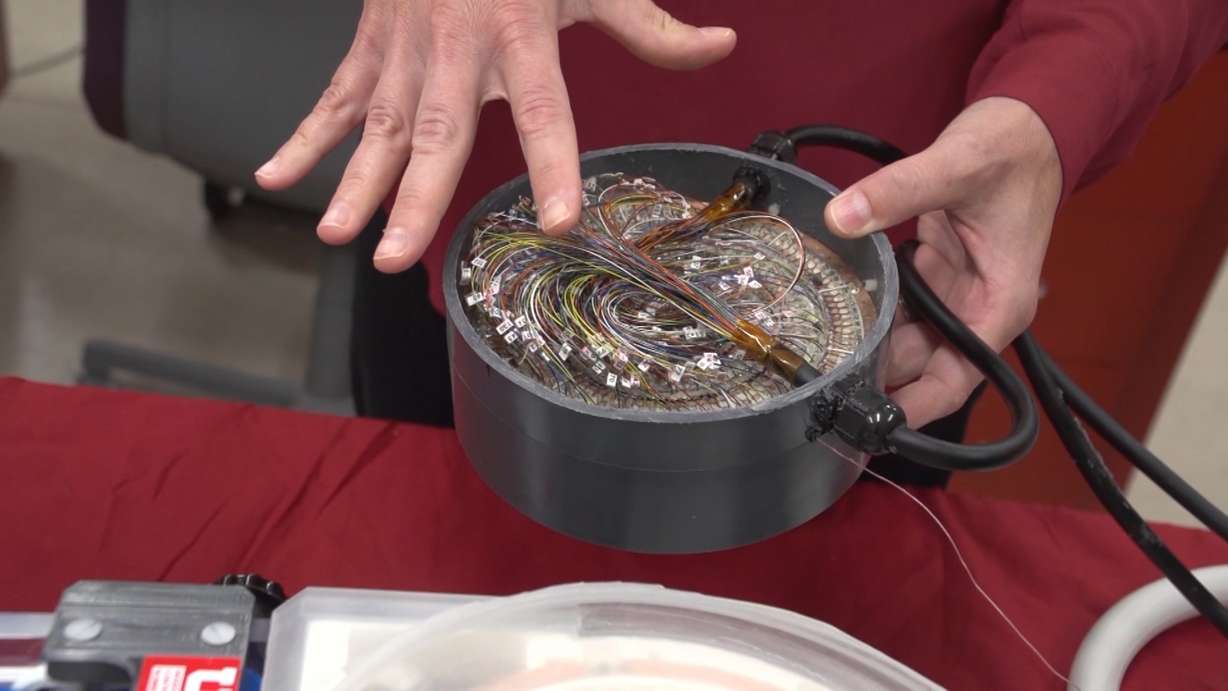 "It's so traumatic not only for the patient but their family members as well," Payne said.
They have inspired Payne and her team to push for clinical trials on the Muse System.
"It is rewarding. But there is much more than the intellectual stimulation, it is just actually seeing people's lives improved," said Emilee Minagla, another research associate heavily involved in designing the system.
In late June, the team received word that a five-year, $3.2 million grant for the Muse System will be funded by the National Cancer Institute.
This grant will allow the team to continue the technical development of the system and will also fund Phase One clinical trials involving breast cancer patients.
×
Photos
Most recent Utah stories