Estimated read time: 4-5 minutes
This archived news story is available only for your personal, non-commercial use. Information in the story may be outdated or superseded by additional information. Reading or replaying the story in its archived form does not constitute a republication of the story.
PROVO — Josh Hunter walked off the field at BYU's South Field to a loud ovation, arguably the loudest of the night for the BYU men's soccer team.
After four seasons with the Cougars, Hunter faced his final match in a BYU jersey. And though the Cougars didn't get a win in Wednesday night's 4-1 loss to FC Tucson, the team has given him more than a series of wins and losses.
"I'm extremely grateful for BYU soccer, for the opportunity to represent the university and its standards," said Hunter, one of three seniors on the team. "There's no other opportunity quite like playing at BYU in the country. It's top-notch.
"It's been a joy getting to know each member of the team. I've been able to learn from each teammate, and the love I have for these guys is indescribable."
FC Tucson clinched the PDL's Mountain division title, sweeping BYU in a pair of matches Tuesday and Wednesday. The club moves on to the Western Conference playoffs next week.
For seniors Hunter, Junior Lartey and goalkeeper Trevor LeSueur, it was the final game of their careers at BYU, a non-NCAA program that competes in the semi-professional Premier Development League.
The trio will move on to other responsibilities outside of soccer. Hunter, a double major in finance and Spanish, is angling for a career as an investment banker instead of making it in pro soccer.
"I'll be BYU soccer's No. 1 fan in the future," said Hunter, a native of Akron, Ohio. "I'm going to watch wherever I am, whether that's L.A. or New York or Chicago.
"The BYU soccer program has a solid piece of my heart. I love this program, and I love this team."
The group provided a stable of leadership at BYU over the past four years, which included qualifying for the U.S. Open Cup two years ago.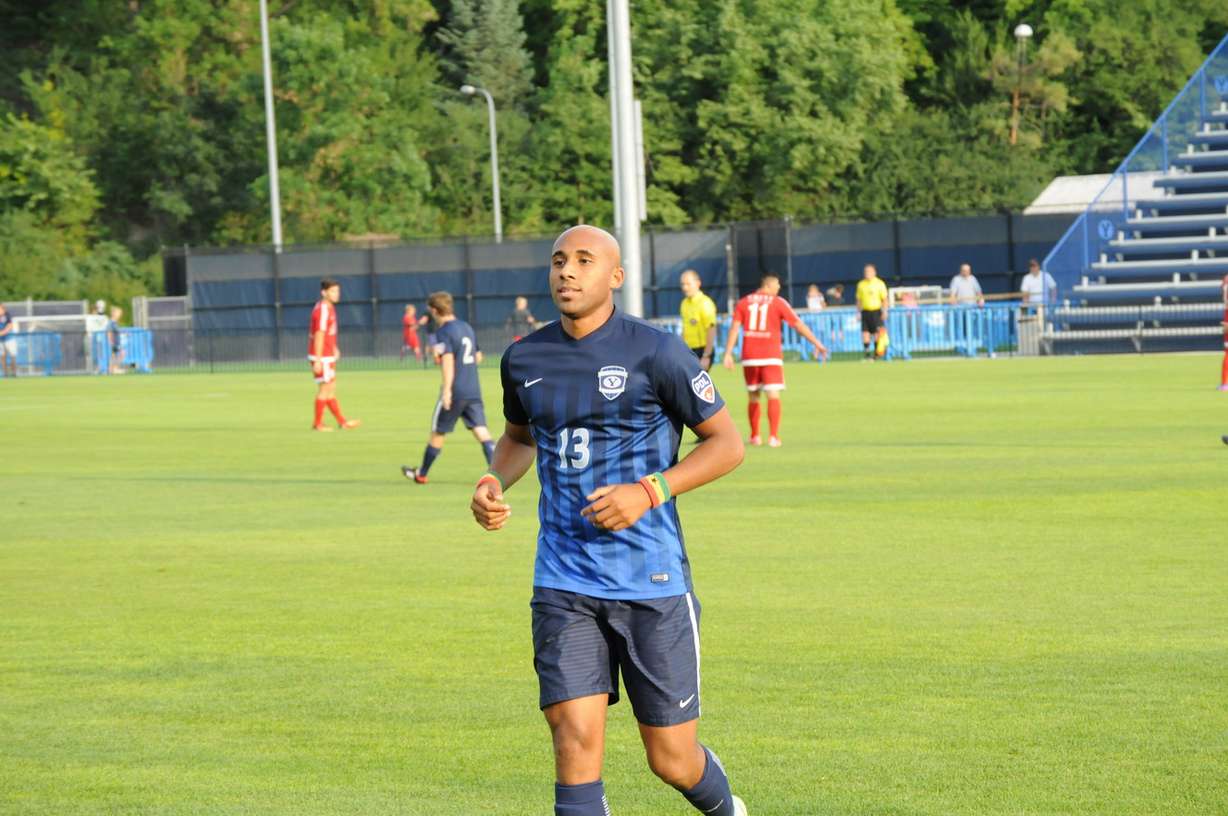 "All three bring something unique, and they've carried a lot of players with them," BYU coach Brandon Gilliam said. "You'll miss that, but it will open up opportunities for other people to do what they can do."
Utah Valley defender Nic Harguindeguy, who started at left back for Tucson, nearly opened the scoring less than 10 minutes into the game. The long-legged defender from Phoenix slalomed into the penalty area and unleashed a shot that whipped just past the far post in the seventh minute.
BYU countered when Hunter's free kick from the edge of the penalty box whipped around the wall before goalkeeper Luis Barraza made a diving save to keep the match scoreless. Taylor Fankhauser nearly did the same thing five minutes later, but Barraza again made a save for the visitors.
Moshe Perez scored his first of two goals for FC Tucson (9-2-2) in the 28th minute, converting a penalty inside the left post for the 1-0 advantage. The former Colorado Mesa standout added his third goal in two days against BYU just 10 minutes later, and the PDL Mountain Division champions never looked back.
Wedner Delmonte added another for Tucson in the second half, striking a close-range shot in the 64th minute for a 3-0 advantage, and Afonso Pinheiro delivered the final blow in the 90th minute.
Connor Fordham scored his team-high fifth goal of the season for BYU, pulling one back with 10 minutes remaining for the Cougars.
LeSueur rotated at goalkeeper alongside Brenden Ottman over his final season, posting a 1.65 goals-against average in three starts for the Cougars. Following graduation, the construction management major will move back to his native Dallas to work for his father's company.
Lartey, who prepped at Mountain View High in Orem, was a versatile defender who found a spot at right back during his senior season. The senior wasn't able to play in his final game after suffering a concussion during the Cougars' penultimate weekend of the season at Colorado Rapids U-23, but Tucson allowed him a ceremonial start on the occasion of his final minutes.
"I'm going to miss those three guys so much," Gilliam said. "They're outstanding young men. But the outstanding part is that they will be successful in life.
"Soccer ends, and every one of our players do something big with their lives outside of soccer. It'll be fun to see what they do with the next chapter."
×
Photos
Most recent Sports stories