Estimated read time: 4-5 minutes
This archived news story is available only for your personal, non-commercial use. Information in the story may be outdated or superseded by additional information. Reading or replaying the story in its archived form does not constitute a republication of the story.
SALT LAKE CITY — Is 70-year-old Gov. Gary Herbert too old to drive?
How about 66-year-old state Reps. Steve Handy, R-Layton, and Lowry Snow, R-Santa Clara?
The three are among 11 Utah lawmakers — 10 Republicans, one Democrat — over age 65 pictured in a new American Beverage Institute ad under the headline: "Too Impaired to Drive?"
The organization based in Washington, D.C., asserts that drivers 65 and older are more impaired than a driver with a blood-alcohol content of .05 percent. It is urging Utah to repeal its lowest-in-the-nation legal blood-alcohol content for driving. The law doesn't take effect until Dec. 30, 2018.
If Utah lawmakers are prepared to jail someone who's had little to drink, then they should also be prepared to bar people over the age of 65 from driving, according to the institute.
The ad asks, "If Utah legislators believe drivers at .05 should go to jail, should those over 65 be arrested for DWO (Driving While Older)?"
"If I were Donald Trump at this point, I'd just call it fake news," said Snow, who turns 67 next month. He said he's licensed to drive and is a very good driver.
"Am I too old to drive? I am not," Handy said after seeing the full-page ad scheduled to run in the Salt Lake Tribune on Thursday.
The Deseret News, which shares advertising and circulation departments with the Tribune, declined the ad.
"The Deseret News has certainly accepted advertising critical of the .05 percent blood alcohol level law. In this case, however, I didn't feel like the ad was fair to those pictured," said Doug Wilks, Deseret News editor.
The beverage institute, which describes the ad as satirical, bases the claim on two National Highway Traffic Safety Administration studies, one from 2016 and the other from 1997.
Related:
The 2016 report shows drivers 65 and older are 2.59 times as likely to get in a car crash than younger drivers, while the 1997 research shows a driver at .05 percent blood-alcohol content has a 2.03 relative crash risk compared to a driver with no alcohol.
"Proponents claim that a driver is notably impaired at .05, but that simply isn't the case. In this kind of analysis, the key word is 'notably.' Almost anything increases the risk of a car accident to some degree — even something as innocent as listening to the radio," according to Sarah Longwell, American Beverage Institute executive director.
National Highway Traffic Safety Administration spokesman Jose Ucles said the agency couldn't comment on the accuracy or on how the beverage institute reached the conclusions it did using the two documents. He did say the 1997 research is "old" and hasn't been repeated.
Snow said the ad "lacks class."
"I think it will have the opposite effect in terms of driving the Legislature to do anything," he said.
Though he's not "seething" about the ad, Snow said it's offensive to many of his constituents in Washington County, an attractive area for retirees and host of the World Senior Games.
"It's insinuating that people who are over the age of 65 are incapable of operating a motor vehicle safely, and that's offensive," he said.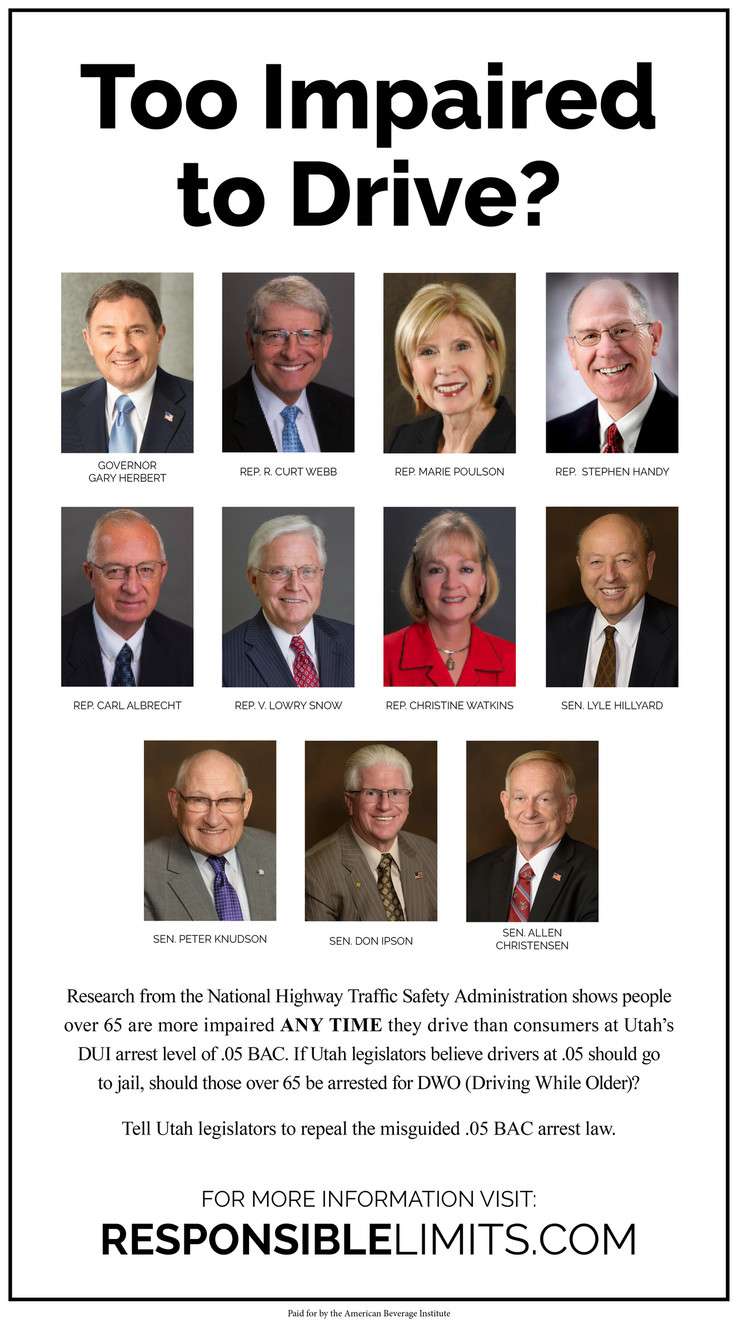 State Sen. Jim Dabakis tweeted that he's "appalled and outraged" that the beverage institute would put out the ad. Unlike Snow and Handy who voted for the bill and Herbert who signed it into law, the 63-year-old Salt Lake Democrat opposed the legislation.
Utah House Speaker Greg Hughes, R-Draper, has been an outspoken opponent of the new law, and according to his office, the beverage institute has manged to offend even those who share its opinion and are working to find a compromise on the legislation.
If the organization wanted to be part of the solution, it would talk to the various interests and offer solutions, said Greg Hartley, the speaker's chief of staff.
"Their D.C. tactics are all for show and attention, and they have no desire to have an impact in Utah. Their focus is clearly to try and send a message to other states considering similar policy discussions. Those tactics don't work here. In fact, the only thing they've managed to accomplish is uniting opposing sides on this issue to be appalled by them," Hartley said in a statement.
The American Beverage Institute's campaign to repeal the law includes ads in Colorado, Idaho and Nevada discouraging tourists from traveling to Utah. It also has also launched an online petition opposing the .05 percent limit.
The Legislature's Transportation Interim Committee is considering possible changes to the law, including reducing the penalties for offenders between .05 percent and .08 percent blood-alcohol content.
Handy said he's still comfortable with his support of the bill but lawmakers should have been a "little more cautious" passing it.
"It's not ready," he said. "We do need to make some fixes to it."
Herbert's office declined to comment on the ad.
×
Photos
Related stories
Most recent Utah stories