Estimated read time: 4-5 minutes
This archived news story is available only for your personal, non-commercial use. Information in the story may be outdated or superseded by additional information. Reading or replaying the story in its archived form does not constitute a republication of the story.
CARY, N.C. — Ashley Hatch didn't know what happened, or what to do with herself.
The former BYU women's soccer star was starting her first professional match with the North Carolina Courage in the National Women's Soccer League, and when she finished off a pass from teammate Lynn Williams for the second goal of a 2-0 victory against Kansas City, she stopped.
Should she celebrate? Act like she's been there before (she scored 47 times at BYU, after all)? Or was this an occasion for a boisterous act commemorating the biggest first achievement of her pro career?
But Hatch ran to a spot where she felt most comfortable: alongside the North Carolina bench, who were screaming, slapping palms and celebrating a victory for the first-place Courage.
"I had been on the bench for the first part of the season, so all of us talked about needing to celebrate with each other," Hatch said by phone after training in North Carolina.
"Once the ball went in the back of the net, I was just really excited to get the first goal out of the way. You dream about that happening your entire first professional season."
Hatch's start to her first pro women's soccer career has been idealistic, in most regards. The No. 2 overall pick in the 2017 NWSL college draft, Hatch came off the bench for most of the first six games of the season, then scored four goals in five starts as she ranks the eighth-highest scorer in the NWSL.
With a handful of players injured or called into international duty, her first chance in the starting lineup came a week before joining the United States Under-23 national team in Sweden.
And she made the most of it. Hatch finished off Williams' "perfect pass" and finished easily for the first of four goals in NWSL play. The Courage (9-4-0) have 27 points midway through the season, leading Chicago by three for the top spot in the league.
Hatch has certainly played her part, edging Williams for the most goals on the team. The former Pepperdine star and U.S. teammate has seen her own career skyrocket over the past year, and the former West Coast Conference rivals have formed a deadly partnership for North Carolina.
"She's a great player," Hatch said of Williams. "Coming in, she has taken me in and showed me how to adjust to pro life. I learned a lot from watching her play in games and playing in practice.
"She's awesome, and I've loved playing with her so much."
Hatch's teammates have enjoyed playing with her, as well.
"When she scored, I was so excited for her," veteran midfielder Sam Mewis told Excelle Sports after the shutout victory. "She's been working hard the whole time she's been here.
"Anytime a rookie comes in and doesn't start right away, it's hard for them. They have obviously started on every team they have ever been on. So it's been a journey for her, and we are all rooting for her because she works so hard."
Added teammate Kristen Hamilton, a reserve forward in North Carolina: "She's one of us. She's been on the bench with us throughout the season, and it was just really special to see her celebrate with us."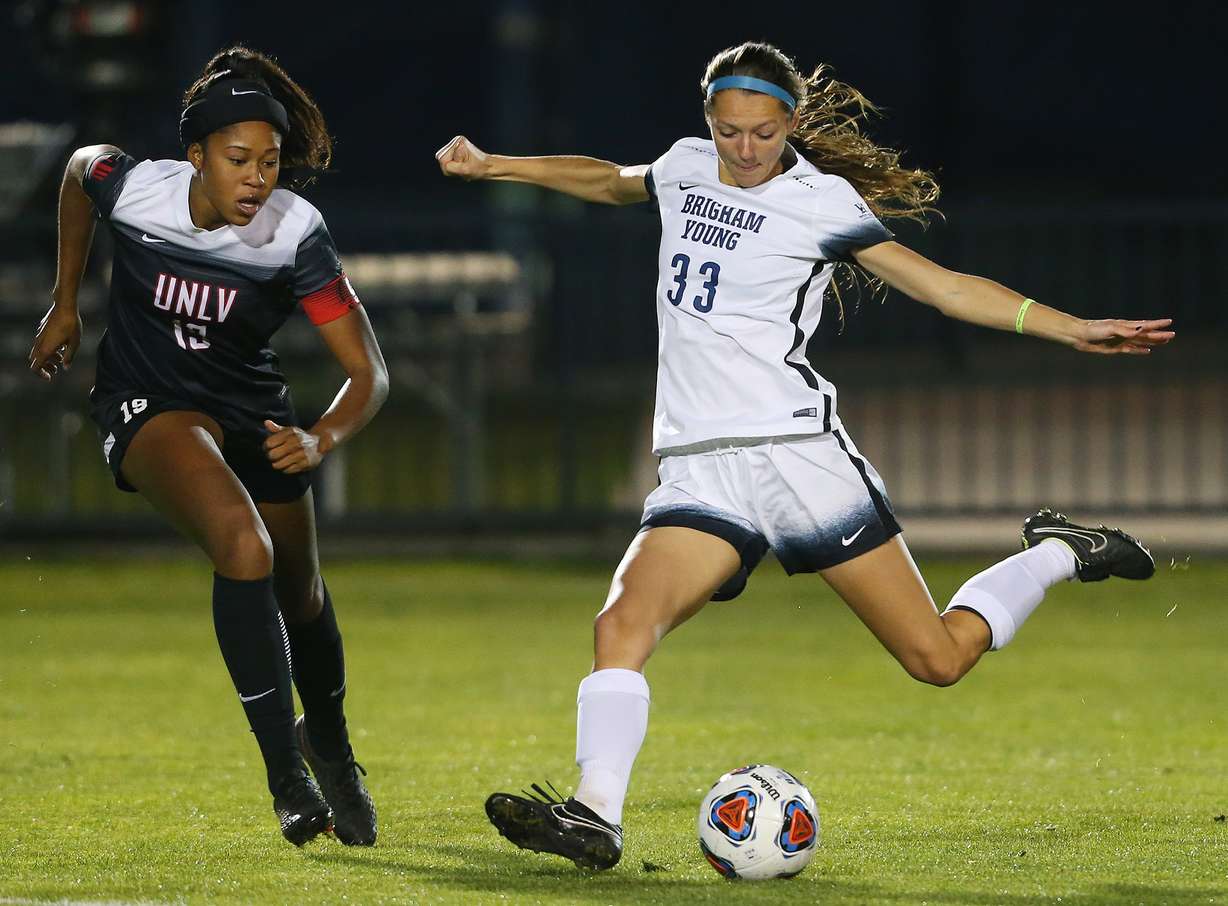 Hatch's transition from Utah to North Carolina wasn't expected to be easy, as it never is for any rookie But the native of Gilbert, Arizona, has taken to her new environment well, devouring the Southern culture like the "hush puppies" at a recent farmer's market she went to.
The transition to playing at 10,000-seat WakeMed Soccer Park, though, was made easier by BYU and head coach Jennifer Rockwood's program, Hatch said.
"One aspect of playing professionally that can be new to some rookies is playing in front of so many fans. It adds a lot of nerves," she said. "But being able to play at BYU with such great teammates and great coaches helped prepare me to come into this competitive environment. It was a pretty smooth transition."
Playing behind veteran goal-scorers like U.S. internationals Williams and Jess McDonald helped Hatch transition into a pro player. And Courage coach Paul Riley and his staff brought along the striker into a team with championship expectations after winning last year's NWSL title before relocating from western New York.
"It's been really fun, and I think I thrive off the competitive environment that we have in North Carolina on our team," Hatch said. "We have so many great players, and I knew that. It's been fun to get out and compete, and learn from the coaches and players."
Cougars in the Pros
×
Photos
Most recent Sports stories