Estimated read time: 4-5 minutes
This archived news story is available only for your personal, non-commercial use. Information in the story may be outdated or superseded by additional information. Reading or replaying the story in its archived form does not constitute a republication of the story.
SALT LAKE CITY — A new poll of Republicans in the 3rd Congressional District shows Provo Mayor John Curtis leading former state lawmaker Chris Herrod and attorney Tanner Ainge in next month's special primary election.
But nearly half of those polled for UtahPolicy.com, 49 percent, said they were still undecided in the race to replace former Rep. Jason Chaffetz. The Utah Republican, first elected in 2008, resigned on June 30 to take a job as a Fox News contributor.
Curtis was favored by 29 percent in the poll for the online political news source, followed by Herrod at 12 percent and Ainge at 10 percent. The GOP primary is closed to voters who aren't Republicans, including those who are registered as unaffiliated.
The poll was conducted by Dan Jones & Associates from June 23-July 5 of 199 self-identified Republicans in the 3rd District, which includes portions of Salt Lake and Utah counties, as well as Carbon, Emery, Grand, San Juan and Wasatch counties.
The three contenders to represent the Republican Party on the November ballot are set to debate for the first time Tuesday at an evening forum in Provo sponsored by Americans for Prosperity-Utah. The debate is expected to focus on economic issues.
The winner of the Aug. 15 GOP primary will face Democrat Kathie Allen, as well as several minor party candidates. Allen declined to participate in the hourlong debate set to start at 7:30 p.m. at the Covey Center for the Arts, organizers said.
The poll suggests many voters may not be paying attention to the primary race.
"It's a low-key election," said UtahPolicy.com publisher LaVarr Webb, who writes a column for the Deseret News. "Curtis is obviously much better known in Provo and Utah County."
Webb said the Provo mayor's popularity also helps him, while the abbreviated schedule for the special election means "there isn't a lot of time for Ainge and Herrod to really build their name recognition."
Curtis called the results "very encouraging. It's gratifying to see what I've done as mayor and the message of the campaign is resonating and gaining support."
He said the undecided voters "are really important for my campaign to not take for granted."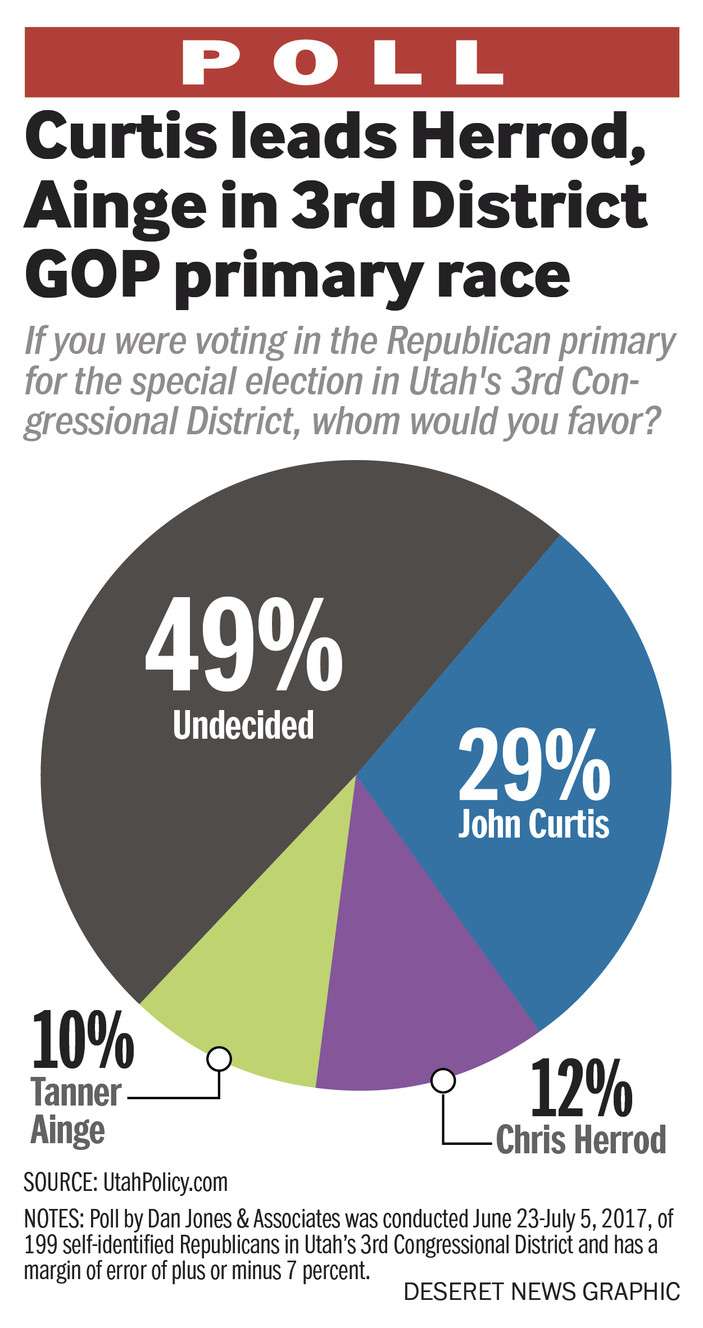 Earlier Monday, Curtis told the Deseret News and KSL editorial boards that without the law known as SB54 that allows candidates to gather voter signatures for a place on the primary ballot, he "wouldn't still be in the race. Everybody knows that."
Unlike Ainge, who chose only to gather voter signatures, Curtis competed for the support of Republican 3rd District delegates at the party's nominating convention in June in a crowded field, but was eliminated during multiple rounds of voting.
The delegate nomination went to Herrod, even though he ended up winning in the final round with less than the 60 percent threshold usually required at a convention, because of a change in party rules for the special election.
Curtis said the rules change that permitted only one candidate to advance from the convention "seemed very odd" and said he "took it personally. I don't know if that's fair. But it seemed like I was what they were afraid of."
Herrod said what he's hearing from voters is that they "don't think it's fair that someone got two bites at the apple," by both gathering signatures and competing at the convention.
The former state representative from Provo said the rules were changed by state delegates before most of the candidates were in the race to ensure two "platform Republicans" didn't advance to the ballot where they would split the vote.
That would be "giving them an unfair disadvantage against someone who was gathering signatures," Herrod said, calling the decision to advance only a single candidate "just common sense."
He said his poll numbers are where his campaign expected to be.
"We're not alarmed," Herrod said, adding that his campaign has raised nearly $100,000 in the past month that will be used to help boost his name recognition and focus voters on Curtis' record as mayor.
"I sort of relish the underdog role," Herrod said. "Once people know the issues, then we will win."
Ainge said the poll numbers are "great news" because his opponents in the primary "have been running for public office in the district for decades" while he is making his first run for elected office.
Although his father, former BYU basketball star Danny Ainge, is the general manager of the Boston Celtics that just signed now-former Utah Jazz player Gordon Hayward, Tanner Ainge said that's not what voters care about.
"Nobody's voting based on where Gordon Hayward wants to play basketball," he said. Instead, Ainge said voters are looking for "a principled conservative who wants to get things done."
Ainge said he made a "strategic choice" to gather voter signatures because other candidates were already campaigning when he got into the race, including state Sen. Deidre Henderson, R-Spanish Fork, who finished second at the convention.
"I realized there was no way for me to extend my campaign unless I was to get on the ballot through the signature route," Ainge said. "By doing so, now I've got an extra 60 days to get my message out there."
×
Photos
Most recent Utah stories