Estimated read time: 3-4 minutes
This archived news story is available only for your personal, non-commercial use. Information in the story may be outdated or superseded by additional information. Reading or replaying the story in its archived form does not constitute a republication of the story.
SALT LAKE CITY — Here are 10 stories you may have missed this weekend. As always, click on the headline to read the full story.
1. South Salt Lake apartment fire displaces low-income residents
A fire on a balcony of a low-income apartment building displaced residents from multiple units Sunday.
Bob Tuttle, a property manager from the Salt Lake County housing authority, said that at least two units were "completely gone" and estimated that at least 19 people were displaced from their homes by the fire.
2. Report: Trump Jr. was promised damaging info about Clinton
Donald Trump's eldest son said Sunday he met with a Kremlin-linked lawyer shortly after his father clinched the Republican nomination, hoping to get information helpful to the campaign.
A New York Times report Sunday citing advisers to the White House briefed on the encounter said Trump Jr. agreed to the meeting after being promised information damaging to Hillary Clinton.
3. 1 arrested in fatal West Valley shooting
One man was killed and another was injured in a shooting in early Sunday.
Officers responded to a report of shots fired at a home near 4274 W. 4695 South just after 2 a.m. Sunday, according to West Valley police. At the house, police found Jason Bull, 35, of West Valley City, deceased.
4. DEA pipes up on homelessness as state, local leaders prepare to meet
Days after fireworks were blamed for an apartment fire that forced tenants to jump from three-story windows, Salt Lake County's mayor wants feedback on the idea of a fireworks ban.
5. S.L. County asks: Should fireworks be banned?
A stretch of city blocks near Utah's primary homeless shelter has become a "breeding ground" for crime, a federal drug enforcement officer in Utah said Friday.
The area near Salt Lake City's Pioneer Park is home to drug dealing, prostitution, public lewdness, disorderly conduct and violence, said Brian Besser, the federal Drug Enforcement Agency's district agent in charge.
Sports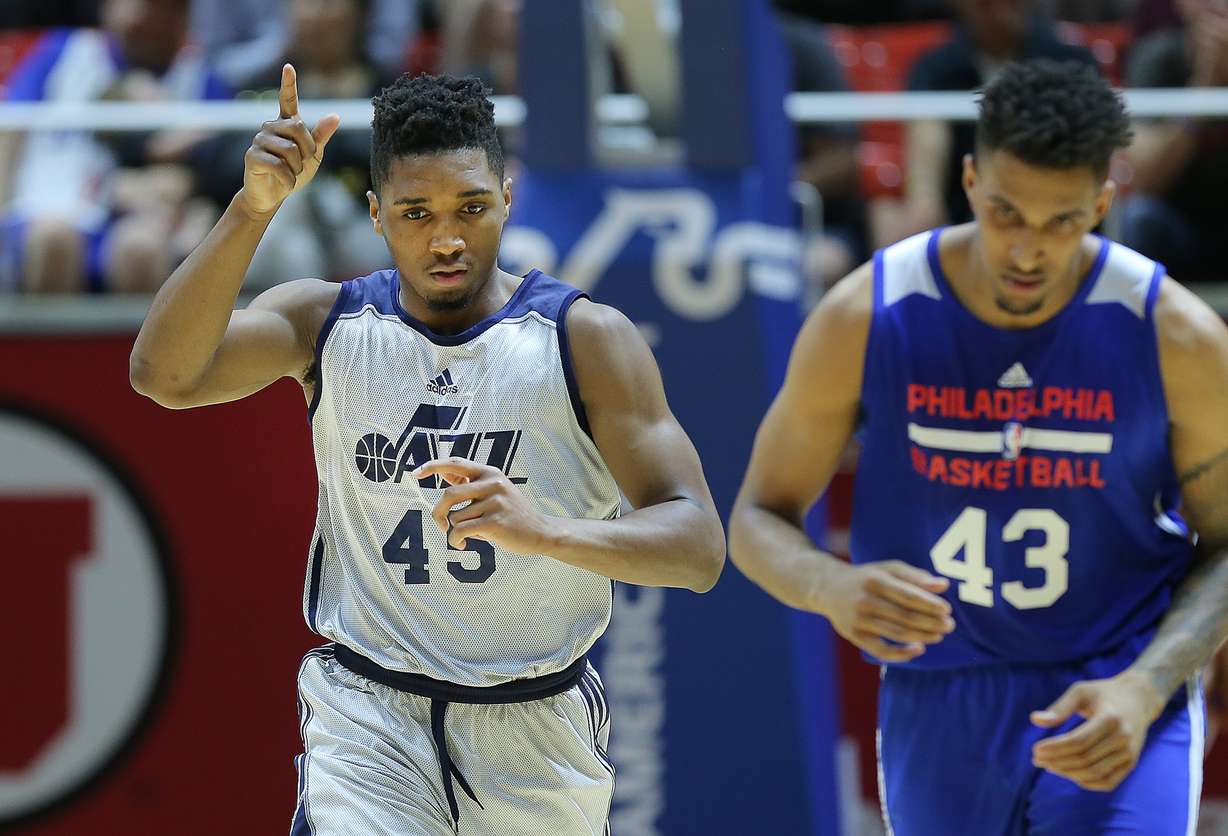 1. Mitchell family impressed by new Jazz family of rookie son
When an NBA team drafts a player, they don't just draft one person like the Utah Jazz did in signing rookie Donovan Mitchell; they draft his whole family.
2. Shelvin Mack signs with Orlando, Crowder sign-and-trade unlikely
The Celtics won't be trading Jae Crowder or any other players to the Jazz for the rights to sign Gordon Hayward.
3. Salt Lake hosts national fencing championship
Salt Lake City is hosting one of the largest fencing tournaments in history this week, as the 2017 National Championship and July Challenge takes place at the Salt Palace Convention Center. The 10-day event began July 1 and will continue through July 10.
4. The Triple Team: 3 thoughts on Jazz vs. Clippers
Without Donovan Mitchell or Dante Exum playing, the other Jazz summer league guards struggled to create opportunities in a big Jazz loss.
5. Ex-Jazz teammate Hood: Hayward decision surprising, but 'I support him'
Gordon Hayward met with Jazz brass last Monday to discuss his future as a free agent before announcing Tuesday that he would be joining his college coach in Boston.
His decision, though, was a surprise until the big day — even to his (now former) teammates.
×
Most recent Utah stories