Estimated read time: 3-4 minutes
This archived news story is available only for your personal, non-commercial use. Information in the story may be outdated or superseded by additional information. Reading or replaying the story in its archived form does not constitute a republication of the story.
OGDEN — After her husband's death, Kathy Hanks didn't know if she would ever repaint the faded, colorful fish-scale shingles that cover the gables of her home.
The 72-year-old has lived in Ogden for more than 40 years, and her house hasn't been painted for at least three decades. The Victorian-style home was built in the 1890s and sports more than eight colors, including washed-out yellow sun bursts under the eaves.
"I've wanted to get it repainted for so long. And yet how can I find somebody who can do it?" Hanks said.
Members of the Washington Heights Church came to her rescue recently as part of a weeklong service project. Volunteers painted the house using paint colors Hanks had picked out years ago with her husband.
"I have a swing on the front porch and I could just sit there — even in the winter time — and just stare and look at the colors and enjoy them," Hanks said. "For them to come volunteer and provide everything is just amazing."
The church volunteers fixed up 19 homes and yards in Ogden during a community service week at the end of June. More than 750 members and friends worked from dawn to dusk to repair and repaint the exterior of houses.
"We had so many great people that showed up. They treated this house as if it were their own," said volunteer Ron Eikenberry. "The house is absolutely stunning now."
He and his wife, Terri, led the team that fixed up Hanks' home. The couple began working on the house a few days before the service week, power washing the outside and getting it ready to paint.
"The detail work was absolutely perfect. I couldn't be more pleased to be a part of a church community like the Washington Heights," Ron Eikenberry said.
Brent and Marjorie Castle live next door to Hanks. Their house was also picked for the service project.
"It obviously needed a paint job. It was pretty sad looking," Marjorie Castle said of their house. "They put all the right colors in all the right places. We absolutely love it."
The couple is celebrating 49 years of marriage in August. They've lived in their Ogden home since 1971. Marjorie Castle said the volunteers let the couple pick out the paint colors for the house.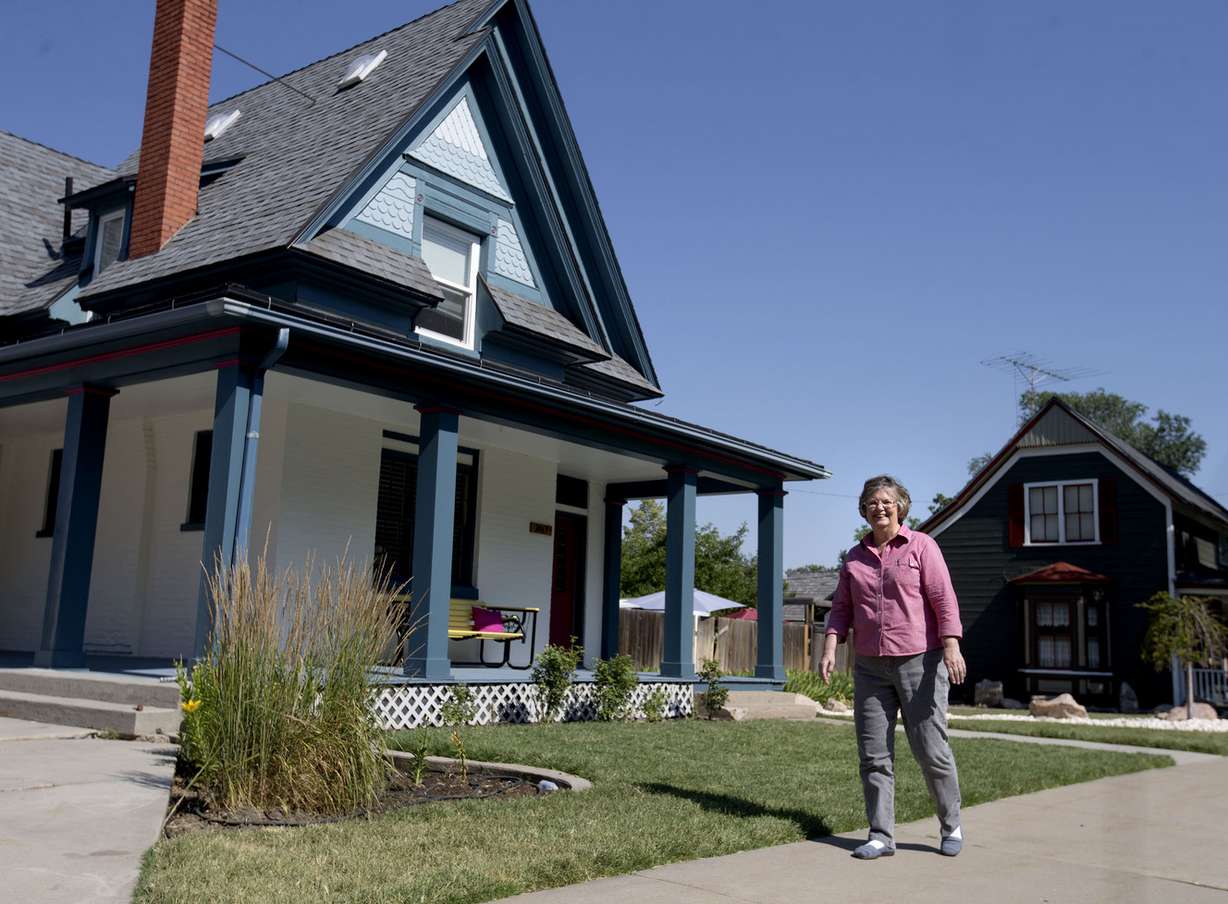 "We would've been grateful for a good whitewash, but to be able to (paint it) like we really wanted to was unbelievable," Marjorie Castle said. "I can feel that the house loves it."
Ogden city officials and Pastor Jimi Pitts selected the houses through an application process, and none of the homeowners belong to members of the Washington Heights Church. Hanks and the Castles are members of The Church of Jesus Christ of Latter-day Saints.
"Our goal has been to just demonstrate God's love in practical ways," said lead Pastor Roy Gruber. "To not just exist as a church community on our location, but also to be engaged in the community that we care about that's all around us."
The church budgeted $35,000 to buy supplies to revamp the 19 homes.
"I went there because I belong to a church community that is so much more about reaching out into the community and sharing what we have with others," said Terri Eikenberry. "We do this out of a love for Jesus."
Olivia Brown, another volunteer, teaches fifth grade at Farr West Elementary School. She said she attended the service project instead of going to a teachers' activity.
"I don't want to leave. I love these people I'm serving with, and I'm so dedicated to this project. I want to see it all the way through," she said.
The Washington Heights Church holds a community service week every other year. Next year, members are planning to work on construction projects in Haiti, India, Peru and Mozambique.
"We just do it because we think it's the right thing to do and because we have the capability and the resources to do it," Rev. Gruber said.
×
Photos