Estimated read time: 4-5 minutes
This archived news story is available only for your personal, non-commercial use. Information in the story may be outdated or superseded by additional information. Reading or replaying the story in its archived form does not constitute a republication of the story.
OGDEN — In August 2007, the St. Martha's Baby Project was still run from inside a hallway closet at an old elementary school in Ogden.
The Catholic Community Services of Northern Utah moved into the renovated elementary school in the early 2000s. But for a while, program coordinator Deborah Nielsen put together nearly 250 newborn layettes a year using the only available space in the building.
"I used to line the baskets up and down the hallway," Nielsen said. "But now, because the community loves this, we've been able to grow it."
Eventually the baby project moved to a large room near the service's front entrance. The room has high shelves packed with baby blankets and cubbies with bundles of baby supplies to give to low-income mothers.
The Bank of Utah donated hundreds of items to the program on Friday, from homemade burp clothes and quilts to baby formula and soaps. All donations came from the annual Shower Them with Love Charity Drive in June.
"Every year when they bring all the stuff in, that's what we do is stand here and 'ooh' and 'aww' over how cute everything is," said Maresha Bosgieter, northern Utah director of Catholic Community Services. "(These donations) definitely keep us going."
Fourteen statewide Bank of Utah locations and four loan offices donated cash, clothing, car seats and other baby items to 10 family support organizations around Utah.
"I think it's just great that we do support our communities the way that we do and try to help anybody we can," said Trudy Theobald, manager at the Bank of Utah Ogden — Ben Lomond branch.
St. Martha's Baby Project gave away 717 layettes last year to moms in northern Utah. The layettes are filled with baby essentials like newborn clothes, baby food, diapers, blankets, bibs and binkies.
"The community comes out, and they're supportive, and it's been a great program," said Adam Harmon, Bank of Utah marketing coordinator.
Ranelle Martinez, of Ogden, was grateful of a layette the baby program volunteers gave her at the birth of her youngest daughter, Isabelle, on June 26.
"They give you outfits, blankets," she said. "They gave me little bows for her, because she came out with a lot of hair."
Ogden mother Tamie Wixom also received a layette when her second child, Ion, was born.
"It's kind of nice when you first have a baby to be able to get those new clothes," she said. "To get something extra, it just kind of feels nice. It feels really nice that someone else would do that."
Both moms also attend monthly parenting classes held by Catholic Community Services. Volunteers teach mothers various family skills like budgeting and car seat safety, as well as give away more supplies and clothing for babies.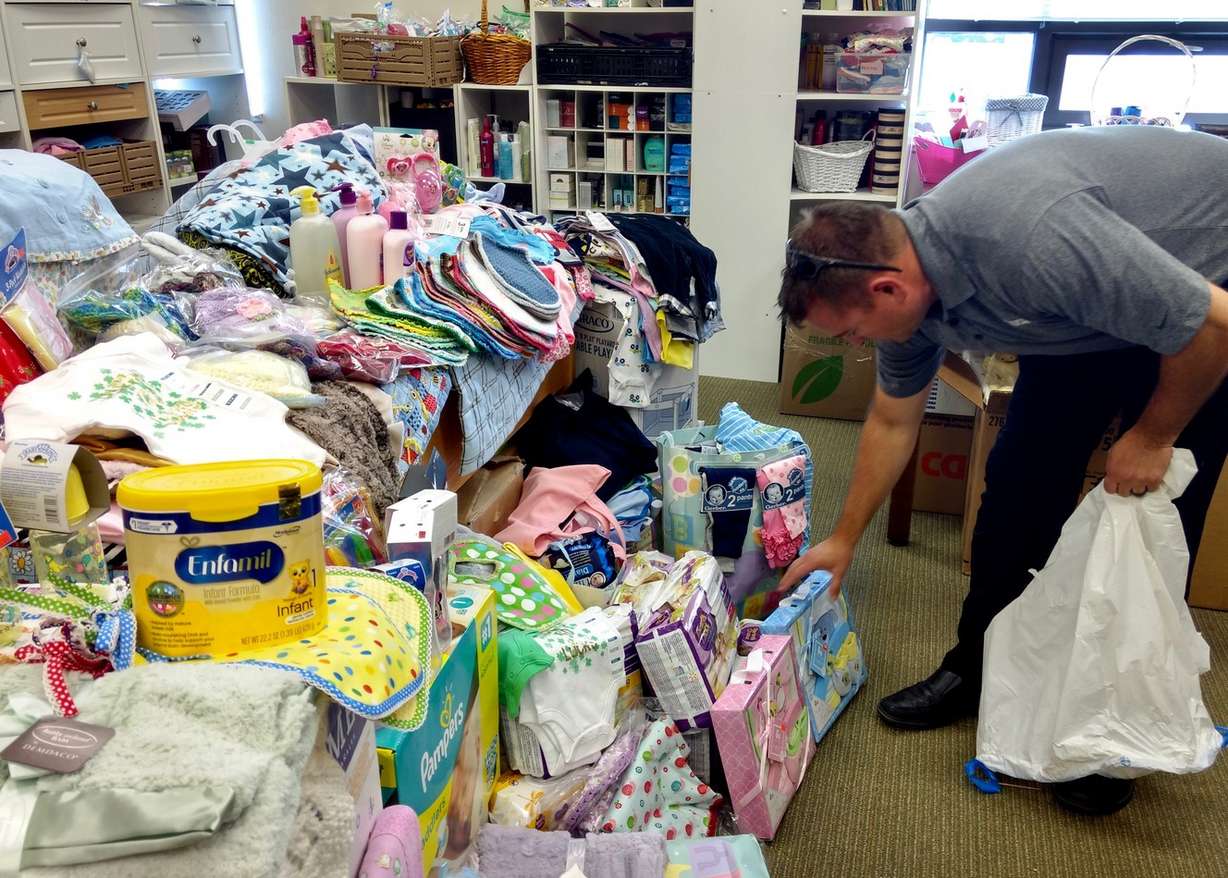 "You don't feel alone. There are other moms who experience the same situations you've been going through. You can socialize and they give you advice," said Trista Struhs, another mother in Ogden who receives donations. "I'm just glad that they have it."
But at times, the program hasn't had any clothing or items to give away because of lack of funding and donations.
"We have ups and downs in this room, for sure," Bosgieter said. "So the people in our community spend their time making those items and donate to us to give to the moms that especially need them."
Volunteers like to create color-coordinated and themed layettes when they have enough donations, like after the Bank of Utah charity drives.
"It's unbelievable how many babies go home in a hospital blanket and a hospital T-shirt," Nielsen said. "It's nice just to have that one, brand new outfit you can bring your baby home in."
The Bank of Utah also donated items to the Family Place in Logan, the Tremonton Community Pantry, the Family Support Center in Brigham City, Tabitha's Way in Spanish Fork, the Bountiful Community Pantry, the Children's Justice Center in Price, the Hope Pregnancy Center in St. George, the Crossroads Urban Center and the Pregnancy Resource Center in Salt Lake City.
"When they bring in donations like this, it really helps sustain us and keep the program going," Bosgieter said.
×
Photos
Most recent Utah stories